Gingerbread Fudge
Now that December is here, it's time to gingerbread all the things! This Gingerbread Fudge recipe complete with Christmas sprinkles is super easy to make and doesn't require a candy thermometer.
Call me old fashioned, but I don't like to rush Christmas. I try really hard to wait until after Thanksgiving to put up the tree, although due to the nature of my job, I did break out a few Christmas decorations early while shooting some holiday recipes for clients. I also had my first peppermint mocha on November 1 while browsing Halloween clearance and shot a
peppermint cheesecake
two days before Thanksgiving. I absolutely hate Christmas music before Black Friday and have accidentally listened to it in the car while browsing radio stations. However, gingerbread is a flavor I don't want to taste until Thanksgiving is over. Once it's over, then it's time to gingerbread all the things and get ready for Christmas. It's also when I start drinking gingerbread lattes. I'm still debating on trying eggnog lattes, but part of me thinks I might regret it after one sip. Maybe I'll wait until my brother buys a carton then try some in my morning coffee. I wish I could say I held off on gingerbread this year, but I ended up making two gingerbread recipes before Thanksgiving. Can't win them all, I guess! I have to admit I'm not one to cut out gingerbread men since I usually don't have the patience to roll out the dough, cut a few cookies, chill the dough because it got too warm, roll out and cut some more, then decorate after baking them. That's where Gingerbread Fudge comes into play because all you have to do is melt and stir a few ingredients together, spread it into a pan, then let it harden before serving. If gingerbread fudge complete with red and green sprinkles on top doesn't scream I'm ready for Christmas, I don't know what will.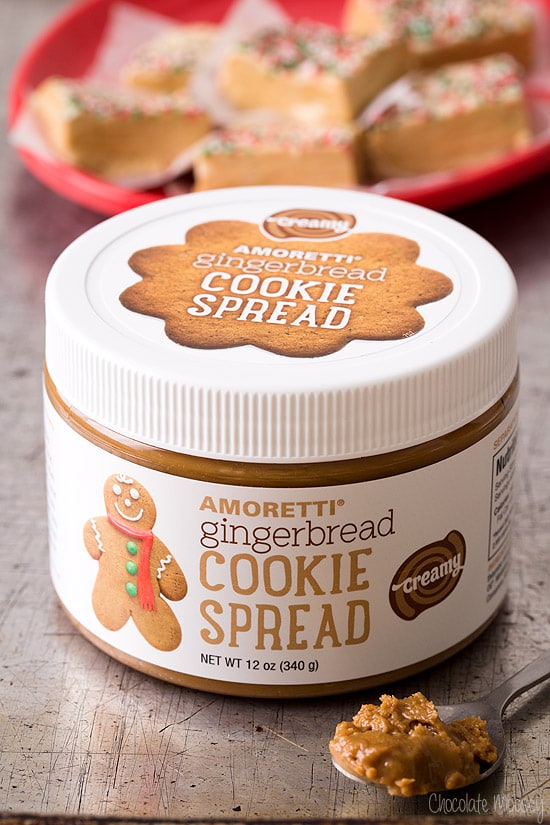 Traditionally molasses and ginger are two distinct ingredients used to make gingerbread recipes. However, fudge can be a bit finicky when dealing with liquids. That's when I got the idea to use
Amoretti Gingerbread Cookie Spread
, bringing my Christmas fudge to life. Cookie butter has become quite popular over the past few years, but in case you still don't know what it is, cookie butter is a spread made up of ground cookies, much like peanut butter is made up of ground peanuts. Traditionally it's made with speculoos cookies, which are Belgian spiced cookies. Some of you may know them as Biscoff cookies from Delta flights. For this Amoretti spread, gingerbread cookies are ground up into a ginger-packed spread to give the fudge a distinct holiday flavor.
Fudge making requires a little bit of elbow grease as you stir the ingredients together. It may look hopeless when you stir in the marshmallow fluff, but I promise once you stir in the powdered sugar, it'll all come together into one mass of fudge that you can then spread into the pan.
Gingerbread Fudge
This Gingerbread Fudge recipe complete with Christmas sprinkles is super easy to make and doesn't require a candy thermometer.
Ingredients
1 cup gingerbread cookie spread
6 tablespoons butter, cut into 6 tablespoons
1 1/2 cups marshmallow fluff (one 7-ounce jar)
3 cups powdered sugar, sifted
1 teaspoon vanilla extract
Sprinkles
Instructions
Line an 8x8 pan with parchment paper.
In a large heatproof bowl over a pan of simmering water (do not let the bowl touch the water), melt together the cookie spread and butter. Add the marshmallow fluff and stir until completely smooth.
Remove the bowl from pan. Whisk in the sugar and vanilla until well blended (you may need to use some muscle as it'll thicken up). Spread the batter into the pan and top with sprinkles. Cool until firm, at least 4 hours or overnight (you can store in the refrigerator to speed up the process). Store in an airtight container for up to 1 week.
More Fudge Recipes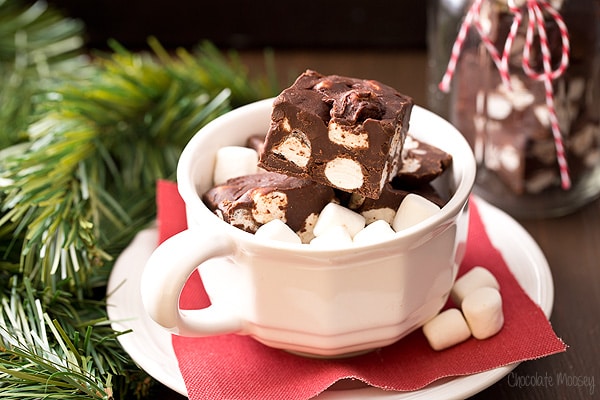 Hot Chocolate Fudge
Disclosure: This post is sponsored by Amoretti. Thank you for supporting me and the companies I work with as sponsored posts help pay for the costs of running Chocolate Moosey, including website hosting and groceries for recipe development.
This post may contain affiliate links. As an Amazon Associate and member of other affiliate programs, I earn from qualifying purchase.