Kick back and chill out with Strawberry Wine Slushies! Just throw 5 ingredients into a blender and serve.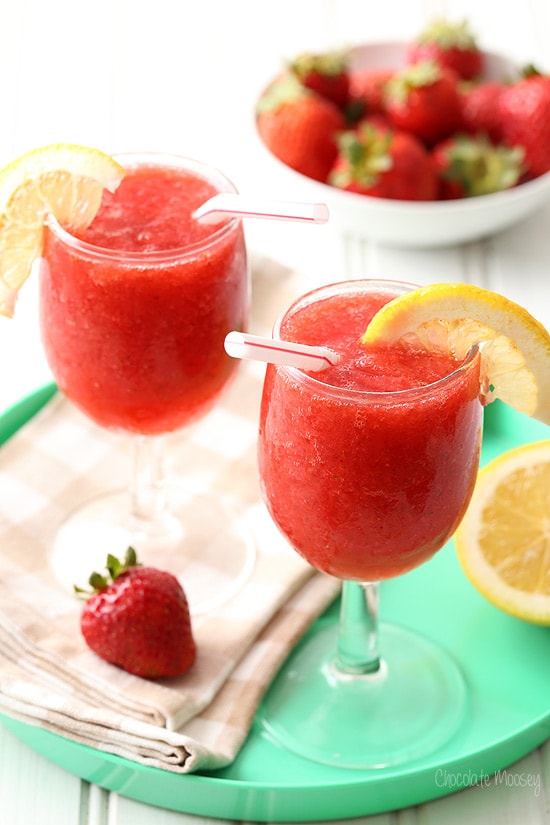 Wow. Is it really September tomorrow?! This summer has been quite an unusual one, ranging from weeks of rain in a row in June to a few chilly evenings in July to finally feeling like summer in August. Now fall is right around the corner. I know the end of summer technically isn't until late September, but I can't help it; once Labor Day hits, in my mind summer ends and fall begins. It doesn't help that most businesses are busting out the pumpkins and even Christmas decorations (ugh – not until Thanksgiving please!). Since we are a few days away from Labor Day, I'm squeezing in as much summer as possible. One last weekend to eat all the corn. One last weekend to stock up on fresh garden tomatoes and zucchini as big as your arm. One last weekend to devour summer berries. Of course you can buy fresh strawberries all year round at the grocery store and even frozen strawberries from the freezer section, but they are at their peak during the summer. Summer also means cooling down with a chilled drink in hand. Usually it's cold brew coffee or iced mochas, but this time around, I've been craving something fruity, like a fruit slush. Although a regular slush is delicious as is, I wanted to have a little more fun and make an adult version with Strawberry Wine Slushies. It's a great way to kick back and relax as we enjoy the end of summer before we transition into fall.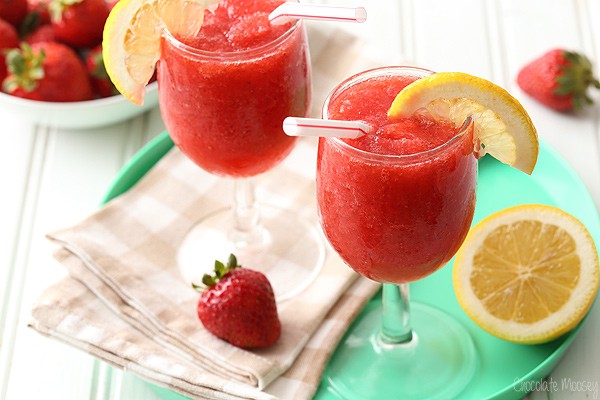 Every Labor Day, Dad and I go to this festival at a park where they have a big flea market, a mini carnival, and entertainment. Of course I only go for the flea market part to see what photography props I can find. Last year I bought a round cutting board that I love – I'm excited to see what this year brings! When we're ready for dinner, Dad usually grills hot dogs and hamburgers as one last hurrah for summer.
Because celebrating the end of summer is about having a good time, I used
Barefoot Refresh Summer Red Spritzer
in my slushie, which is a blend of Pinot Noir Rosé and Moscato with a sweet taste. As I was planning on what flavor slush to make, I knew the Summer Red would pair perfectly with strawberries as it's light-bodied and refreshing. Don't let the name fool you though; the Summer Red is available all year long, making these strawberry slushies an any time of the year treat (if you don't have fresh berries, you can use frozen from the store).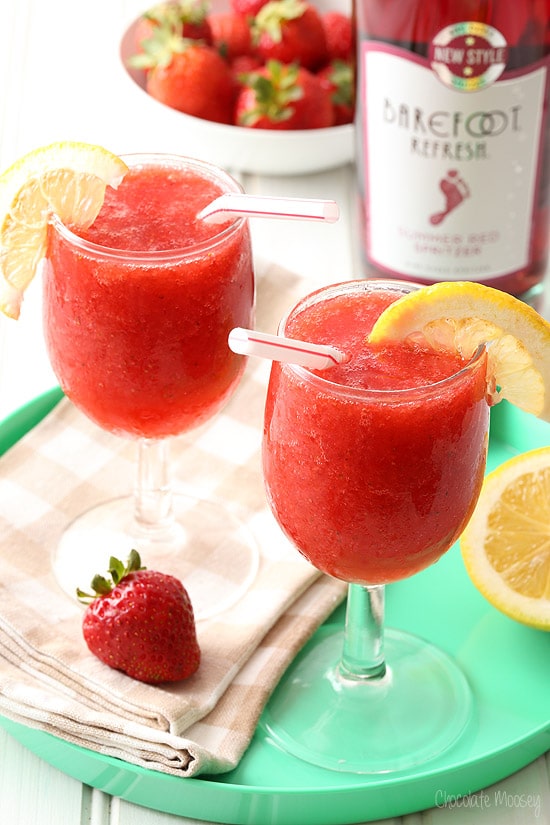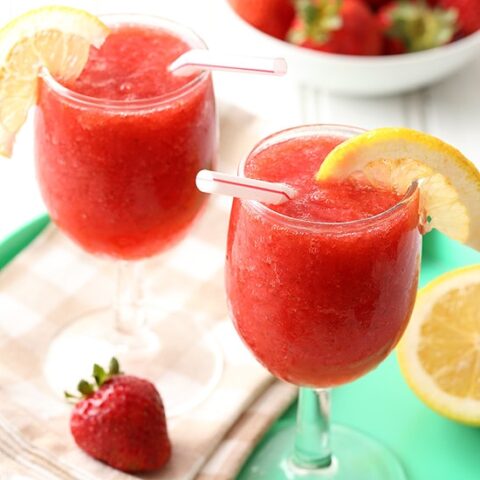 Strawberry Wine Slushies
Kick back and chill out with Strawberry Wine Slushies! Just throw 5 ingredients into a blender and serve.
Ingredients
2 cups sliced strawberries*
1 cup ice cubes
1 cup Barefoot Refresh Summer Red Spritzer
1/4 cup fresh lemon juice
2 tablespoons granulated sugar
Instructions
In a blender, blend together the strawberries, spritzer, lemon juice, and sugar.
Place the mixture in a freeze-proof container (preferably wide and shallow) and freeze until firm, roughly 30-60 minutes.
Break it up with a fork before serving.
Notes
*You can use frozen strawberries and omit the ice cubes. You may need to add more wine if the mixture is too thick when blended.
Disclosure: This post is sponsored by Barefoot Refresh® (content for 21+). Thank you for supporting me and the companies I work with as sponsored posts help pay for the costs of running Chocolate Moosey, including website hosting and groceries for recipe development.