I scream. You scream. We all scream for M&M Cookie Dough Ice Cream that has a double dose of cookie dough in every bite with a cookie dough ice cream base and M&M cookie dough pieces mixed in.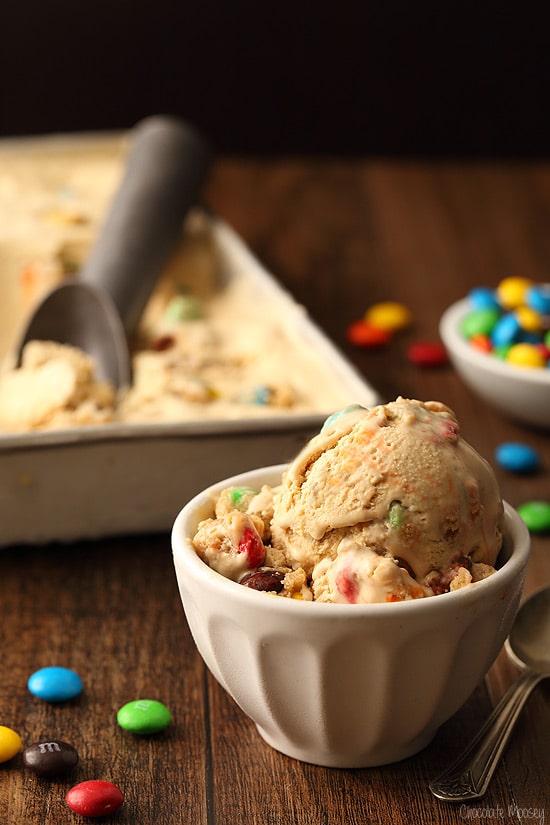 Several days a week, I drive by multiple ice cream stands. Some are local while others are chains like Dairy Queen. Several days a week, I'm tempted to stop by these said ice cream stands, but then I remember how expensive it can get stopping all the time, especially when I just need to keep driving another few minutes to a freezer packed full of homemade ice cream and popsicles. If I do convince myself to stop, I almost always go for whatever is equivalent to a Dairy Queen Blizzard (snowstorms, cyclones, whatever term the local stand uses for ice cream with mix ins). One of my favorite mix ins to get is M&Ms, mainly because of the chocolate crunch you get in (almost) every bite. I also love getting cookie dough, but most of the time you only get a tiny handful of cookie dough pieces. Vanilla ice cream with three pieces of cookie dough? I'll pass.
As I drove past an ice cream stand on my way home from the store, I thought about wanting an M&M blizzard/snowstorm/whatever. Then I thought about wanting cookie dough. THEN I thought about wanting both M&M and cookie dough together. However, I didn't want it to be vanilla ice cream. I wanted it to be cookie dough ice cream. A double dose of cookie dough in every bite! No skimpy cookie dough ice cream here. I bought a bag of M&Ms and got to work on this M&M Cookie Dough Ice Cream – a brown butter and brown sugar ice cream base with plenty of eggless cookie dough pieces mixed in. It's been my favorite ice cream this summer so far and hope it becomes your favorite too.
The cookie dough ice cream base was inspired by Joy The Baker's
Homemade Decadence cookbook
. As soon as I saw her recipe for it, I knew I had to make it with my own little twist. She didn't have any actual cookie dough pieces mixed in, so I fixed that. The cookie dough I made is eggless and safe to eat; no worries about raw egg here.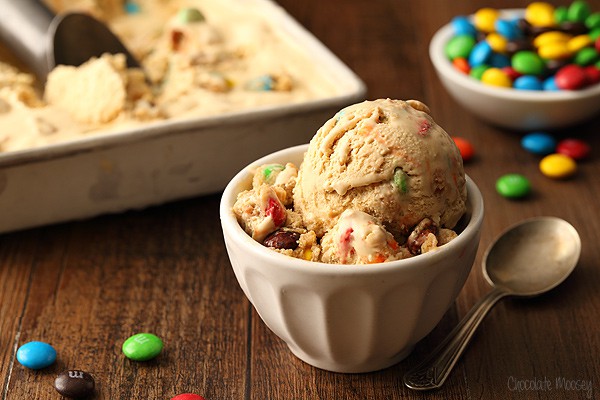 One of the key ingredients to this magical ice cream is brown butter, which adds a bit of nuttiness to the base. Brown butter is cooking butter longer than normal until it becomes a toasty brown color. It's easy to make, but you do have to watch the timing so it doesn't go from brown to burnt. I do recommend giving brown butter a try because it adds an extra dimension of flavor.
M&M Cookie Dough Ice Cream
Ingredients
2 tablespoons unsalted butter
2 egg yolks, room temperature
1/3 cup packed brown sugar
1/8 teaspoon salt
1 cup heavy whipping cream, room temperature
3/4 cup whole milk, room temperature
1 teaspoon vanilla extract
1/8 teaspoon baking soda
Cookie Dough
1 tablespoon unsalted butter, softened
1 tablespoon brown sugar
1 tablespoon granulated sugar
1 1/2 teaspoons whole milk
1/4 teaspoon vanilla extract
1/8 teaspoon salt
1/4 cup all-purpose flour
2 tablespoons M&M candy
Instructions
In a small saucepan over medium heat, melt the butter. Once it starts to bubble and foam, keep an eye on it. Continue cooking until it smells nutty and little brown specks appear on the bottom of the pan, about 2 minutes. Immediately remove it from the heat and pour into a bowl to stop the cooking.
In a large bowl, whisk together the egg yolks, brown sugar, and salt until pale and slightly thick, 2-3 minutes (no need for the mixer - just use those arm muscles)
In a large saucepan over medium heat, warm the cream, milk, and brown butter. Once hot but not boiling, whisk some of the milk mixture into the egg yolk mixture to temper the eggs then pour everything back into the saucepan.
Bring the mixture to a boil and cook until thickened and coats the back of a spoon. Remove the ice cream from the heat and whisk in the vanilla and baking soda. Transfer to a heatproof bowl and cover with plastic wrap so that the plastic wrap touches the mixture. Place the bowl in an ice bath and cool to room temperature. Once cool, refrigerate for at least 1 hour or until cold.
Once cold, churn the ice cream mixture according to your ice cream machine's instructions. During the last few minutes of churning, add the cookie dough pieces (recipe below). Freeze until firm, preferably overnight.
Cookie Dough
In a medium mixing bowl, beat together the butter, brown sugar, and sugar until creamy and smooth, about 2-3 minutes. Beat in the milk and vanilla. Gradually add the flour and salt until dough forms then add the M&MS. Divide into bite-sized pieces (roughly 1/8 -1/4 teaspoon) and place on a tray or plate. Keep cold until ready to use.
Source: Adapted from Homemade Decadence
More Cookie Dough Recipes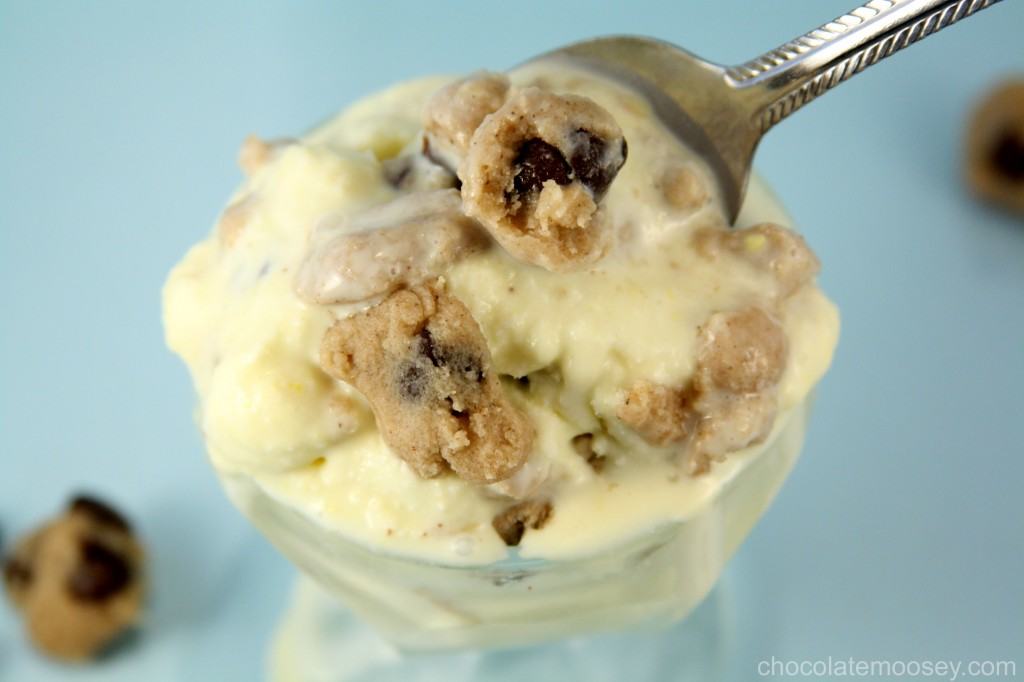 Spiced Cookie Dough Ice Cream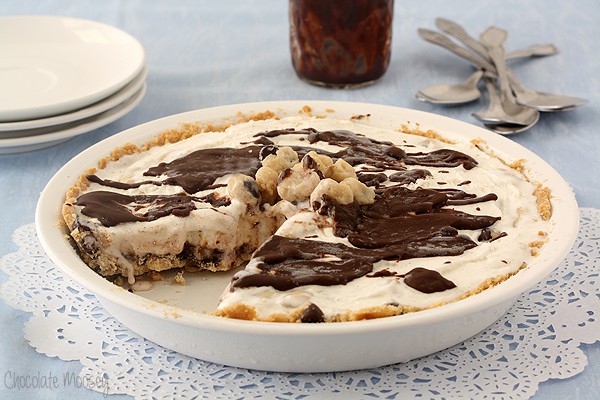 Chocolate Chip Cookie Dough Ice Cream Pie

Chocolate Chip Cookie Dough Cheese Ball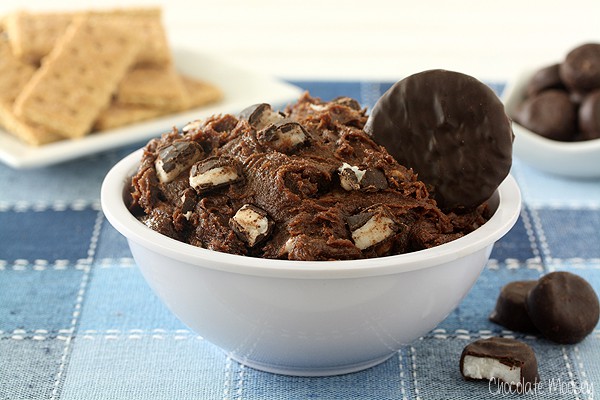 Peppermint Patty Cookie Dough Dip