Whip up these easy to make Cheesecake Milkshakes with only 4 ingredients (plus garnishes) and celebrate the people who inspire you the most (Also, who else is now stuck singing "my milkshake brings all the boys to the yard"?)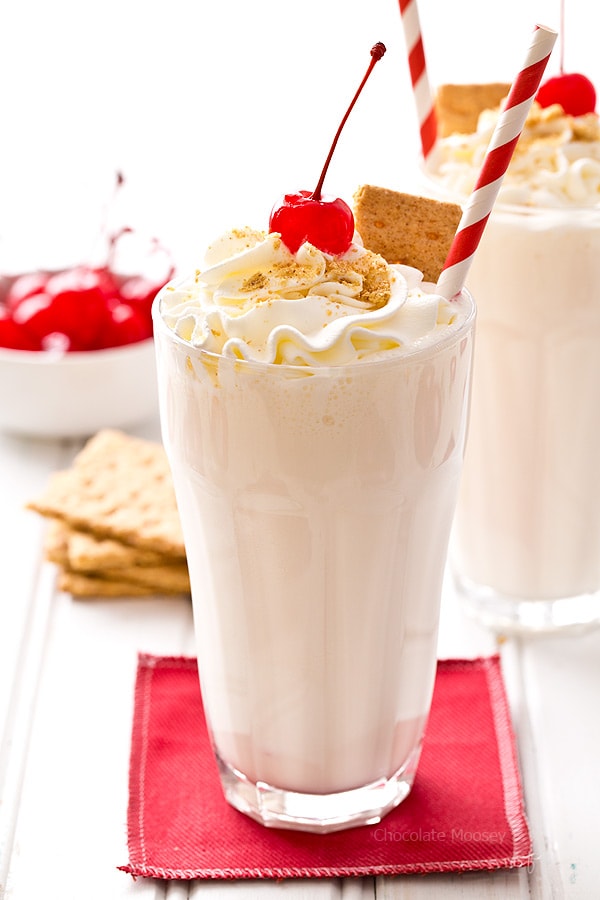 Happy Galentine's Day! No, that is not a typo and no, I don't have my date wrong. If you're a Park and Recs fan, then you'll know exactly what I'm talking about. If not, let me fill you in. The main character Leslie Knope declares February 13 as Galentine's Day, a day to honor lady friends the day before Valentine's Day. She explains it best
in this video clip
, but I recapped what she said below:
"What's Galentine's Day? Oh it's only the best day of the year. Every February 13th, my lady friends and I leave our husbands and boyfriends at home and we just come and kick it up breakfast style. Ladies celebrating ladies. It's like Lilith Fair, minus the angst. Plus frittatas."
In honor of what should be a national holiday (thanks Leslie!), a group of my lady friend bloggers got together to post recipes that we would share if we could be in the same room today. Gotta love the Internet! Now I don't have a breakfast recipe for you (although I'd happily argue that these could be served for breakfast), but I love getting ice cream and milkshakes with friends. Kayle of The Cooking Actress and I got milkshakes when she visited me back in the fall. Everyone knows how much I love cheesecake, so I thought Cheesecake Milkshakes would be perfect to share for Galentine's Day. With only 4 main ingredients (plus garnishes), you can whip up these easy milkshakes in no time.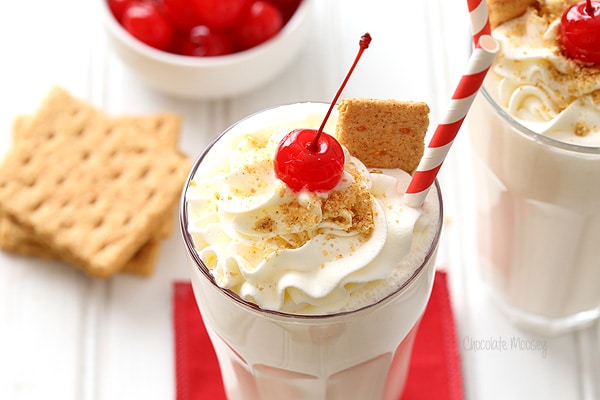 Being single is tough, not going to lie. Most days I'm strong enough to handle it, but then I have my bad days where I break down (I mean, who hasn't though?). That's when my fellow bloggers help me get through whatever I'm feeling. They also inspire me to be a better person – bouncing off ideas with me, keeping me on track with my goals, figuring out ways to stay self employed. I have no idea what I would do without them and would love it if I could share a cheesecake milkshake with each and every one of them (side note – as I was writing this post, I came across the phrase "weight gain milkshakes." I know that's a legitimate issue for health reasons, but I couldn't help but think, yes friends – these milkshakes will help you gain weight. Ahem).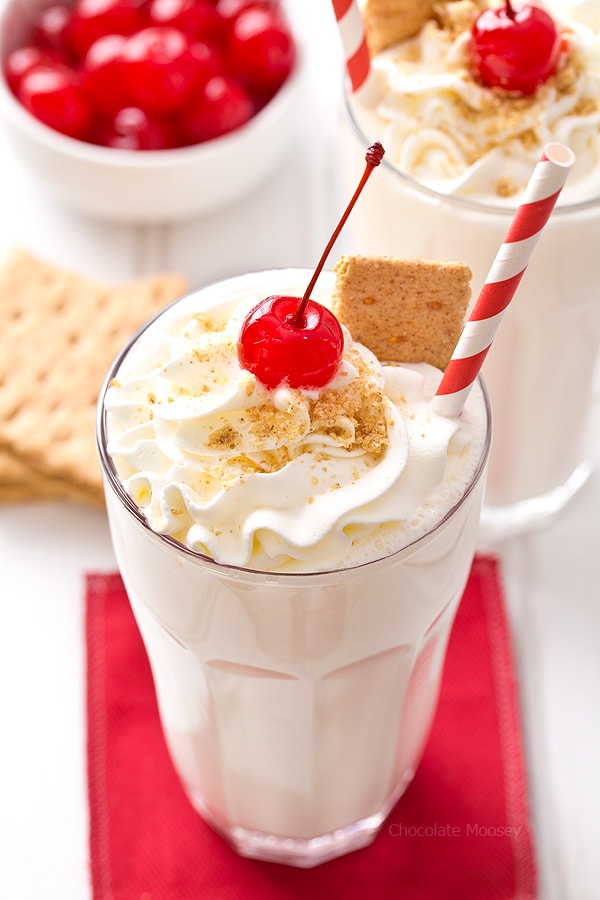 I wanted to stick with plain cheesecake with just cream cheese and graham crackers, but feel free to add your favorite mix ins –
caramel sauce
,
hot fudge sauce
, peanut butter, Oreo cookies, whatever you want! The key to making this the best cheesecake milkshake ever is to use GOOD quality vanilla bean ice cream. I didn't want to run to a second store, so I picked up some cheap vanilla ice cream where I was shopping. No bueno. Buy good vanilla bean ice cream to avoid disappointment (because I never knew it was possible to make a tasteless milkshake). If you do find your milkshake not vanilla-y enough, you can add a few drops of vanilla extract.
Items You May Need (affiliate links):

Cheesecake Milkshakes
It's important that use good quality vanilla bean ice cream. However, if your milkshake is lacking in the vanilla department, add a few drops of vanilla extract.
Ingredients
4 ounces cream cheese, softened and cut into 8 pieces
1 cup good quality vanilla bean ice cream (roughly 6 scoops)
1/2 - 3/4 cup whole milk
1 tablespoon graham cracker crumbs (plus more to garnish)
Whipped cream* and maraschino cherries, for garnish
Instructions
In a blender, add the cream cheese, ice cream, 1/2 cup milk, and graham cracker crumbs. Blend on high until completely smooth. If you want your milkshakes a little thinner, add the remaining 1/4 cup milk. Pour into two tall glasses and top with whipped cream, cherry, and graham cracker crumbs.
Notes
*To make homemade whipped cream, beat 1/2 cup heavy whipping cream on high speed until it thickens. Gradually beat in 1 tablespoon powdered sugar then continue beating until stiff peaks form (when you pull the beaters straight up, peaks will form and not fall over).
More Milkshake Recipes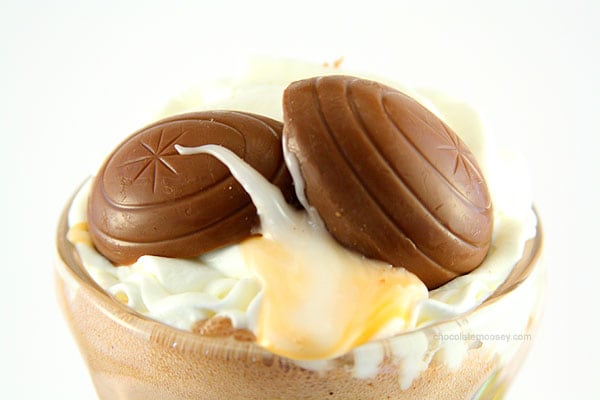 Cadbury Creme Egg Milkshake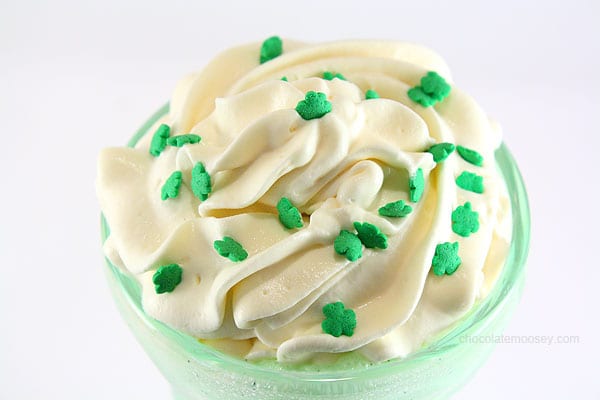 Copycat McDonald's Shamrock Shakes
More Galentine's Day Recipes