This white hot chocolate from scratch tastes just like cheesecake in a cup without having to wait for a whole cheesecake to bake. Cheesecake craving satisfied in 15 minutes? Done.
Ah, the day before Christmas Eve (Christmas Eve Eve?) Today pretty much marks my finish line for Christmas baking. I'm not sure why I do this every year. I cram #alltheChristmasthings into one month and ended up posting four times a week the past two weeks because I have so many Christmas recipes to share (my average is 2-3 times a week). I have so many ideas that I even wrote up a list for next year (I'm also known to plan ridiculously ahead). I wanted my last post before Christmas to be a super easy holiday drink, and what better drink defines me best than Cheesecake Hot Chocolate? I'm not even sure where this idea came from. Of course I love
cheesecake
oh so very much, but who thinks of drinking it? Maybe I had a dream about it as I dream about recipes all the time. If you ever ask me at any given moment what I'm thinking about, 99.99459394 percent of the time, it's food. 51.809843 percent of the time, it's cheesecake. What's best about this recipe is you can satisfy your cheesecake craving now rather than wait for a whole cheesecake to bake and cool. Whether you're looking for a new hot chocolate recipe to try or you just simply love cheesecake as much as I do, Cheesecake Hot Chocolate is the way to go when the weather outside is frightful (sorry, I had to).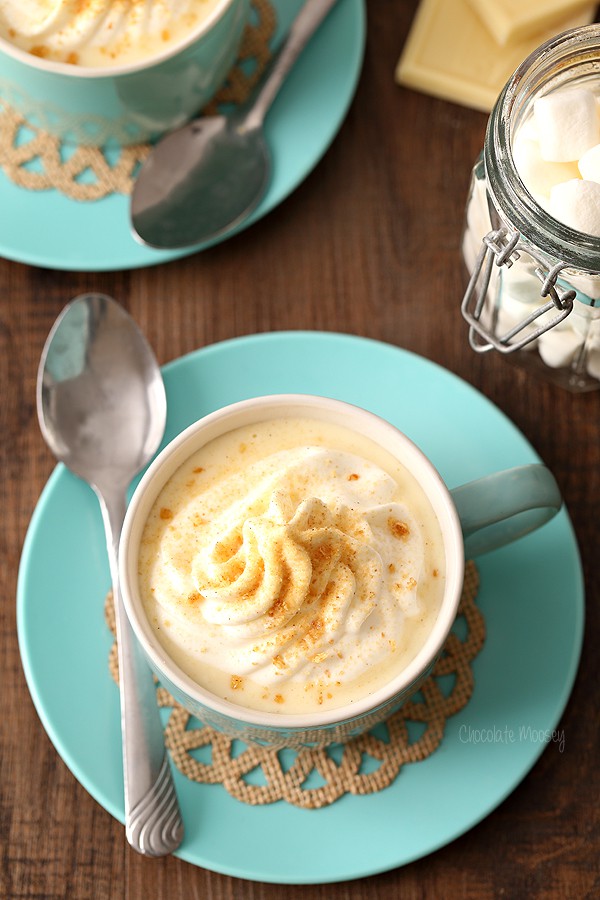 I love hot chocolate. It's what I drink in the winter evenings when it's too late to drink coffee or when I want something sweet but ran out of cookies and don't feel like baking. I used white chocolate so the drink would actually look like cheesecake in a cup. I'm sure it would taste just as good with semisweet or even dark chocolate (dark chocolate is my favorite), but I do like my white chocolate version.
There is one very important step to making this cheesecake hot chocolate successful – the cream cheese needs to be at room temperature, or even slightly softer (without risking food safety, of course). I'd even recommend microwaving it slightly (without the foil wrapper!) if you're in a hurry. You see, when your cream cheese is cold, even slightly chilled, it becomes lumpy. You can sorta get away with that if you're baking a cheesecake, but you do not want lumpy hot chocolate. Trust me. If you ignore my warning and do end up with lumps, you can use a blender to help save it. Just a small warning – the drink does thicken as it cools down. Just heat it back up in the microwave or add some more milk.
I hope you have a wonderful Merry Christmas as I won't be back until next week (I will still be online, so feel free to leave comments, email me, or reach out on social media). If you do make one of my recipes, please share your photo(s) on my Facebook page or upload and tag me on Twitter or Instagram using #chocolatemoosey.

Cheesecake Hot Chocolate
Ingredients
1 cup milk
1/4 teaspoon vanilla extract
2 ounces white chocolate, chopped
2 ounces cream cheese, room temperature* and cut into 16 pieces
Graham cracker crumbs and whipped cream, for garnish
Instructions
In a medium saucepan, warm up the milk over medium heat until hot but not boiling. Turn the heat down to low then whisk in the vanilla cream cheese until melted. Whisk in the white chocolate until melted and smooth. Serve immediately** with whipped cream and graham cracker crumbs on top, if desired.
Notes
The cream cheese needs to be at room temperature or even slightly softer (without risking food safety). Otherwise, the hot chocolate mixture may become lumpy. If it does become lumpy, you can use the blender to help smooth it.

*The drink does thicken as it cools down. Just heat it back up in the microwave.
Other Hot Chocolate Recipes To Make

Toasted Coconut Hot Chocolate

Caramel Hot Chocolate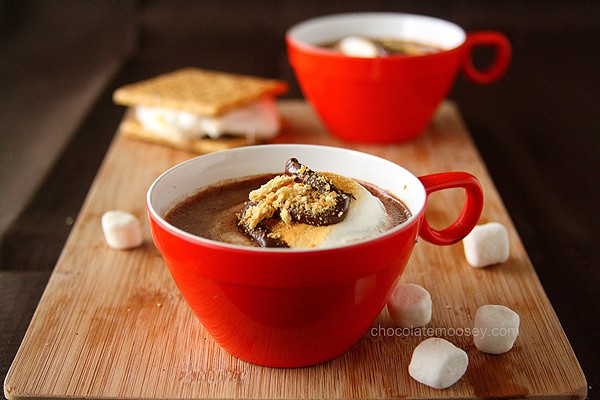 S'mores Hot Cocoa

Cherry Cordial and Mint Truffle Kiss Hot Chocolate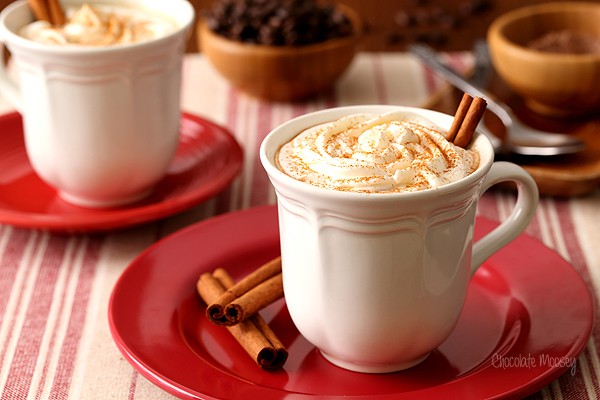 Mexican Spiced Mocha