If you're looking for Christmas appetizer recipes, this Raisin Jam and Goat Cheese Crostini topped with pomegranate seeds and fresh basil is an easy holiday recipe with no sugar added.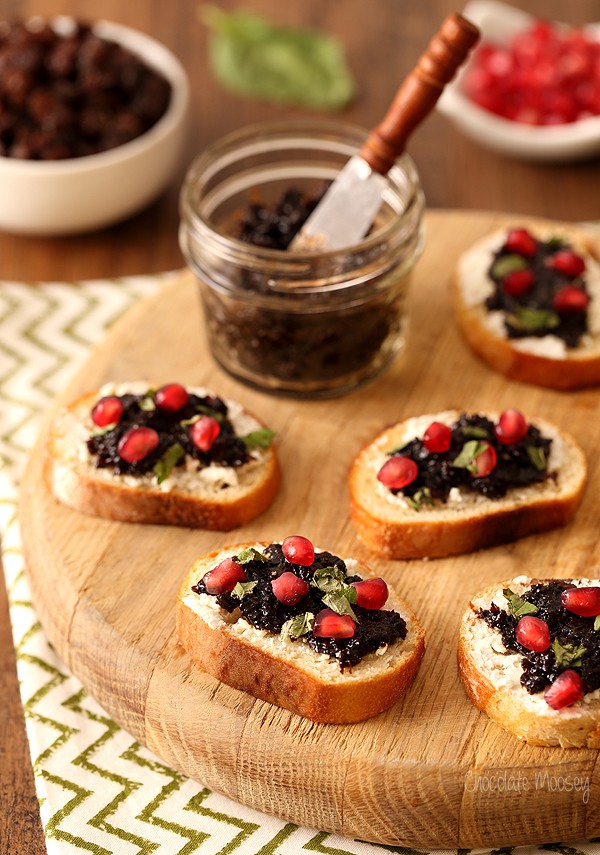 I was compensated by California Raisins via the Kitchen PLAY network for this recipe. As always, thank you for reading and supporting brands I work with.
I know I've been giving you a ton of dessert recipes lately, but today I want to share something savory with a special ingredient. As a baker, it's no surprise how many pounds of sugar I go through a year. Just last week, I bought 12 pounds of sugar because I was running low in my pantry. Then there's brown sugar, powdered sugar, coconut sugar, all kinds of sugar. Sugar in my coffee, sugar in my hot chocolate. I think saying that I love sugar is an understatement. With that said, I don't mind playing with alternatives that can make a recipe a bit healthier, like raisins. Yes, raisins as an alternative to sugar. I was a little skeptical at first, but it totally worked with raisin jam. I love those appetizers where you pair pepper jelly with cream cheese, so why not try it with raisin jam and goat cheese? Recently, California Raisins challenged me to use raisins as a natural way to sweeten recipes. My recipes. Without actual (or very little) sugar. Could I really make this happen? The answer – yes, and this Raisin Jam and Goat Cheese Crostini topped with pomegranate seeds and fresh basil is proof that you don't need sugar to make an amazing festive appetizer for holiday parties.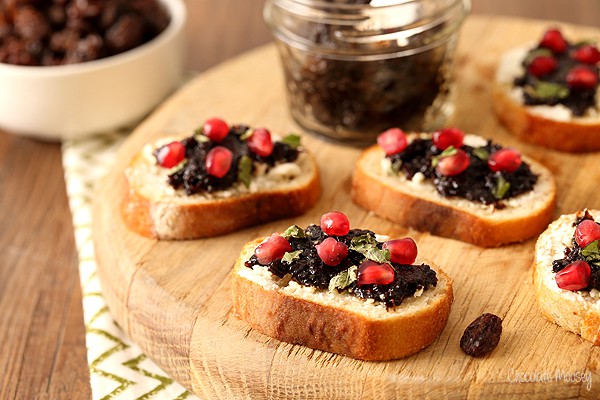 Sometimes when I get an idea for a recipe, I'm not sure how it'll work out. Raisin jam was the first thing to pop into my head. I'm not sure if this really qualifies as a jam by definition since there is no pectin and you use a food processor to smooth it out, but let's go with it. I started out by caramelizing red onion. Then I added balsamic vinegar for some acidity and raisins for some sweetness. The jam alone was a sweet epiphany (then again, anything with balsamic vinegar is my kryptonite). To balance out the jam, I paired it with goat cheese for a bit of tang and topped with pomegranate seeds for a bit of crunch and fresh basil for a bit of freshness.
I never would've tried using raisins as a sweetener, but it does make sense when you think about it. Raisins are an all-natural, dried-by-the-sun fruit with no added sugar. I grew up eating raisins in my oatmeal and only needed to add a sprinkle of brown sugar and cinnamon. Bonus points for being full of iron and potassium with zero fat and no cholesterol. Raisins are also the most economical dried fruit, so this is great news for those of you watching your grocery budgets. For more information and recipes, check out
California Raisins' website
and get social with their
Facebook
,
Twitter
, and
Pinterest
accounts.
Can I go on the record and say that crostini should totally be acceptable for dinner? I shot this recipe right before dinnertime, which was a big mistake because then all I ate for dinner that night was crostini. I might have made a side of pasta to make it a full meal. No regrets.
Raisin Jam and Goat Cheese Crostini
Yield: 12

Prep Time: 30 minutes

Cook Time: 30 minutes

Total Time: 1 hour

The crostini is best served immediately upon assembly, but the raisin jam can be made ahead of time. Once completely cool, store in the refrigerator. Let sit at room temperature for 30 minutes before using.
Ingredients
Raisin Jam
1 tablespoon olive oil
1/2 cup chopped red onion
1/8 teaspoon salt
1/3 cup balsamic vinegar
1/2 cup California Raisins
Crostini
12 slices (1/4-inch thick) of baguette
1 tablespoon olive oil
1/8 teaspoon salt
4 ounces goat cheese
1/4 cup pomegranate seeds
1 tablespoon chopped fresh basil
Instructions
For the raisin jam
In a large skillet over medium heat, heat the oil. Add the onion and cook, stirring often, until soft and lightly golden, about 8-10 minutes. Add the vinegar and raisins. Cook until the liquid reduces and becomes syrupy, about 3-5 minutes (do not overcook or it'll become too syrupy). Remove from the heat and add to a food processor. Process until it turns into a smooth paste. Transfer to a jar or bowl and let cool.
To assemble the crostini
Preheat the oven to 350F. Place the baguette slices in a single layer on a baking sheet. Mix together the olive oil and salt then brush both sides of the bread. Bake 10-15 minutes or until toasted. Let cool.
For each baguette, spread roughly 1 tablespoon goat cheese on one side then spread roughly 1 teaspoon raisin jam on top. Top with 4-5 pomegranate seeds and some chopped basil. Repeat until all of the ingredients are gone. Serve the crostini immediately. Refrigerate any leftover raisin jam.
More Christmas Appetizer Recipes For You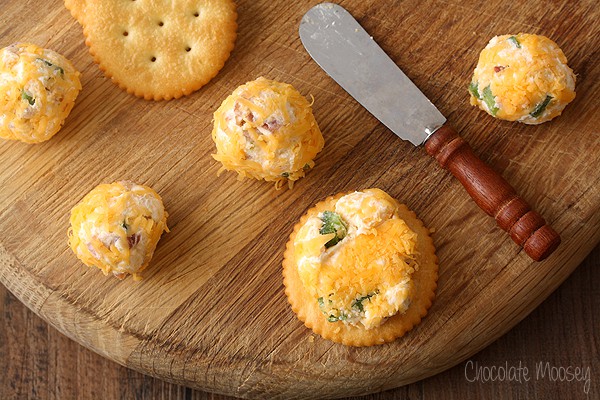 Mini Jalapeno Popper Cheese Ball Bites
Disclosure: I was compensated by California Raisins via the Kitchen PLAY network for this recipe. As always, thank you for reading and supporting brands I work with, which allows me to bring you more recipes. All opinions, text, and photographs are my own.