Eggnog Filled Sugar Cookie Cups
If you're looking to make easy sugar cookies from scratch for Christmas, I highly recommend these Eggnog Filled Sugar Cookie Cups as they are not made from premade cookie dough.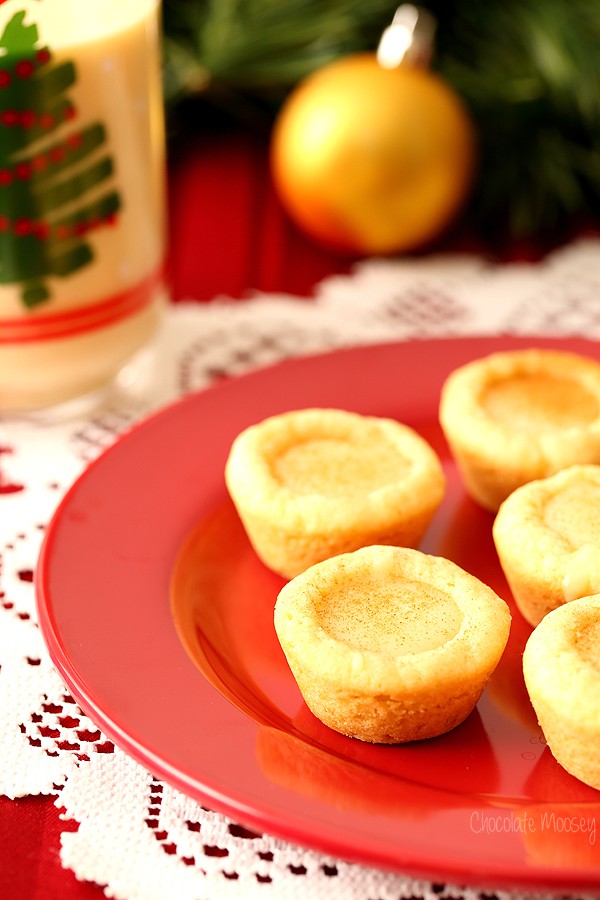 I was compensated by Safest Choice Eggs for this recipe. As always, thank you for reading and supporting brands I work with, which allows me to bring you more recipes.
Baking in December always reminds me of three things – gingerbread, peppermint, and eggnog. Sometimes I'll have peppermint mochas in March when it's close to St. Patrick's Day, but I don't think I've ever consumed gingerbread and eggnog outside of November and December. It has nothing to do with social norms; my body seriously does not want to consume those holiday flavors outside of their seasonal months. I've tried in January, but my body says, nope do not want. Which means I have to #eggnogallthethings by December 31 so I can enjoy it while it lasts. In order to get the most out of eggnog season, I'm teaming up with Davidson's Safest Choice Pasteurized Eggs for their Dozen Days of Nog Event. I'll talk about that more in a bit, but first – do you like eggnog? A coworker at my previous job introduced me to sugar cookie eggnog that she found at the grocery store, which tasted like regular eggnog amped up with lots of vanilla. We both preferred it over plain eggnog. Since eggnog and sugar cookies pair well together, I decided to bake up these Eggnog Filled Sugar Cookie Cups, which are made completely from scratch. I was amazed at all the cookie cup recipes that used premade cookie dough. That's fine if that's your style (as I'm not judging), but for me, it's much quicker (and cheaper) to make cookie dough at home than run to the store. Once you take a look at the recipe, you won't need to buy sugar cookie dough ever again.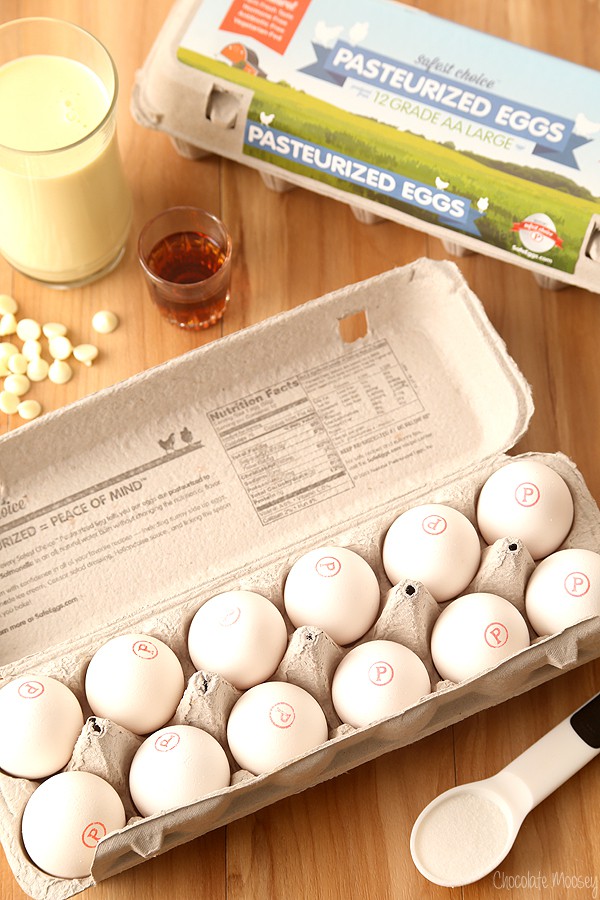 I don't what I would do if I lived in a world without eggs. Eggs for breakfast, eggs for dinner, eggs for baking. Just the other day I made a pretty mediocre attempt at poaching eggs. I think my success rate is 50 percent. Maybe I'll just stick with baking. Regardless of how you use your eggs, it's important to think about health and safety. Davidson's Safest Choice Eggs pasteurizes their eggs in a warm water bath to eliminate the risk of salmonella (
their website explains more
). This is especially important if you consume eggs that are either raw or not fully cooked. Since today's post is all about eggnog, most homemade eggnogs are made with raw eggs while store-bought eggnog is made from pasteurized eggs. Even if you are cooking your eggs, like with my sugar cookie cups, it's still peace of mind knowing that the eggs are safe to consume. To learn more about pasteurized eggs,
check out Safest Choice's website
.
I used store-bought eggnog in my cookie cups. The filling is very similar to a white chocolate ganache as it's made with eggnog, white chocolate, and a little bit of powdered sugar (to help firm it up a little). Of course you can't have eggnog cookies without dusting the tops with a little bit of cinnamon and nutmeg. The sugar cookie dough is made from scratch and does not require chilling. You can refrigerate the dough for 15 minutes if it gets too warm in your kitchen, but you can go straight from mixing bowl to the pan.
If you're still reading this, it means you like eggnog. And if you like eggnog, then please join me and Safest Choice on Facebook for their
Dozen Days of Nog Event on Facebook
, which runs from December 13-24. It's a virtual event (no need to go anywhere!) where you can share your tips on baking, holiday prep, eggnog, and more. I'll be there to help answer your questions and to see what you've been baking up in the kitchen. Please share your photos on the event page and enter Safest Egg's recipe contest. See you there!
Eggnog Filled Sugar Cookie Cups
Yield: 2 dozen
Prep Time: 45 minutes
Cook Time: 12 minutes
Total Time: 57 minutes
If you're looking to make easy sugar cookies from scratch for Christmas, I highly recommend these Eggnog Filled Sugar Cookie Cups as they are not made from premade cookie dough.
Ingredients
1 1/2 cups all-purpose flour
1/2 teaspoon salt
1/2 teaspoon baking soda
1/2 cup (4 ounces) unsalted butter, softened
3/4 cup granulated sugar
1 egg, room temperature
1 teaspoon vanilla extract
Eggnog Filling
1/4 cup store-bought eggnog
1 cup white chocolate chips
1/2 cup powdered sugar
1/8 teaspoon cinnamon
1/8 teaspoon nutmeg
Instructions
Preheat oven to 350F. Have a 24-cup mini muffin pan ready.
In a medium bowl, whisk together the flour, salt, and baking soda.
In a large mixing bowl, beat together the butter and sugar until light and creamy, about 2-3 minutes. Beat in the egg and vanilla. Gradually beat in the flour mixture.
Roll the dough into 1-inch balls (roughly 1 tablespoon each) and add to each tin in the muffin pan. Bake 10-12 minutes or until cookies fill the cup, done in the middle, and are golden brown. Immediately using a round teaspoon (or something similar), press down into the center of each cookie cup, making an indentation deep enough to fill later. Cool completely before removing from the pans and filling.
For the filling: Add the chocolate chips to a heatproof bowl and set aside.
In a small saucepan, heat up the eggnog until just before boiling (do not boil). Pour over the chocolate chips and wait 1 minute. Stir together until completely smooth then whisk in the powdered sugar. Fill each cookie cup with the chocolate mixture.
In a small bowl, mix together the cinnamon and nutmeg. Dust each cookie with the spices. Let the filling firm up before serving. Store in an airtight container in the refrigerator for up to 1 week. Let sit at room temperature for 15-30 minutes before serving.
More Cookie Recipes For You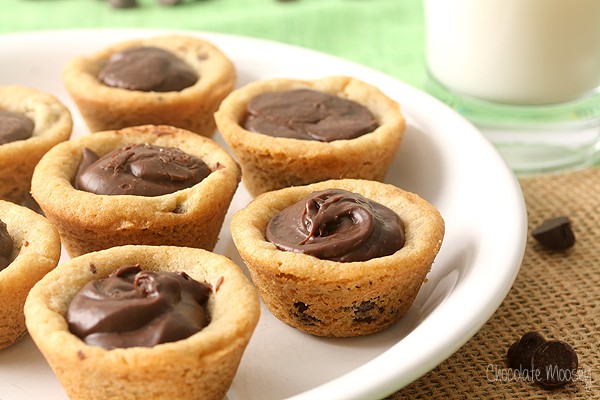 Fudge Filled Chocolate Chip Cookie Cups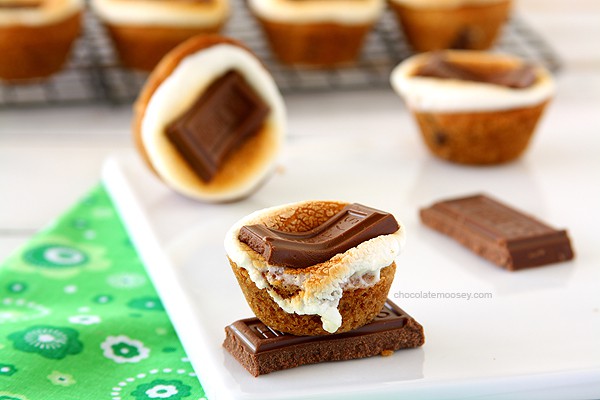 S'mores Chocolate Chip Cookie Cups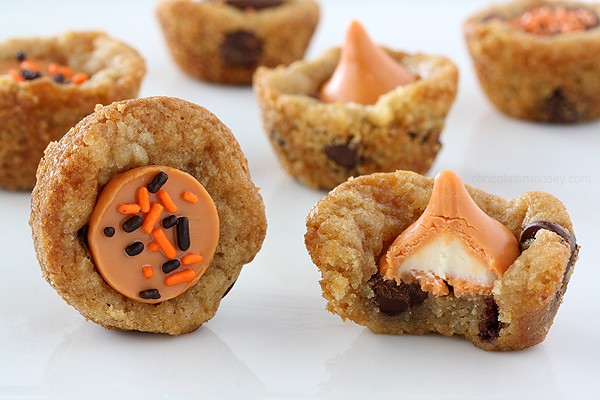 Pumpkin Spice Kiss Cookie Cups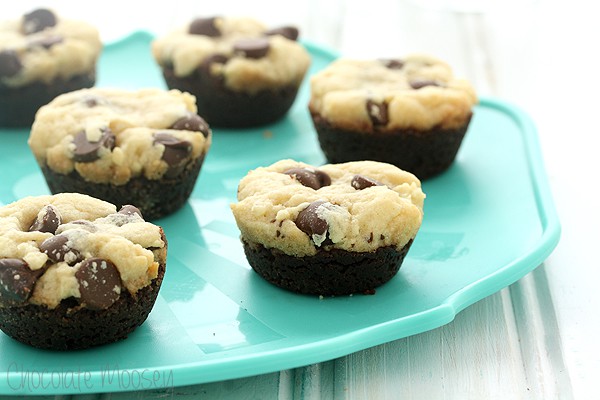 Chocolate Chip Cookie Brownie Bites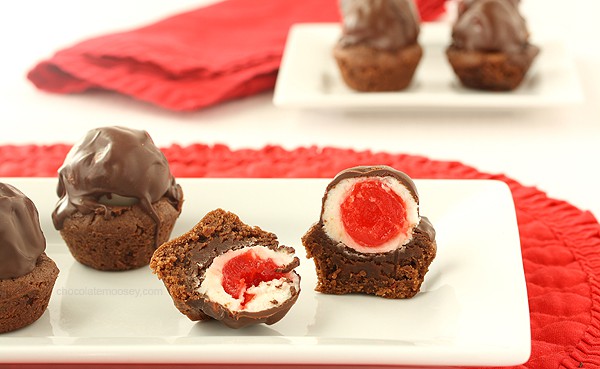 Chocolate Covered Cherry Brownie Cups
Disclosure: I was compensated by Safest Eggs for this recipe. As always, thank you for reading and supporting brands I work with, which allows me to bring you more recipes. All opinions, text, and photographs are my own.
This post may contain affiliate links. As an Amazon Associate and member of other affiliate programs, I earn from qualifying purchase.