This homemade Broccoli Cheese Soup recipe can be ready in under 30 minutes, perfect for when the weather is cold (or when you're feeling under the weather).

This past week or so, I've been a little under the weather with a sore throat. Fortunately, it was just a little cold that went away in a few days and I was still able to move around, but I did find it a little hard to eat with my throat being on fire and all. When this happens, I resort to drinking lots of juice and eating soup. Lots and lots of homemade soup. Luckily I know how to make a quick soup with very little effort, which is perfect when all you want to do is take a nap (just don't nap while you're actually making the soup). One of my new favorite soups is this Broccoli Cheese Soup, a recipe I've been cooking often this past month (before my cold) because broccoli is one of my favorite vegetables ever, even as a kid growing up. If there were vegetable trays at a party, I'd pile my plate high with broccoli. My coworkers at my last job made fun of me when we had leftover veggie trays and I basically took all the remaining broccoli (you can keep your celery sticks). Then of course it's cheese soup for the base. Everybody loves cheese with their broccoli, no? Whether you're looking for a vegetarian-friendly soup to warm you up with the cold weather or whether you're just feeling under the weather, this Broccoli Cheese Soup will fix you right up.
If you've been following my soup recipes, you may have noticed I use the same cooking formula – make a roux (flour paste), add the liquid, cook the main ingredients. Depending on what you're making, it only takes about 30-45 minutes from prep to table. This is usually why I eat soup a lot for dinner; it takes very little effort to make any soup my heart desires. Now that you know my secret, feel free to play with this recipe. I love to add carrots with the onion. Sometimes if there's leftover chicken, I'll even throw that in to help bulk it up.
I used fresh broccoli in this recipe, but you can easily substitute frozen broccoli. Just make sure it's completely thawed and drained of any excess liquid then patted dry. If you're in a super hurry, you can add the frozen broccoli directly from the bag (remove any noticeable ice pieces), but be aware it may result in a little extra water in the soup. You can also use the frozen California vegetable medley where it's broccoli, cauliflower, and carrots.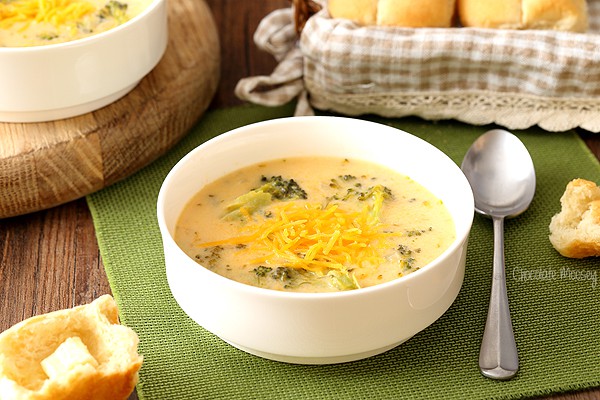 Ingredients
2 tablespoons butter (add few pinches of salt if unsalted)
1 small onion, chopped (roughly 1/4-1/2 cup)
1 garlic clove, minced
2 tablespoons all-purpose flour
3 cups vegetable or chicken broth
2 cups fresh chopped broccoli*
1/4 cup milk
2 cups shredded cheddar cheese
Instructions
In a Dutch oven or large pot, melt the butter (add salt, if using). Add the onion and cook until soft, about 5 minutes. Add the garlic and cook 30 seconds.
Stir in the flour until everything is coated and a roux (paste) is formed. Slowly whisk in the broth then bring to a boil. Once boiling, add the broccoli. Cook until soft (but not overcooked), about 8-10 minutes. Stir in the milk and cheese until melted. Serve hot.
Notes
*If substituting frozen broccoli, completely thaw it, drain any excess liquid that may have formed, and pat dry. If you use frozen broccoli directly from the bag, remove any noticeable ice pieces and cook a few minutes longer.
7.6.3
3352
https://www.chocolatemoosey.com/2014/12/08/broccoli-cheese-soup/
More Soup For You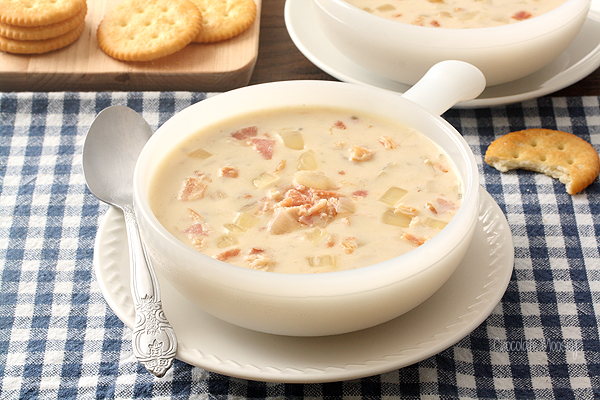 Creamy Onion Bacon Soup