Buttermilk Ice Cream is a creamy and tangy yet not too sweet ice cream, making it the perfect companion for desserts like apple pie or peach cobbler.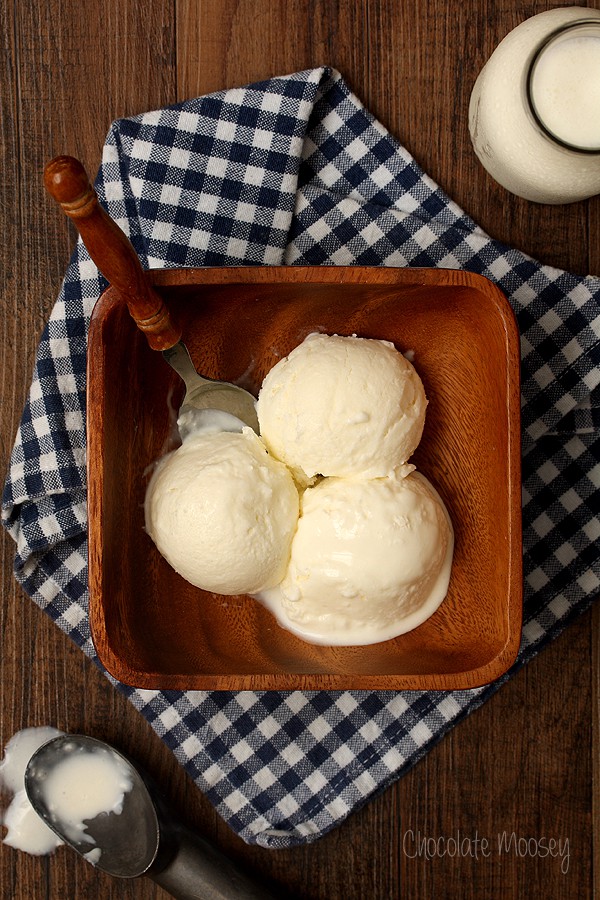 If you're anything like me, you tend to find yourself buying buttermilk for a recipe or two then having almost half a container leftover. Sure, you could use the ol' milk and vinegar trick to make your own buttermilk, but it's no substitute for the real deal in fried chicken or ranch dressing. What if I told you that your leftover buttermilk is the key ingredient to making one of the best ice creams I've ever had in my life? I know it sounds unusual and maybe even a little bit boring, but Buttermilk Ice Cream is a real thing and comes dangerously close to making my top three ice cream flavors (which says a lot considering I'm a die-hard chocolate anything fan). It's creamy, tangy, and not too sweet, making it the perfect companion to balance out those sugar-high desserts like pie and cobblers.
Buttermilk ice cream – what would possess me to make such a thing? I had the opportunity to review
Jeni's Splendid Ice Cream Desserts
cookbook (Amazon affiliate link) thanks to
Artisan Books
, making this part one of my review. In order to properly review a book dedicated to ice cream desserts, I wanted to make two recipes – the dessert itself and the ice cream to pair with it. Today I will be talking about the Buttermilk Ice Cream. Check back tomorrow for a fun version on apple pie and my overall thoughts on whether you should buy this book (hint – yes!).
As I was browsing through Jeni's Splendid Ice Cream Desserts, Buttermilk Soft-Serve Ice Cream caught my eye almost immediately. Although I didn't make the soft-serve version, Jeni did say you could let it harden to be scoopable, just like any ice cream recipe. I knew I was going to scoop it on top of pie later, so that worked for me.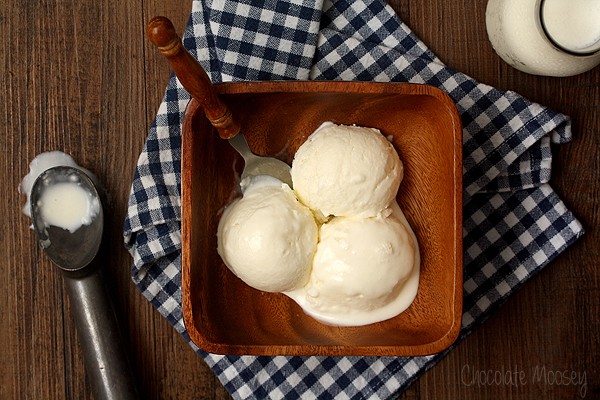 Jeni makes her ice cream a lot differently than traditional bases and explains why. First, you use cream cheese to give the ice cream a little more body. Without it, the ice cream would be a little thinner. Second, you use corn syrup for its water-attracting quality to help with the binding process while the base cooks (plus it helps makes the ice cream less sweeter than using all table sugar, which I didn't know that). I was pretty impressed with how well the ice cream turned out, so I may be adapting her method and playing around with my own flavors. Scooping it was much easier than other ice creams I've made.
I think Buttermilk Ice Cream is best served with something else like apple pie or
peach cobbler
since on its own it's not a very sweet ice cream. Not saying I wouldn't eat a bowl of this straight up (because I have), but if you're anything like me, it may not be sweet enough for your liking. And if you don't like sweet desserts, then this ice cream is absolutely meant for you.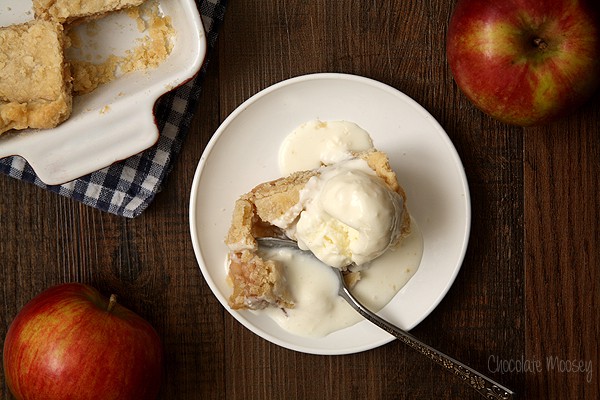 Be sure to check back tomorrow for Jeni's apple pie recipe as well as why you should (or maybe shouldn't) buy Jeni's Splendid Ice Cream Desserts.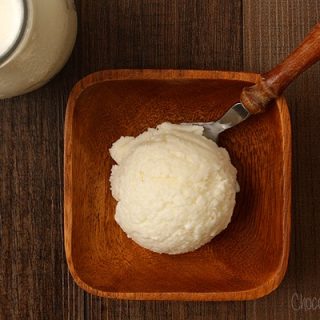 Buttermilk Ice Cream
Ingredients
1/2 cup + 2 tablespoons heavy whipping cream
1 tablespoon cornstarch
2 ounces cream cheese, softened
1/8 teaspoon fine sea salt
1/3 cup granulated sugar
1 tablespoon corn syrup
1 1/4 cups buttermilk
Instructions
In a small bowl, mix together 2 tablespoons cream and cornstarch to make a smooth slurry.
In a medium bowl, beat together the cream cheese and salt until smooth.
In a large saucepan, whisk together the remaining 1/2 cup cream, sugar, and corn syrup and bring to a boil. Boil for 4 minutes. Gradually whisk in the cornstarch slurry. Cook until slightly thickened, about 30 seconds. Remove from the heat.
Gradually beat the hot cream mixture into the cream cheese until stir. Stir in the buttermilk.
Pour the mixture in a 1-gallon freezer bag and seal. Submerge into an ice bath and chill until cold, about 30 minutes.
Once the mixture is cold, add to your ice cream maker and churn according to your ice cream maker's directions. Once done, freeze until firm, at least 4 hours.
Source: Slightly adjusted from
Jeni's Splendid Ice Cream Desserts
(Amazon affiliate link)
Recipes To Serve With Buttermilk Ice Cream

Cinnamon Pecan Cherry Pie
Disclosure: I received one copy of Jeni's Splendid Ice Cream Desserts for review. No further compensation was provided.