Everybody loves watermelon slices during the summer, so why not serve Watermelon Yogurt Pops? Watermelon Yogurt Pops made with Greek yogurt are not only refreshing after a long hot day, they are almost guilt-free.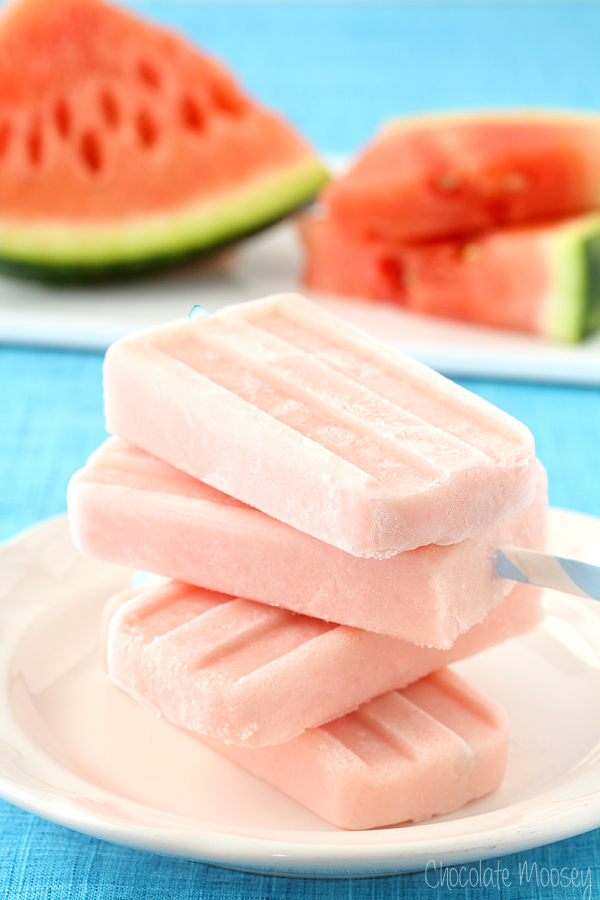 Last month you may remember my
Watermelon Italian Ice
. The funny thing about buying watermelon is you end up with a lot of watermelon. A lot. Even the smallest one I found left me with watermelon for days. And although I did snack on it, I wanted to make another recipe with it (and yes, I'm about a month late in posting this). Because watermelon is essentially 92% water, I wanted to make something refreshing and cold. My first thought was ice cream, but heavy cream and watermelon didn't seem like a logical pair. What if I paired it with Greek yogurt? It would still have that creaminess but won't be as heavy as ice cream. And that's how Watermelon Yogurt Pops were born.
Everybody loves watermelon slices at a picnic, so why not serve watermelon in frozen form? Watermelon Yogurt Pops are not only refreshing when you are dehydrated from playing in the hot sun, they are almost guilt-free. Most of us love ice cream, but most of us also have to watch how much ice cream we consume (wait, just me?), so when my ice cream craving attacks, I can grab a yogurt pop instead. Imagine having a summer party at your house and pulling these yogurt pops out of the freezer to share. Or pretend you don't have these in the freezer and don't share. Your call.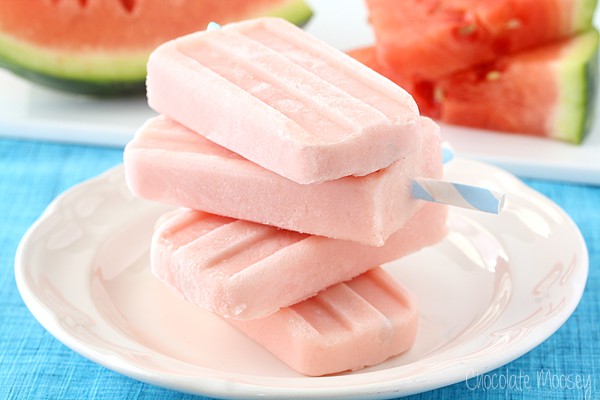 Although you can buy packaged watermelon slices at the store, there's no guarantee as to how fresh and juicy they'll be. That's why I opted for a whole watermelon. Buy what's best for your household, but if you do buy a whole watermelon, keep these three tips in mind. First, it should be heavy to lift, even the small ones. Second, look for a yellow spot. This is called a sun spot and indicates that the watermelon has sat on the vine long enough to ripen. Third, it should be symmetrical and not oddly shaped. I learned those tips from
Watermelon.org
last month when I attended a conference.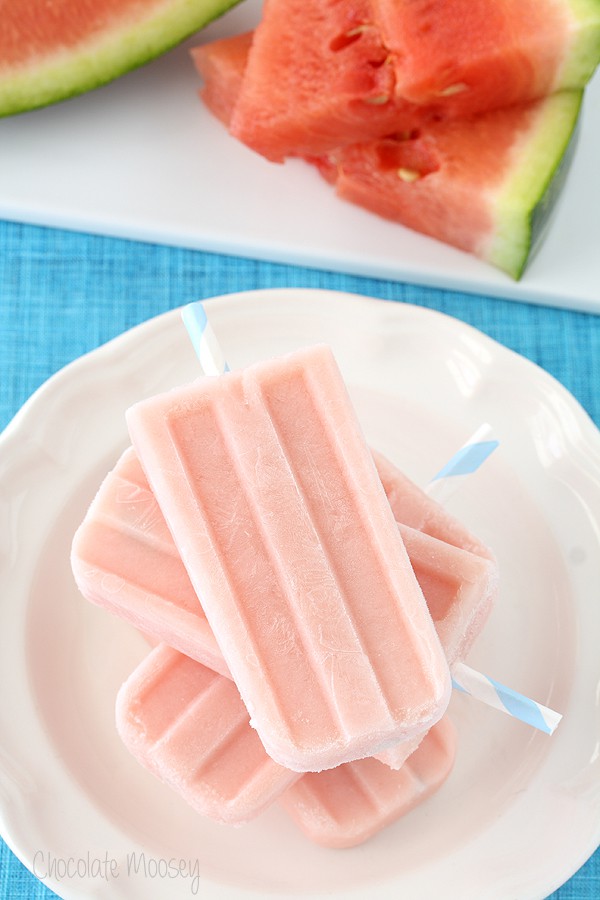 If you're like me and find yourself with lots of watermelon leftover, cut it into cubes then freeze them. It's best to line them in one layer on a cookie tray or plate then once frozen, place into a freezer bag. That way they don't stick and freeze together in the bag. Now you have instant watermelon ice cubes that you can either put into drinks (watermelon lemonade, anyone?) or blend into smoothies. Or thaw them out and make these yogurt pops or Italian ice (I had a tough time making the yogurt pops with frozen watermelon. Thawed cubes made it much easier and smoother).
Equipment you will need (affiliate links):

Watermelon Yogurt Pops
Ingredients
3 cups cubed watermelon
1/2 cup Greek yogurt
1/4 cup granulated sugar
1 tablespoon lemon juice
6 popsicle sticks
Instructions
In a blender, blend together the watermelon, yogurt, sugar, and lemon juice. Pour into popsicle molds and insert sticks. Freeze until firm, about 4 hours or overnight.
More Watermelon Recipes

Watermelon Lemonade Margarita Popsicles