Spicy gingerbread cake baked and frosted in one pan means this Christmas classic requires little maintenance and is ready to take with you to holiday parties and work potlucks.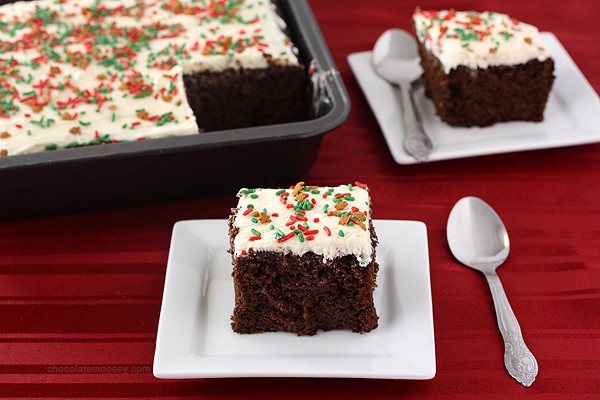 It's Day 4 of Christmas Week and my final post this week. Once again, Kim of
Cravings of a Lunatic
and Jen from
Juanita's Cocina
are co-hosting this multi-blogger event, and each day we will be celebrating with Christmas-themed treats as well as fabulous Christmas giveaways. There will be posts going on all week until Saturday, December 14th (hint: participants and giveaways are listed at the bottom of each post). Make sure you check out
Day 1
,
Day 2
, and
Day 3
for recipes and giveaways.
December (and parts of November) is the only time I eat gingerbread. I know someone who makes it every Halloween, but I'm too busy stuffing my face with pumpkin. Of course once December rolls around, everyone is running here then there and fighting for parking spaces and shopping carts. Or getting hit in the ankle with a cart then dodging people's kids as you race to wait in line for 30 minutes. I'm all about reducing stress, so I married a Christmas classic with the convenience of a sheet cake. I love making sheet cakes simply because you bake and frost it in one pan. No need to unmold (and possibly cry) then finding another container for transportation or whether you have enough to frost the sides (not to mention you don't need frosting skills either). All in one pan, all parties are happy.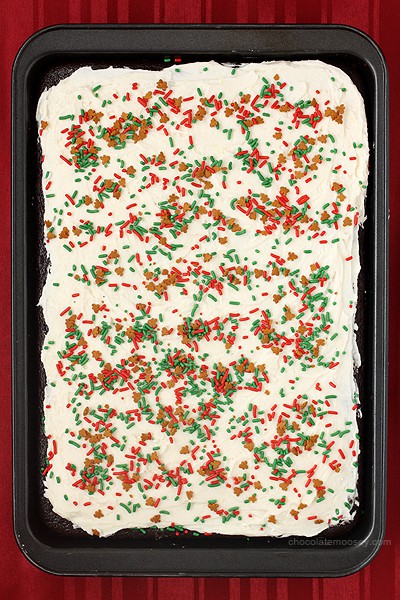 As I was doing some recipe research, I learned that typical sheet cakes are made in a thin sheet pan (think jellyroll pan), not a big 13×9 pan that I'm accustomed to. Maybe that's why people look at me weird when I say it's a sheet cake, so I'm calling it a Texas sheet cake because cakes are bigger in Texas (right? I've never been to Texas before).
I topped it with a thin layer of lemon frosting because lemon and gingerbread go together quite nicely. I first discovered the duo with
lemon speculoos ice cream
. If you're skeptical (don't be!) or don't like lemon (blasphemy!),
cream cheese frosting
makes a great substitute.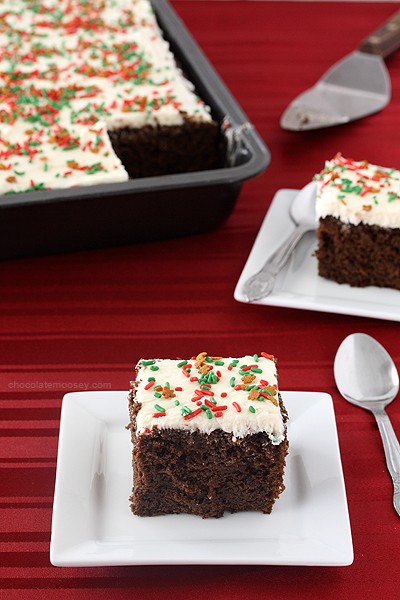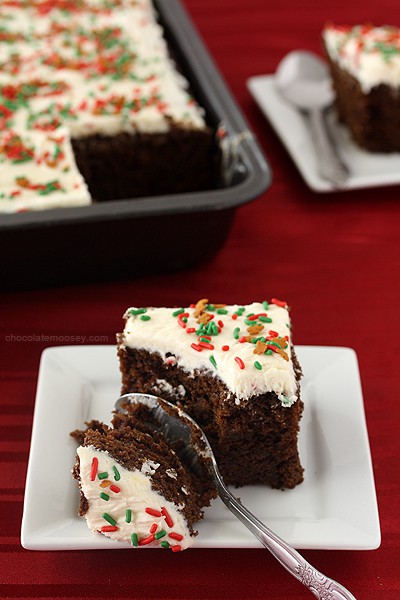 Gingerbread Texas Sheet Cake with Lemon Frosting
Spicy gingerbread cake baked and frosted in one pan means this Christmas classic requires little maintenance and is ready to take with you to holiday parties and work potlucks.
Ingredients
4 cups all purpose flour
1/2 cup granulated sugar
2 teaspoons baking soda
1 teaspoon salt
1 tablespoon ground ginger
2 teaspoons ground cinnamon
1/2 teaspoon ground nutmeg
1/2 teaspoon ground clove
1 cup (2 sticks) butter, melted
1 1/2 cups molasses
1/2 cup water
2 eggs
2 cups buttermilk
Frosting
1/2 cup (1 stick) unsalted butter, softened
3 cups powdered sugar
Pinch of salt
2 tablespoons lemon juice
1 teaspoon lemon zest
Sprinkles
Instructions
Preheat oven to 350F. Grease a 13x9 pan.
In a large mixing bowl, whisk together the flour, sugar, baking soda, salt, ginger, cinnamon, nutmeg, and clove.
With a mixer on low speed or by hand, add the melted butter and molasses, mixing until moistened. Add the water, mixing or stirring until everything is moistened.
Whisk together the egg and buttermilk then mix or stir into the batter until evenly combined.
Pour the batter into the pan and bake 45-50 minutes or until a toothpick inserted in the center comes out clean. There may be cracks on top, but they will be covered up with frosting. Cool completely.
For the frosting: In a large mixing bowl, beat together the butter, sugar, and salt until creamy. Add the juice and zest. Beat another 2-3 minutes or until light and fluffy. Spread onto cooled cake then top with sprinkles.

Source: Adapted from King Arthur Flour
—-
If you liked Gingerbread Texas Sheet Cake with Lemon Frosting, you may also like these recipes from me: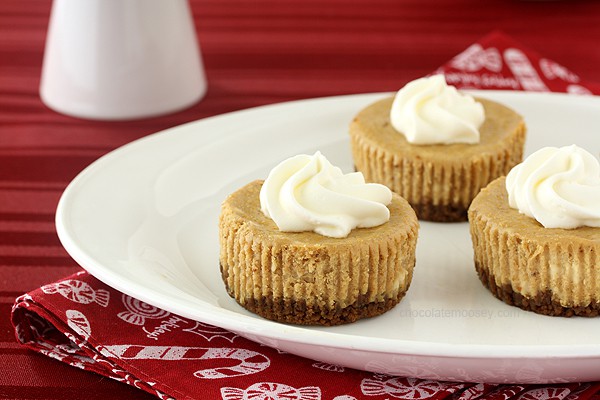 For the rest of today's Christmas recipes:
—-
Today's #ChristmasWeek giveaway comes courtesy of
Swissmar
. Le Cordon Bleu has been a worldwide leader in gastronomy and hospitality for over 100 years and are widely considered the guardian of French culinary technique. Swissmar now combines this culinary expertise with their own knowledge and brand recognition to introduce this fantastic new line.
The Le Cordon Bleu ceramic ovenware from Swissmar are all freezer safe, oven safe, dishwasher and microwave safe. The French-inspired Charmant Collection 5 qt. Rectangular Roaster has scalloped edges and is beautiful enough to go straight from oven to table! To enter to win a Swissmar Roaster, read the details and use the Rafflecopter below!
***This giveaway is for one Swissmar Charmant Collection 5 qt. Rectangular Roaster (winner's choice of color: blue, yellow, red, or white)! This giveaway is open to Continental US residents only . When the contest concludes, the winner will be chosen by random draw. The winner will be notified through e-mail and they will have 3 days to respond or another winner will be chosen.***
Disclosure: This giveaway is being provided by Swissmar. Participating bloggers have not received product nor been compensated as a part of this giveaway.