Chewy peanut butter cookies with peanut butter cup pieces then sandwiched together with peanut butter frosting. Grab a glass of milk and dig in!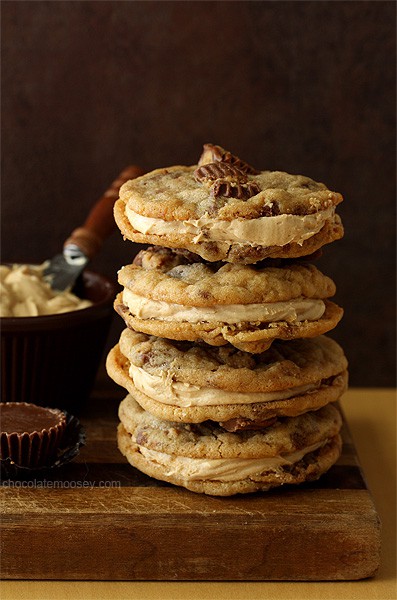 Today marks the beginning of a beautiful week – it's Cookie Week! Cookie Week is just what it sounds like – a week full of cookie recipes hosted by
Susan of The Girl In The Little Red Kitchen
and
Kim of Cravings of a Lunatic
to get you ready for the holiday with lots of ideas for gift giving and parties. I personally will only be posting three days, but we have over 20 bloggers posting all week with every cookie type you can possibly imagine, including treats for your furry friends. Even if you aren't ready to make them now, be sure to follow
the Cookie Week Pinterest board
for recipes all in one place.
I'm kicking off the week with Peanut Butter Cup Sandwich Cookies. I took a chewy peanut butter cookie recipe, used peanut butter cups instead of chocolate chips, then sandwiched them together with peanut butter filling. A peanut butter lover's dream that may require a glass of milk.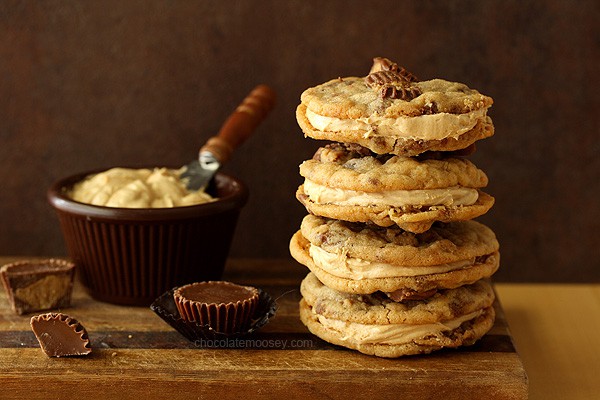 I've had this idea in my head for a long time, ever since I used peanut butter cups as chocolate chips in my
peanut butter cup bars
. What prompted me to sandwich them together I'm not sure. I just know the more peanut butter, the better. Even if I hate drinking milk.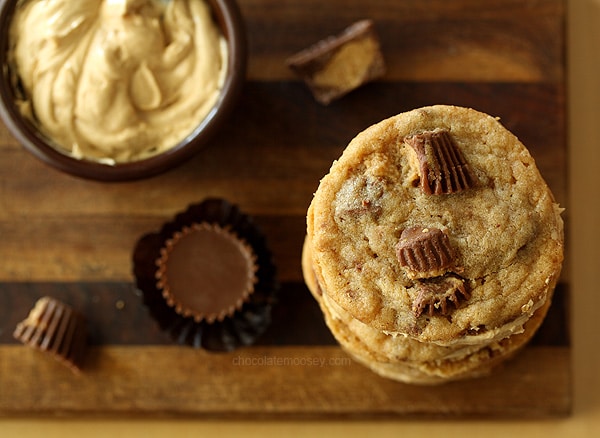 I envision these wrapped up in a box, all ready to give away for Christmas. I bet they'll mail well too. After all, what's Christmas without a cookie exchange? This batch you see here was taken into work and devoured in almost no time. I've even had coworkers tell other coworkers to go grab a cookie at my desk.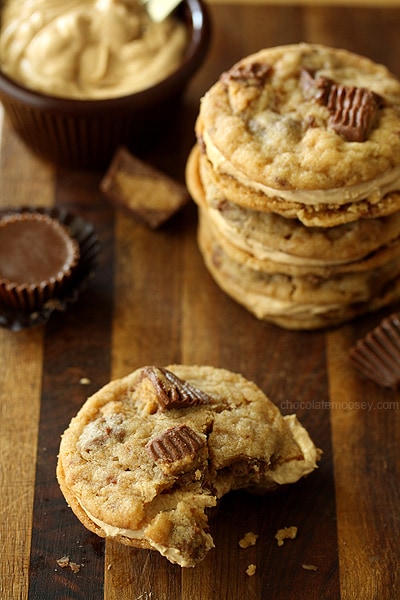 Of course if you just want the cookies without the peanut butter frosting, feel free to do just that (but I highly recommend you go all out with the peanut butter. Or even use chocolate filling).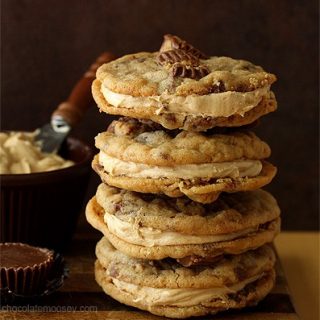 Peanut Butter Cup Sandwich Cookies
Ingredients
Cookies
1 1/4 cups all purpose flour
1/2 teaspoon baking soda
1/2 teaspoon salt
3/4 cup (1 1/2 sticks) unsalted butter, softened
1/2 cup granulated sugar
1/2 cup brown sugar
1/2 cup creamy peanut butter
1 egg
1 teaspoon vanilla extract
2 cups chopped peanut butter cups (the size of chocolate chips)
Filling
3/4 cup creamy peanut butter
3/4 cup (6 tablespoons) unsalted butter, softened
3/4 cup powdered sugar
Pinch of salt
Instructions
For the cookies
Preheat the oven to 350F. Line two cookie sheets with parchment paper.
In a medium bowl, mix together the flour, baking soda, and salt.
In a large mixing bowl, beat together the butter, sugar, brown sugar, and peanut butter until creamy. Beat in the egg and vanilla. Gradually beat in the flour mixture. Stir in the peanut butter cups.
Drop dough by the tablespoon onto the the baking sheets*. Bake 8-10 minutes or until the edges are set and the centers look done but are still soft. Let stand on the sheet for 4 minutes before removing to a wire rack to cool completely.
For the filling
In a large mixing bowl, beat together the peanut butter and butter until creamy and smooth. On low speed, add the powdered sugar and salt and beat until combined. Increase the speed to medium-high and beat until light and fluffy, about 3-4 minutes.
Take one cookie and spread some of the frosting onto the flat side. Take another cookie and place on top, flat side down. Repeat with the remaining cookies.
Notes
*If your dough is too warm, chill in the refrigerator for about an hour before baking.
Source: Adapted from Nestle Toll House Best Loved Cookies
—-
If you liked these Peanut Butter Cup Sandwich Cookies, you may also like these recipes from me: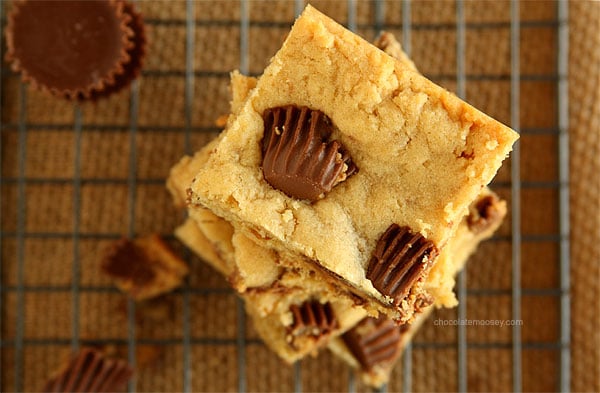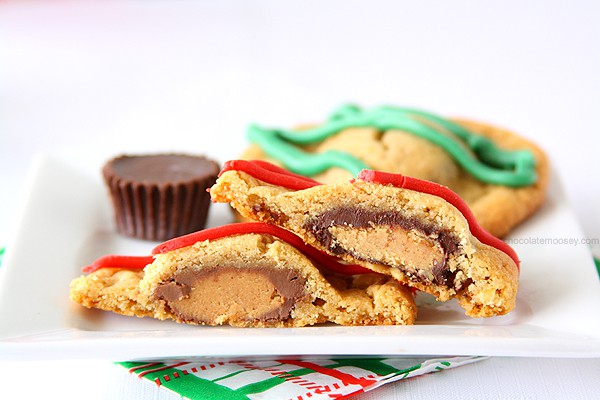 Here are the participants for Cookie Week. Be sure to check out their blogs all week for delicious cookie ideas: