Chewy peanut butter cookies with peanut butter cup pieces then sandwiched together with peanut butter frosting. Grab a glass of milk and dig in!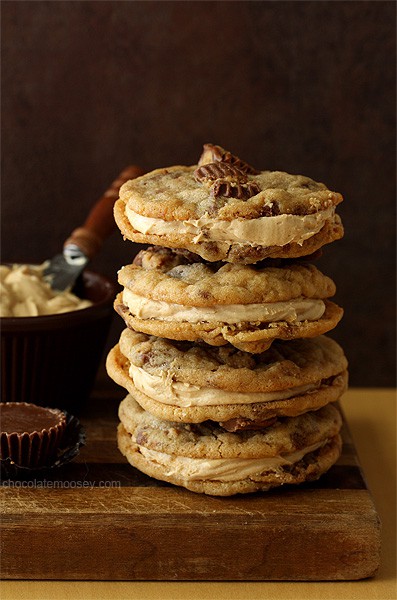 Today marks the beginning of a beautiful week – it's Cookie Week! Cookie Week is just what it sounds like – a week full of cookie recipes hosted by
Susan of The Girl In The Little Red Kitchen
and
Kim of Cravings of a Lunatic
to get you ready for the holiday with lots of ideas for gift giving and parties. I personally will only be posting three days, but we have over 20 bloggers posting all week with every cookie type you can possibly imagine, including treats for your furry friends. Even if you aren't ready to make them now, be sure to follow
the Cookie Week Pinterest board
for recipes all in one place. We are also giving away fabulous baking-related prizes from
KitchenAid
,
King Arthur Flour
,
OXO
,
Silpat
and
Zulka Pure Cane Sugar
.
I'm kicking off the week with Peanut Butter Cup Sandwich Cookies. I took a chewy peanut butter cookie recipe, used peanut butter cups instead of chocolate chips, then sandwiched them together with peanut butter filling. A peanut butter lover's dream that may require a glass of milk.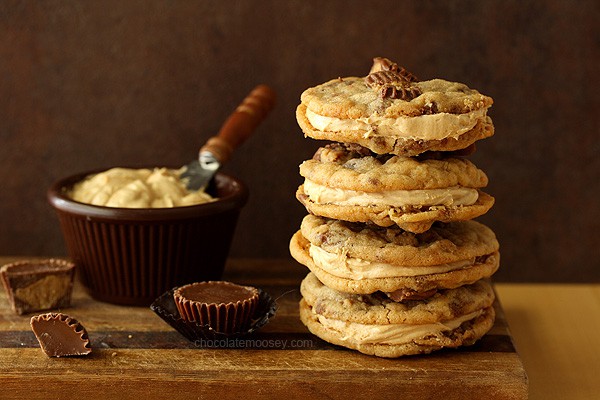 I've had this idea in my head for a long time, ever since I used peanut butter cups as chocolate chips in my
peanut butter cup bars
. What prompted me to sandwich them together I'm not sure. I just know the more peanut butter, the better. Even if I hate drinking milk.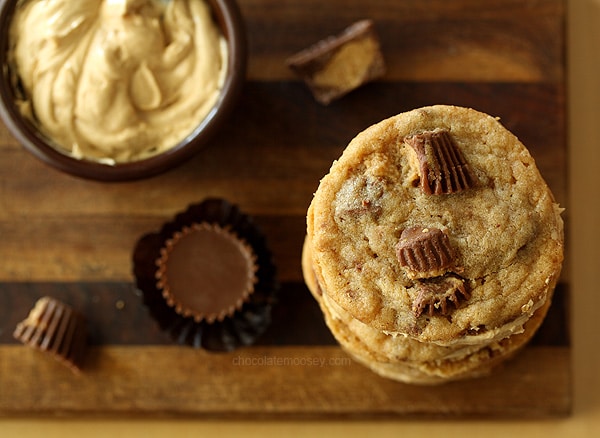 I envision these wrapped up in a box, all ready to give away for Christmas. I bet they'll mail well too. After all, what's Christmas without a cookie exchange? This batch you see here was taken into work and devoured in almost no time. I've even had coworkers tell other coworkers to go grab a cookie at my desk.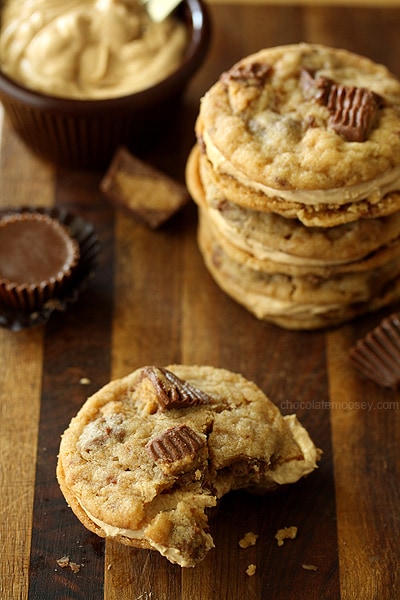 Of course if you just want the cookies without the peanut butter frosting, feel free to do just that (but I highly recommend you go all out with the peanut butter. Or even use chocolate filling).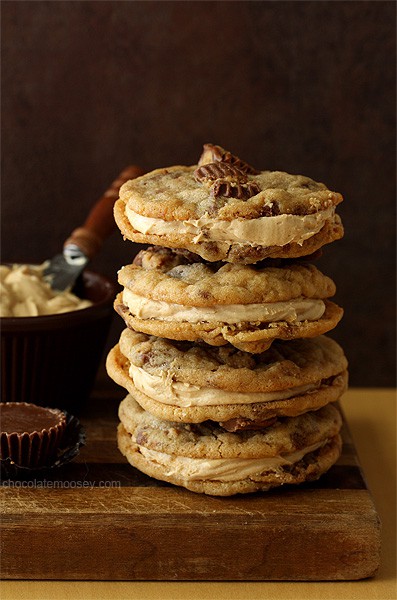 Ingredients
Cookies

1 1/4 cups all purpose flour
1/2 teaspoon baking soda
1/2 teaspoon salt
3/4 cup (1 1/2 sticks) unsalted butter, softened
1/2 cup granulated sugar
1/2 cup brown sugar
1/2 cup creamy peanut butter
1 egg
1 teaspoon vanilla extract
2 cups chopped peanut butter cups (the size of chocolate chips)

Filling

3/4 cup creamy peanut butter
3/4 cup (6 tablespoons) unsalted butter, softened
3/4 cup powdered sugar
Pinch of salt
Instructions
For the cookies

Preheat the oven to 350F. Line two cookie sheets with parchment paper.
In a medium bowl, mix together the flour, baking soda, and salt.
In a large mixing bowl, beat together the butter, sugar, brown sugar, and peanut butter until creamy. Beat in the egg and vanilla. Gradually beat in the flour mixture. Stir in the peanut butter cups.
Drop dough by the tablespoon onto the the baking sheets*. Bake 8-10 minutes or until the edges are set and the centers look done but are still soft. Let stand on the sheet for 4 minutes before removing to a wire rack to cool completely.

For the filling

In a large mixing bowl, beat together the peanut butter and butter until creamy and smooth. On low speed, add the powdered sugar and salt and beat until combined. Increase the speed to medium-high and beat until light and fluffy, about 3-4 minutes.
Take one cookie and spread some of the frosting onto the flat side. Take another cookie and place on top, flat side down. Repeat with the remaining cookies.
Notes
*If your dough is too warm, chill in the refrigerator for about an hour before baking.
7.6.3
3212
https://www.chocolatemoosey.com/2013/11/11/peanut-butter-cup-sandwich-cookies/
Source: Adapted from Nestle Toll House Best Loved Cookies
—-
If you liked these Peanut Butter Cup Sandwich Cookies, you may also like these recipes from me: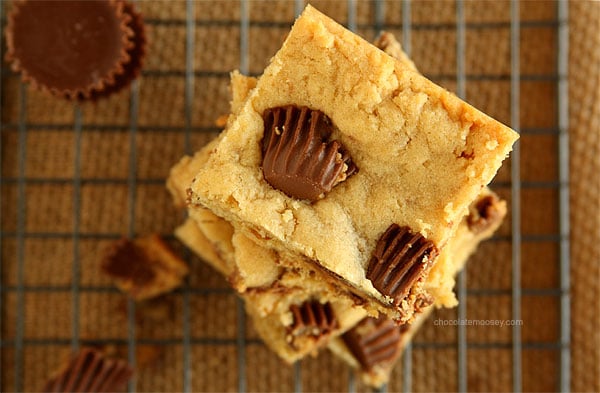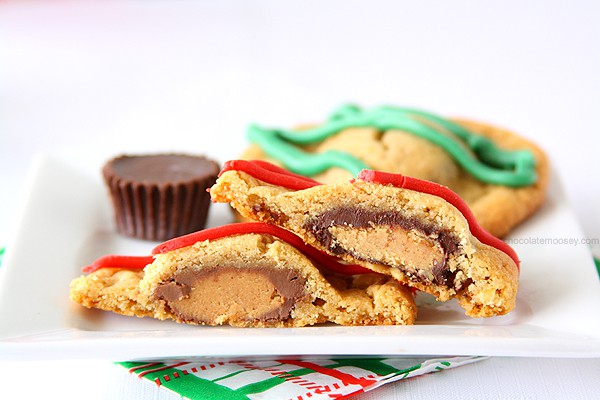 Here are the participants for Cookie Week. Be sure to check out their blogs all week for delicious cookie ideas:
As I said earlier, we have amazing prizes lined up this week thanks to our sponsors
KitchenAid
,
King Arthur Flour
,
OXO
,
Silpat
and
Zulka Pure Cane Sugar
.
Four lucky winners will win one of the following:
Prize #1: 1 (one) KitchenAid 9-Speed Hand Mixer plus 1 (one) 4lb bag of Zulka Pure Cane Sugar
Prize #2: 1 (one) OXO gift set including the following: 1 (one) 3-in-1 Egg Separator, 1(one) Cookie Press, 1(one) Autumn Cookie Disk Set, 1(one) 3 piece Cookie Cutter Set, 1(one) Bowl Scraper, 1(one) 2 Cup Adjustable Measuring Cups
Prize #3: 1 (one) King Arthur Flour gift set including the following: 1(one) King Arthur Unbleached All Purpose Flour -5lb bag, 1(one) Snowflake Cookie Cutter Set, 1(one) King Arthur Flour Pure Vanilla Extract, 1(one) Sparkling Sugar Collection, 1(one) Semi-Sweet Chocolate Wafers – 16oz and 1(one) 4lb bag of Zulka Pure Cane Sugar
Prize #4: 1 (one) Silpat Halfsize Mat and 1(one) 4lb bag Zulka Pure Cane Sugar
This giveaway is open to US residents and will be picked from random draw. The winners will be notified via email and have 72 hours to respond, if not their prize is forfeited and another winner will be chosen.

a Rafflecopter giveaway
A little about our sponsors:
The iconic Kitchenaid stand mixer was born in 1919, from there stemmed an entire kitchen of high-performance appliances -all created with the same attention to detail and quality.
OXO's mission is dedicated to providing innovative consumer products that make everyday living easier.
King Arthur Flour was founded in 1790, as America's oldest flour company they provided pure, high-quality flour to residents of the newly formed U.S., still going strong, they are the nation's premier baking resource.
Silpat was founded in 1965 by M Guy Demarle in Northern France. He was an experience baker seeing a better way to bake bread with forms using non-stick silicone coatings. He invented the first non-stick baguete baking trays and a few years later invented and created the original Silpat.
Zulka Pure Cane Sugar is a Non GMO Project Verified "Morena" sugar – a term used to described granulated sugars that do not undergo conventional refining processes. Zulka is perfect for baking, it tastes better, is less processed and is a cup for cup replacement.
Disclaimer: KitchenAid, OXO, King Arthur Flour, Silpat and Zulka Pure Cane are providing the prizes free of charge. All opinions stated are my own.