Creamy chicken pot pie soup with peas and carrots served with cheddar biscuits makes great comfort food as the weather gets cooler.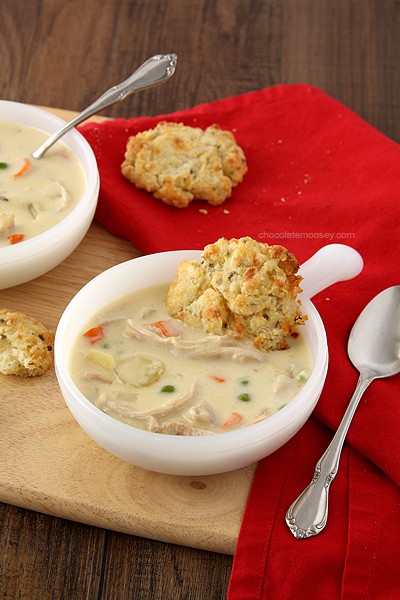 It's funny – growing up, I never considered soup a meal. When I started cooking for myself in college, I only ate soup if I wasn't feeling well. Most of the time, it was ramen noodle soup. Now? Soup is all I crave for dinner, even during the summer. I ate some soup during the summer, but I've been waiting for the cooler weather to try some new recipes. I used to think soup wasn't quick because you would simmer it for hours for the flavors to develop. Although that still may be true for some soups, there are also soup recipes that can be ready in less than an hour, like this Chicken Pot Pie Soup with Cheddar Biscuits. Creamy, hearty, and delicious.
As an adult, I get cravings for food I was never fond of as a kid. I tend to crave chicken pot pie. A lot. As a kid, my parents served me those frozen mini pot pies in that famous red box. I claimed that I hated pot pie, but that wasn't true. I just never had a good one until a few years ago when my dad and I visited Philadelphia. For some reason, the waiter convinced me to try the turkey pot pie with a puff pastry crust. And I haven't stopped craving pot pie since.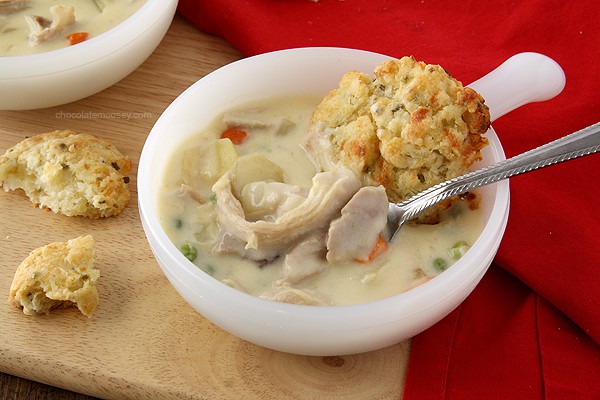 Sometimes, though, pot pie can be a little time consuming if you have to make a crust. This soup solves that problem. I did cheat a little bit because I made biscuits instead of pie crust. Maybe it's not an authentic pot pie, but who cares when it tastes this good?
Making the soup itself is fairly quick; however, you need to consider cooking time for the chicken. I'm a huge fan of chicken quarters (leg and thigh), so I boil them in a pot of water for roughly 30 minutes. Once cooled, I pull the chicken off the bone. I tend to make an extra quarter just to have it for quick meals throughout the week. You could also use a rotisserie chicken from the store. I've heard some people can get a great price for a lot of chicken if they are on sale. Feel free to use turkey meat, especially if you have leftovers from Thanksgiving.
Ingredients
Soup

2 chicken quarters, thawed
2 tablespoons butter
1/2 cup onion, chopped
1 cup carrots, peeled and chopped into coins
1/4 cup all purpose flour
1/2 teaspoon salt
1/2 teaspoon garlic powder
3 cups chicken broth
1 cup heavy cream or whole milk
1/2 cup potatoes, peeled and cut into cubes
1/2 cup frozen peas, thawed

Biscuits

2 tablespoons cold butter, cut into 4 pieces
1/2 cup all purpose flour
1/2 teaspoon baking powder
1/8 teaspoon salt
1/4 cup shredded cheddar cheese
1 teaspoon dried chives (or herb of choice)
1/4 cup heavy whipping cream
Instructions
Have everything prepped, measured, and ready to go because you will be making the biscuits as you wait for the soup to cook.

For the soup

Fill a large pot with water and bring to a boil. Once boiling, add the chicken quarters and cover with a lid. Cook 30 minutes or until the chicken is completely cooked through. Remove from the water and let the chicken cool. Once it's cool enough to handle, pull the meat off of the bones, discarding skin and bones. Set aside chicken.
Preheat the oven to 425F and have a cookie sheet ready. You can make the biscuits while the soup is cooking (see below).
In another large pot, melt the butter. Add the onion and carrots; saute until the onions are soft. Stir in the flour, salt, and garlic powder to form a roux (paste).
Gradually stir in the broth and cream/milk. Bring to a boil then add the potatoes. Reduce the heat to simmer and cook for 10-15 minutes or until the potatoes are soft. Add the peas and chicken and cook for 2-3 minutes more or until everything is hot.

For the biscuits

While the soup is cooking, make the biscuits. In a large bowl, combine the butter pieces and flour. Cut with a pastry cutter until the mixture is crumbly and looks like small pebbles. Add the cheese, chives, and cream, stirring until everything is moistened.
Divide the dough into four pieces and freeform into biscuits (it's ok if they are rustic looking). Bake for 10-12 minutes or until golden brown. Cool for 5 minutes then serve warm with soup.
7.6.3
3201
https://www.chocolatemoosey.com/2013/10/17/chicken-pot-pie-soup-with-cheddar-biscuits/
Source: Adapted from
Food Network
—-
If you liked this Chicken Pot Pie Soup with Cheddar Biscuits, you may also like these recipes:
From me: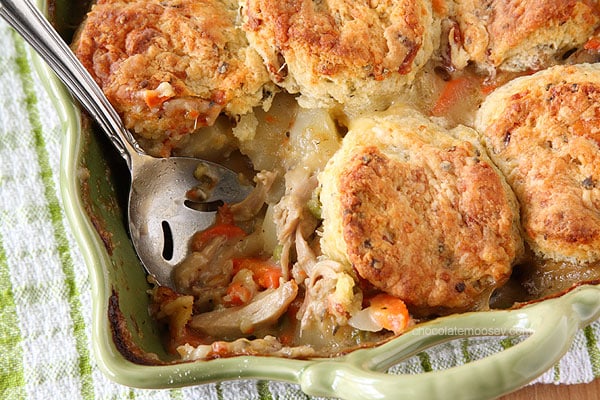 From other bloggers: