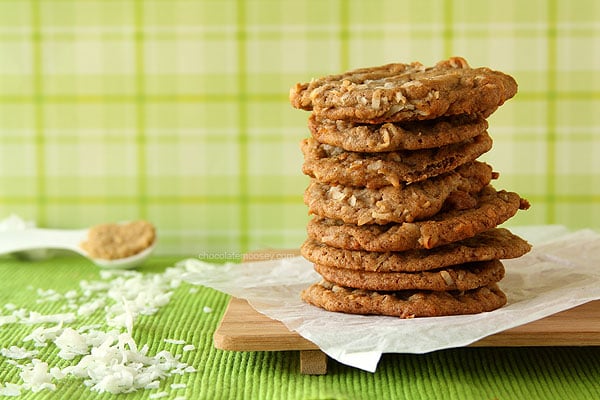 If I find a recipe I like that doesn't involve chocolate, you know it must be good. Take these Brown Sugar Cinnamon Coconut Cookies for example. I have made these twice already and not a hint of chocolate to be found. Then again, I have such an obsession with putting cinnamon into everything, I already went through two jars in the past few months. These coconut cookies are crispy on the edges and chewy in the middle. The coconut flavor is subtle with a burst of cinnamon goodness. I couldn't stop eating them.
My coworker asked me to make her two kinds of cookies. The first one I made were my
Chocolate Gingersnap Cookies
. The second one I knew I wanted something without chocolate. I went through every cookbook, Pinterest board, and blog possible for ideas. I seriously had no inspiration. Finally I decided to check out last year's
Great Blogger Cookie Swap round up post
. There has to be something there, right? After scrolling through dozens and dozens of cookies, these Brown Sugar Cinnamon Coconut Cookies caught my eye.
Except mine turned out a bit thinner than the original recipe. I baked them at room temperature, straight from the refrigerator, and straight from the freezer. Straight from the freezer won, although the fridge wasn't bad either. The one bad thing about this recipe is they must be far apart on the cookie sheet, so you can only bake about 8 at a time. Line the sheets with parchment paper and let them cool between each use. I baked one sheet at a time, so by the time the one was done baking, the other one was cool.
These Brown Sugar Cinnamon Coconut Cookies are great for mailing. They are sturdy enough to handle the trip plus they stay moist even after a few days. I know a couple of chocolate haters that would flip over a box of these. Even chocoholics like myself can't say no.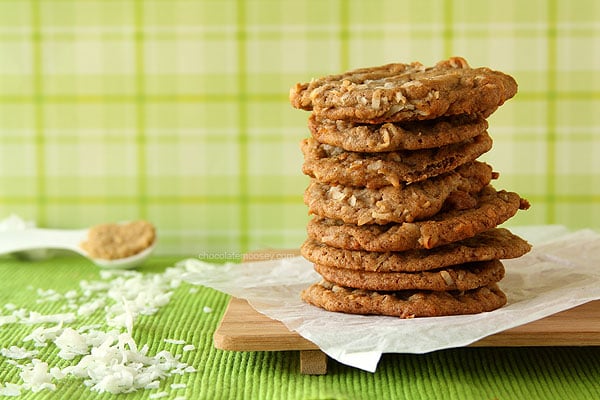 Ingredients
1 1/4 cups all-purpose flour
1/2 teaspoon baking soda
1/4 teaspoon salt
1 tablespoon ground cinnamon
1/2 cup (4 ounces or 8 tablespoons) unsalted butter, softened
3/4 cup packed brown sugar
1/4 cup granulated sugar
1 egg
1 teaspoon vanilla extract
1 cup sweetened coconut flakes
Instructions
In a medium bowl, whisk together the flour, baking soda, salt, and cinnamon. Set aside.
In a large bowl, beat together the butter, brown sugar, and sugar until creamy and smooth, about 2-3 minutes. Beat in egg and vanilla until smooth. Gradually beat in flour mixture then stir in coconut. Refrigerate the dough until cold, about an hour or so.
Preheat oven to 350F. Line two cookie sheets with parchment paper. Roll the dough into 1-inch balls and place on the cookie sheets 3 inches apart (optional - freeze the balls for 15 minutes before baking). Bake 10-12 minutes or until the edges are set. Wait a few minutes before transferring to a cooling rack. Cool completely.
7.6.3
3115
https://www.chocolatemoosey.com/2012/12/04/brown-sugar-cinnamon-coconut-cookies/
Source:
The Best Things Come From The Oven