Espresso Brownie Mix
A jar of homemade brownie mix with espresso powder makes the perfect holiday gift from the kitchen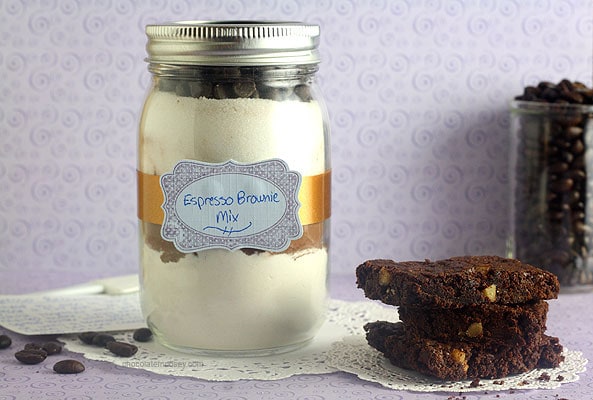 Today I'm reviewing the cookbook Desserts in Jars. Shaina's book actually came out this past summer, but it makes a great holiday gift (actually the recipes themselves make great gifts, but the book is great to give too). "Desserts In Jars" is as the name suggests – all recipes served in a jar. I know things in jars seems like the latest craze, and I have read several people complaining about the trend. Although it may seem like a phase, it is actually a timeless tradition. Maybe not to the extend of using mason jars as actual drinking glasses, but people have been giving jarred items such as homemade jams and baking mixes for years. Nothing says love like something from the kitchen. I chose to make her Espresso Brownie Mix for my review. Not only can you give this homemade brownie mix as a gift, you can keep it on hand yourself and make brownies when the craving strikes.
When I first got this book, I was thinking it'd be a bunch of the usual jarred stuff, like jams and baking mixes, but this isn't your average desserts in a jar. We are talking cakes, pie, ice cream, puddings, cheesecake, things you wouldn't think of! Now some recipes aren't actually baked in the jar. For example, the Vanilla Bean Cupcakes are made in a regular cupcake pan, but then you pour your choice of dessert sauce into the bottom of a jar, place the cupcake inside, and seal. There's also Tres Leche Cakes you bake in a cupcake pan as well, but then you assemble everything inside of the jar.
Having desserts in a jar isn't just for gift giving. They make dessert very portable to take on a picnic or to a party, or if you have a group of dinner guests, it makes it easier to divide the portions ahead of time. Take Apple Pie for example. Normally, you make pie in a pie plate and cut into triangles. If you took pie on a picnic, it can get messy cutting it, not to mention having a pie server and extra plates. If you made it ahead of time in jars, all you have to do is have spoons ready. Or if you are having a big dinner party, you can divide the portions ahead of time when you aren't as stressed (and you can send the pie home with guests and not get stuck with all of the extra calories!)
One thing I loved besides the creativity is all of the recipes are approachable and have basic ingredients. There were a bunch of recipes that I could make right now without having to buy anything extra, which made it difficult to decide what to make for the blog tour. I finally decided since Christmas is approaching, the Espresso Brownie Mix would make a great gift. Not only is it a wonderful recipe, it gives the receiver a sense of accomplishment (a "look at what I made!" moment). Plus you could pair it up with a rubber spatula or oven mitt for an added bonus.
Of course, this is a very niche book, so if you aren't about serving desserts in a jar, then you wouldn't enjoy this book. Owning this book also means you'd be spending money on jars in addition to the usual baking ingredients. Some recipes you could get away without a jar, such as White Chocolate Lime Pudding, Vanilla Bean Cupcakes, and Cinnamon Coffee Cake Mix, but others you'd have to do some adjusting for pan size, such as the Almond Poppy Seed Cake and Pumpkin Cheesecake.
Espresso Brownie Mix
A jar of homemade brownie mix with espresso powder makes the perfect holiday gift from the kitchen
Ingredients
1-quart jar
1 1/4 cups flour
1/2 teaspoon baking powder
1/4 teaspoon salt
3/4 cup Dutch-process cocoa powder
2 teaspoons espresso powder
1/2 cup chopped walnuts
1 1/2 cups sugar
6 ounces dark chocolate, chopped (or chocolate chips)
To make the brownies
12 tablespoons unsalted butter, melted
2 eggs
2 teaspoons vanilla extract
Instructions
In a medium bowl, sift together the flour, baking powder, and salt. Pour into the jar.
In a small bowl, whisk together the cocoa and espresso powder. Pour into the jar on top of the flour mixture.
Add the walnuts into the jar followed by the sugar then followed by the chocolate. Seal and decorate as desired.
To make the brownies: Preheat the oven to 350F. Lightly grease 13x9 inch pan. Set aside.
In a large bowl, whisk together the jarred contents, butter, eggs, and vanilla. The batter will be thick. Spread the batter evenly into the pan. Bake 20-25 minutes or until a toothpick inserted into the center comes out clean. Let cool completely before cutting into squares and serving.
Disclosure: Harvard Common Press gave me one copy of Desserts In Jars for review and one copy to give away.
This post may contain affiliate links. As an Amazon Associate and member of other affiliate programs, I earn from qualifying purchase.