A sweet fruit variation of traditional nachos with crisp apple slices topped with caramel sauce, marshmallow fluff, chocolate chips, and salted peanuts.

Looking for a new fun treat to add to your tailgating menu? Or perhaps you are looking for something to make with your freshly-picked apples? These Apple Nachos are here to break up the monotony of your typical party dips and apple pie. Instead of crunchy tortilla chips, crisp apple slices act as the vessel for the ooey gooey messy topping of caramel sauce, marshmallow fluff, chocolate chips, and peanuts.
I was getting tired of the typical pie and crisp recipes. I wanted to use my apples in a new way. When I browsing my cookbooks, this recipe caught my eye. Not only was it fun, it was very easy to throw together.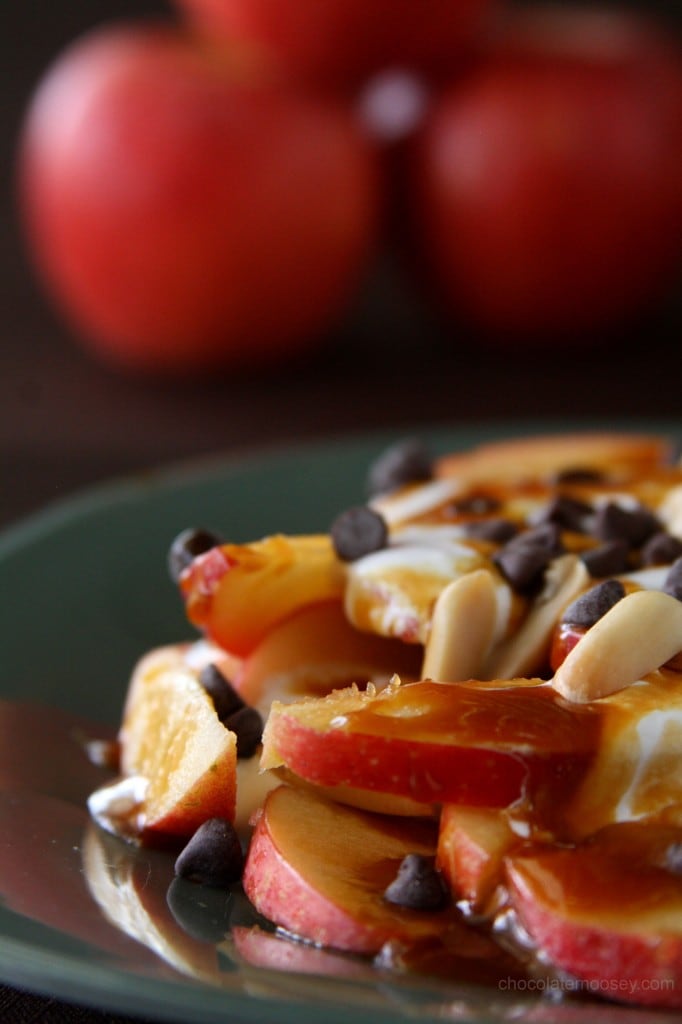 Although I list measurements in this recipe, really it's just a guide – I just do a spoonful or two of marshmallow fluff and caramel sauce without actually measuring. You can change the flavors too – chocolate sauce (nutella espresso hot fudge sauce anyone?), white chocolate chips, mini marshmallows, M&Ms, peanut butter chocolate chips. Hell, throw on sprinkles! You can even get the kids involved and have a nacho bar. It's a great way to get them to eat their fruit (and to teach them a lesson in topping moderation ;) ).
I used
my Homemade Caramel Sauce I posted for #SundaySupper
. Although I encourage you to make your own, feel free to use already-made. The original recipe called for melting caramel candies and regular marshmallows, so those are options as well.
These Apple Nachos are definitely messy, so you can either dig right in with your fingers or use a little class with a fork.
Apple Nachos
Ingredients
2 apples, cored and sliced
2-4 Tbsp marshmallow fluff
2-4 Tbsp caramel sauce
2 Tbsp peanuts, shelled and chopped
2 Tbsp mini chocolate chips
Instructions
Place the apple slices onto a plate. Microwave the marshmallow fluff 30 seconds or until easy to pour then spoon on top of the apples. Microwave the caramel sauce 10 seconds or until easy to pour then spoon on top. Sprinkle on the peanuts then chocolate chips.
Source:
Adapted from Taste of Home