Learn how to make Nutella Ice Cream with 5 ingredients and a blender. No need to cook or add eggs.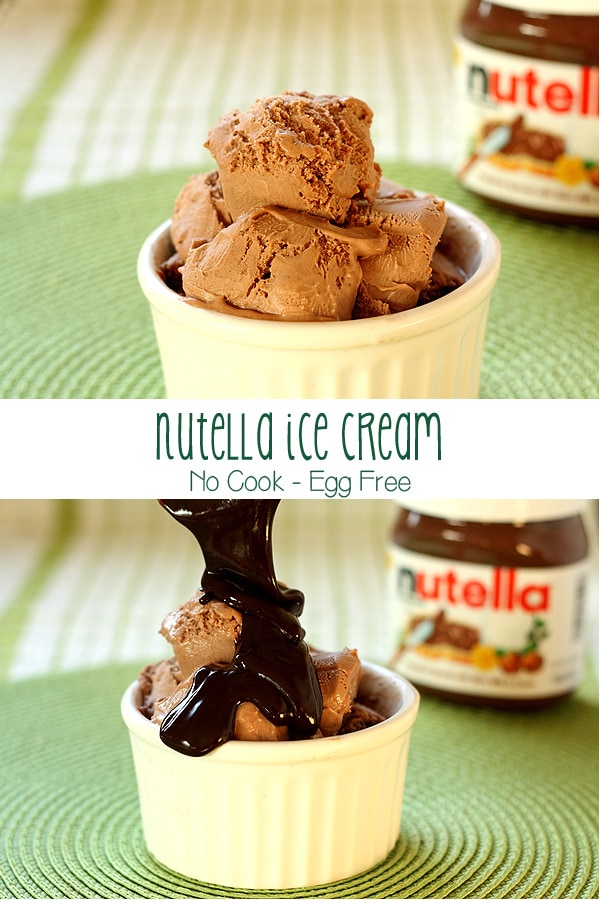 Labor Day may mark the end of summer, but it does not mark the end of ice cream season. Every season is ice cream season (even winter). Since my
Peanut Butter Cup Ice Cream
was such a huge hit this summer, I wanted to share another variation I love, perhaps even more than peanut butter cup: No-Cook Egg-Free Nutella Ice Cream. Yes, your favorite easy ice cream recipe can be made with that irresistible chocolate hazelnut spread we have come to know and love. Want to know how easy? You throw your ingredients into a blender then freeze. Can ice cream get any easier? No, it can not, which is why you need to make this Nutella Ice Cream now.
I remember my first spoonful of Nutella. I was studying abroad in Ireland when one of my housemates shared her jar of Nutella. Where has it been all my life?! I originally thought it was strictly a European product, so you can imagine how wide my eyes lit up when I found out how common it is in the US. It's such a huge craze that I've seen regular jars, small jars, mini to-go packets, jars as big as your head. When people ask me what Nutella is, I tell them it's just like peanut butter but it's hazelnuts with chocolate instead of peanuts. It's used the same way as peanut butter – on sandwiches, with a spoon, in cookies, in frosting, with a spoon. Pretty much you consume Nutella with a spoon, but it's more fun in ice cream ;)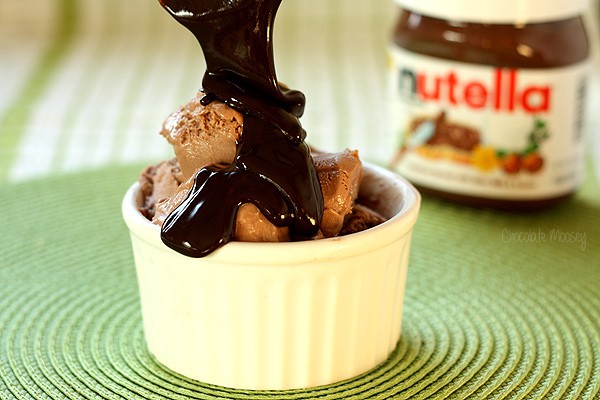 You may recognize this ice cream from when I hosted Ice Cream Week when I shared my
Nutella Espresso Hot Fudge Sauce
. Although I briefly shared the ice cream, I wanted this recipe to have the spotlight in its own post. It's just that good (and easy to make!). It may look like innocent chocolate ice cream, but it tastes just like Nutella. Boost up the Nutella flavor by pouring the hot fudge sauce on top.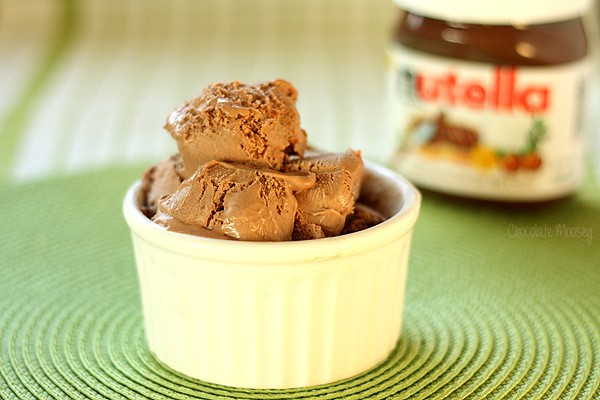 Nutella Ice Cream (No Cook, Egg Free)
Prep Time: 5 minutes Freeze Time: Overnight
Ingredients
1/3 cup Nutella
1/4 cup granulated sugar
1 1/3 cup heavy whipping cream
1/4 teaspoon vanilla extract
Pinch of salt
Instructions
In a blender, blend together the Nutella, sugar, cream, vanilla, and salt until smooth. Refrigerate the mixture until cold, at least 1 hour.
Once cold, churn the ice cream mixture according to your ice cream machine's instructions. Freeze until firm, preferably overnight.
Source: Adapted from
The Perfect Scoop
More Ice Cream Recipes

Peanut Butter Cup Ice Cream (no cook, egg free)