White Chocolate Candy Corn M&M Cookies
Although stores have been pushing Halloween (and even Christmas) the past few months, I am finally ready to accept Halloween decorations. I brought my holiday bins up from the basement and am in the process of spookifying my place. I dug out my cookie cutters and sprinkles. I am filling up my candy jars of candy corn and MnMs. And speaking of candy corn and MnMs, have you seen the new Halloween candy? White Chocolate Candy Corn MnMs. Actually I think I saw them last year, but I didn't buy a bag until recently. Now before you start whining and gagging about how disgusting candy corn is, stay with me. These taste mainly like white chocolate and barely like candy corn. I think I get a hint of it but nothing like the sickly sweet waxy taste of real candy corn (for the record, these are the words of candy corn haters, not mine. I love candy corn and could eat a whole bag). Of course I couldn't just buy a bag and eat them straight. Nope, I wanted cookies!! Fun cookies. And who doesn't love MnM cookies? That is why I made White Chocolate Candy Corn MnM Cookies – brown sugar cookies studded with special Halloween MnMs.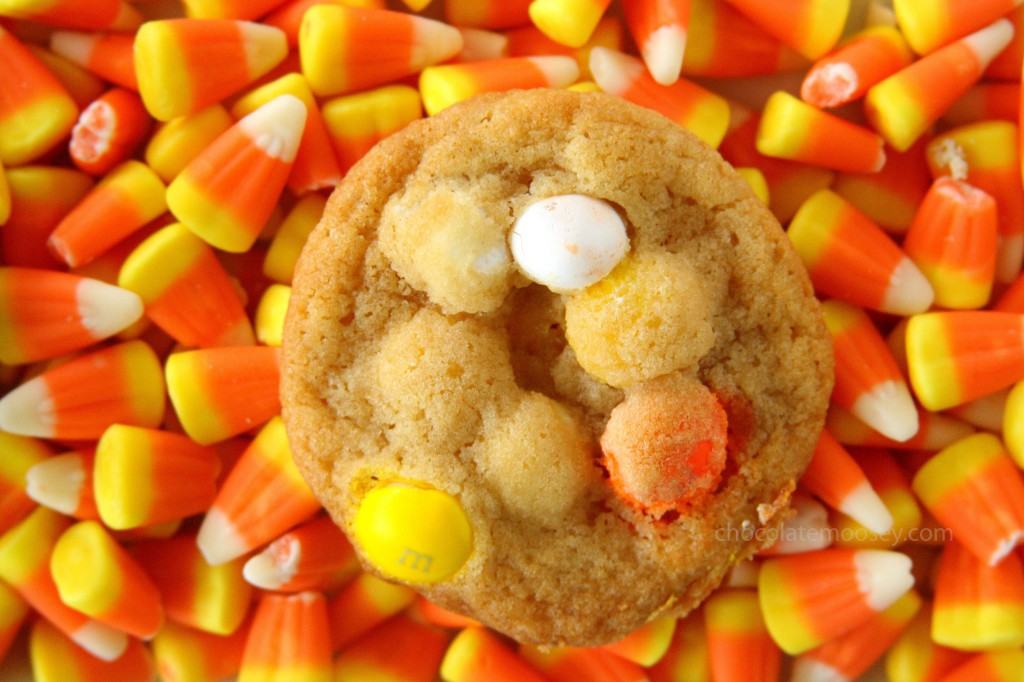 To be honest, I wasn't sure what kind of cookie I wanted to go with these MnMs. Did I want chocolate to balance the white chocolate? Did I not want chocolate so my non-chocoholic friends would be excited? Then I thought about doing a brown cookie. Did I want oats? Peanut butter? Just plain brown sugar? I finally settled on brown sugar cookies, but then did I want to add anything to the MnMs? Macadamia nuts would pair super well with the white chocolate, but I didn't have any and quite frankly nuts are expensive these days (then I go and buy gourmet MnMs – priorities!). After much deliberation, I settled on plain brown sugar cookies with only MnMs. Straight forward. No worrying about one thing overpowering another.
I need to work on my cookie baking. Mine tend to come out super thin. First I realized I was overcreaming the butter. This time I made sure not to do that, but they still spread a bit. After some research, some people say silicone mats contribute to overspreading and to use parchment paper. That will be my next experiment. It's either that or my butter is too warm to begin with. Can you tell I don't bake cookies too often?
Even if you don't have the limited edition MnMs, you can use whatever flavor you desire. These White Chocolate Candy Corn MnM Cookies are pretty versatile.
White Chocolate Candy Corn Mnm Cookies
Ingredients
1 1/2 cup flour
1/2 tsp salt
1/2 tsp baking soda
1/8 tsp baking powder
1/2 cup (1 stick) butter, softened
1/2 cup brown sugar
1/4 cup sugar
1 egg
1 tsp vanilla
1 cup white chocolate candy corn MnMs
Instructions
Preheat oven to 375F. Line two cookie sheets with parchment paper. Set aside.
In a medium bowl, whisk together the flour, salt, baking soda, and baking powder. Set aside.
In a large bowl, beat together the butter, brown sugar, and sugar until creamy, about 2 minutes. Beat in the egg then beat in the vanilla. Gradually beat in the flour mixture (do not overbeat). Turn off the mixer and stir in the MnMs.
Drop heaping tablespoonfuls of dough onto the cookie sheets. Bake 10-12 minutes or until slightly golden around the edges. Let cool on the pan for a few minutes then remove to a cooling rack to finish cooling.
Source: Adapted from
Two Peas and Their Pod
This post may contain affiliate links. As an Amazon Associate and member of other affiliate programs, I earn from qualifying purchase.