Stuffed French Toast
Almost two months ago, McCormick sent me a toolkit and recipes to try. Easter morning, I tried their stuffed french toast, which is a great recipe when you want something special for breakfast. Pretty much it's a cross between a grilled cheese and french toast when it comes to making it. You spread the filling on bread, put it together like a sandwich, dip it in egg mixture, and cook in the skillet. The original recipe called for apricot preserves or jam, but I used blackberry jam since that's what we had in the fridge.
[rss-cut]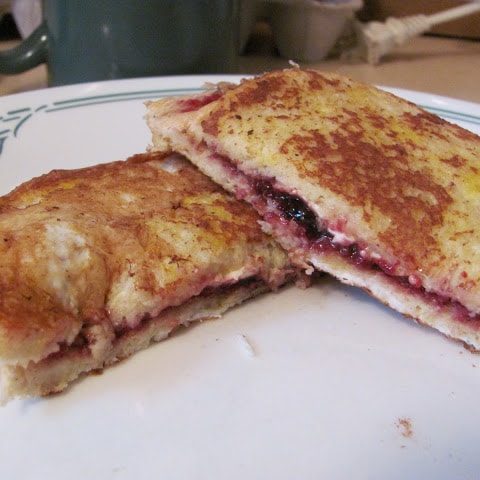 Stuffed French Toast
Ingredients
8 oz cream cheese
1 Tbsp brown sugar
3 tsp cinnamon, divided
1 1/2 tsp vanilla extract, divided
16 slices bread
1/2 cup preserves or jam
5 eggs
1 cup milk
2 Tbsp butter, divided
Instructions
Mix cream cheese, sugar, 2 tsp cinnamon, and 1 tsp vanilla in small bowl until well-blended. Spread mixture evenly onto half the bread slices. Spread jam on the other slices. Put the halves together and make 8 sandwiches.
In another bowl, beat eggs. Stir in milk, 1 tsp cinnamon, and 1/2 tsp vanilla. Dip each sandwich into the egg mixture and drip off any excess.
Melt 1 Tbsp butter in skillet. Cook each sandwich a few minutes per side or until golden brown. Use remaining Tbsp butter if you need it.
Source:
McCormick
This post may contain affiliate links. As an Amazon Associate and member of other affiliate programs, I earn from qualifying purchase.