Strawberry and White Chocolate Chip Cheesecake
Strawberry season is here!! The local farm opened their strawberry bushes to the public for picking. You can't get any fresher than this! So many thoughts running through my head – what should I make?? Jam? Pie? Cupcakes? How about cheesecake? Not only is it cheesecake, it has strawberry puree and white chocolate chips.

The original recipe calls for white chocolate to be melted and drizzled on top. I felt that although it would be more delicious, it wasn't necessary because it would cover up the juicy strawberries. The white chocolate chips were hard to detect, so if you don't have any, I wouldn't worry too much about running to the store last-minute.
I feel that this dessert is perfect for a summer get-together, but just be careful with the heat. It will soften very quickly and best to be out only when dessert is ready.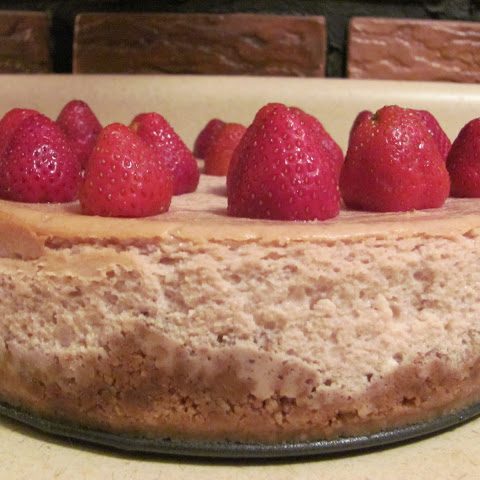 Strawberry and White Chocolate Chip Cheesecake
Strawberry and White Chocolate Cheesecake
Ingredients
Crust
1 3/4 cups graham cracker crumbs
3/4 tsp cinnamon
7 tbsp butter, melted
Filling
3 cups strawberries, washed and stemmed
32 oz cream cheese, room temperature
1 1/4 cups sugar
2 tbsp flour
4 eggs, room temperature
2 tsp vanilla extract
1/2 tsp almond extract
2 tbsp heavy whipping cream
1 cup white chocolate chips
Instructions
Preheat oven to 325F. Grease 9 inch springform pan. Wrap the outside of the pan with aluminum foil. Have a big enough pan ready to hold the springform pan. Put a kettle on because you will need hot water later.
In a bowl, stir cracker crumbs and cinnamon together. Mix in melted butter until crumbs are moistened. Press the crumbs into the bottom and sides of the springform pan. Bake for 8 minutes. Set aside with oven left on while you mix the feeling.
Meanwhile, process strawberries to a puree. Strain into a small bowl; discard any seeds or pulp leftover. Measure 1 cup and set aside. If there is any extra puree, save it for another use.
Beat cream cheese and sugar until smoothly blended. Mix in flour. Add eggs one at a time. Mix in both extracts and cream. Then mix in puree and chocolate chips.
Pour into baked crust. Put the springform pan into the larger baking pan. Pour enough hot water into the large pan to reach 1 inch up the sides of the springform pan. Bake until center seems firm when gently shook, 1 hr 15 minutes. Remove from oven and leave in the water bath. Cover loosely with paper towels and let cool for 1 hr. Carefully remove from the water bath. Remove paper towels and foil. Cool for another hour, or until it feels cool to the touch. Cover with plastic wrap and chill for 6 hrs or overnight.
Don't add the strawberries on top until ready to serve. It can be refrigerated for up to 2 days before adding the strawberries. Arrange the whole berries on top until covered.
This post may contain affiliate links. As an Amazon Associate and member of other affiliate programs, I earn from qualifying purchase.