Spiced Cookie Dough Ice Cream
With summer approaching, ice cream becomes more of a dessert staple (except at my place – I eat ice cream all year round, even if there is a foot of snow outside).
I'm always craving chocolate chip cookies, so I opted for some Spiced Cookie Dough Ice Cream – vanilla ice cream packed with cookie dough bites spiced with cinnamon and clove.
And I'm talking packed full. When I eat cookie dough ice cream, I want cookie dough ice cream.
I don't want vanilla ice cream with only five pieces of cookie dough.
I want every bite to scream cookie dough. I even made extra cookie dough bites to sprinkle on top after scooping.
This recipe came from the book
Spice Dreams
where different spices liven up your typical ice cream flavors.
For this recipe, the ice cream base sounded boring. It was vanilla ice cream but without the vanilla bean. Later on, I understood why.
The ice cream is plain enough so the cookie dough shines. Now I've heard of pairing up chocolate chip cookies with cinnamon, but clove?! And 1 whole tsp too (in the original recipe. I cut it down to make 1 pint).
That's a lot of clove, but I must trust the recipe.
Oh. MY. This is the best cookie dough I've had by far. In fact, I made chocolate chip pancakes for two the next morning and added cinnamon and clove.
I'm telling you – the cinnamon and clove make a HUGE difference.
The cookie dough is not made with eggs, so you don't have to worry about eating it raw. In fact, I may just make this cookie dough in the future without the ice cream.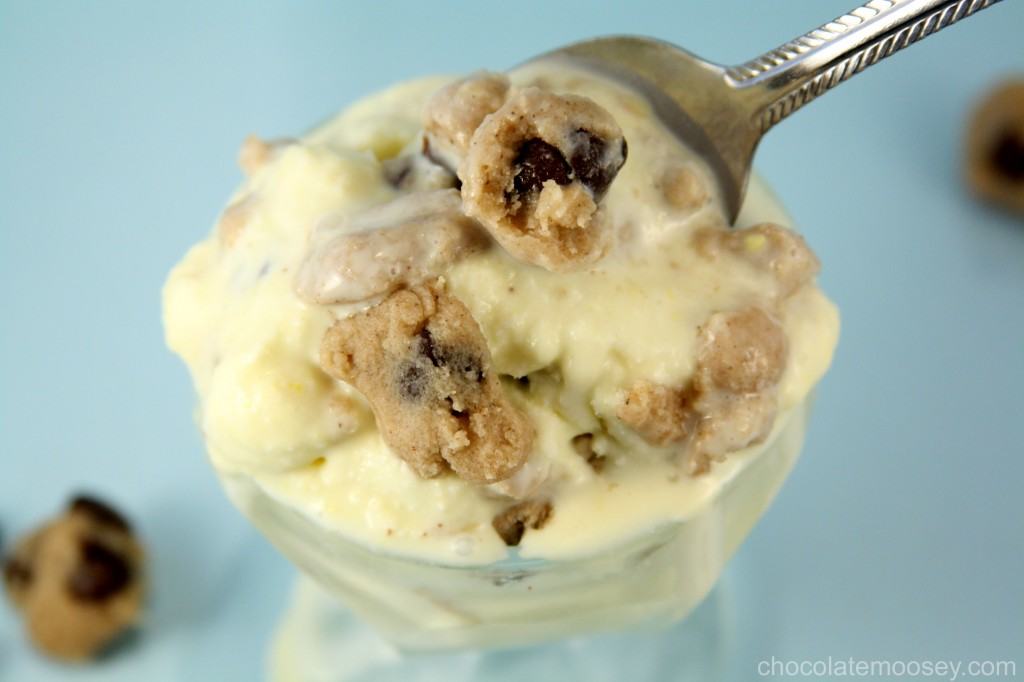 I made this ice cream all by hand,
thanks to David Lebovitz
. You really don't need an ice cream maker (although they do make things a little easier).
The hardest part about this method is remembering to take the ice cream mixture out every 30 minutes or so and whisk it to break up any ice crystals.
Since you are adding in the cookie dough, you have to make sure you pull the ice cream out when it's almost frozen and stir in the dough.
Spiced Cookie Dough Ice Cream
Cookie Dough Ice Cream with cinnamon and clove
Ingredients
1 cup whole milk
1/2 cup sugar, divided
1/2 tsp lemon zest
Pinch of salt
2 egg yolks
1 cup whipping cream
1/2 tsp vanilla
Cookie Dough:
2 Tbsp unsalted butter, room temperature
2 Tbsp brown sugar
2 Tbsp sugar
1 Tbsp milk
1/2 tsp vanilla
1/2 tsp cinnamon
1/2 tsp ground cloves
1/8 tsp salt
1/2 cup flour
1/4 cup chocolate chips
Instructions
In a medium saucepan, whisk together the milk, 1/4 cup sugar, lemon zest, and salt. Heat it over medium-high heat for 5 minutes, stirring often.
While the milk is heating, in a small bowl, whisk together the egg yolks. Add the remaining 1/4 cup sugar and whisk until light and fluffy. Whisking constantly, add a small amount of the hot milk into the eggs to bring it up to temperature (otherwise you may have cooked eggs!). Whisk the egg mixture into the milk mixture.
Cook the milk mixture until the custard is thick enough, about 5 minutes (it should coat the back of a spoon). Remove from the heat and place in a bowl of ice water to cool quickly. Let cool for 5 minutes.
After 5 minutes, stir in the cream and vanilla. Cover the mixture with plastic wrap and press the wrap directly to the surface.. Refrigerate for an hour.
For the cookie dough:
In a large bowl, beat the butter and sugar until light and fluffy, a few minutes. Add the milk, vanilla, cinnamon, cloves, and salt. Gradually beat in the flour. Stir in the chocolate chips.
Form small cookie balls (1/4 tsp) and place onto a cookie sheet. Freeze for at least 1 hour.
Freeze the custard according to your ice cream maker's directions. Or freeze by hand: place the custard into the freezer and beat every 30-45 minutes to break up the ice crystals. During the last few minutes of the churning cycle or when the custard is almost frozen, add the cookie dough bites.
Source:
Spice Dreams
This post may contain affiliate links. As an Amazon Associate and member of other affiliate programs, I earn from qualifying purchase.