Skittles Ice Cream for #IceCreamWeek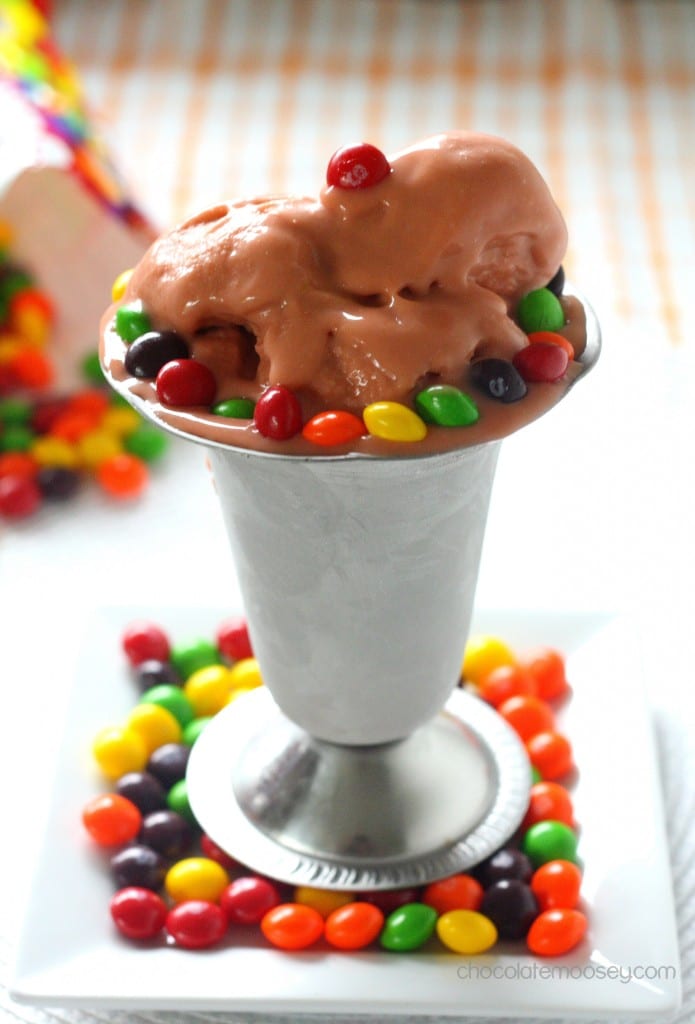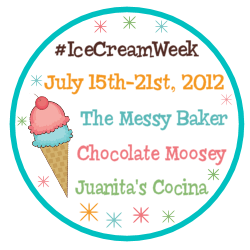 Welcome to Day 2 of #icecreamweek ! Today is the post that started it all – where the idea #icecreamweek was born. I don't even know how I stumbled into this conversation, but Jen and Jennie were talking about making Skittles ice cream and they asked me if I wanted to join in. If you google Skittles ice cream, you don't see any recipes. I'm not talking vanilla ice cream with Skittles stirred in. I'm talking ice cream that tastes exactly like Skittles. The three of us set out on a mission to make Skittles Ice Cream, and mission accomplished!

As I said, we didn't want to stir in Skittles and call it a day. No, we wanted to melt down Skittles and see what happened. They melt candy all the time on Chopped. Certainly Skittles will melt (right?). Jennie was the first one to try it, and success! You melt the Skittles in a pan with some water then once melted, strain out any pieces that didn't quite melt. I made a basic ice cream base, vanilla but without the vanilla bean, then stirred in the melted candy and froze.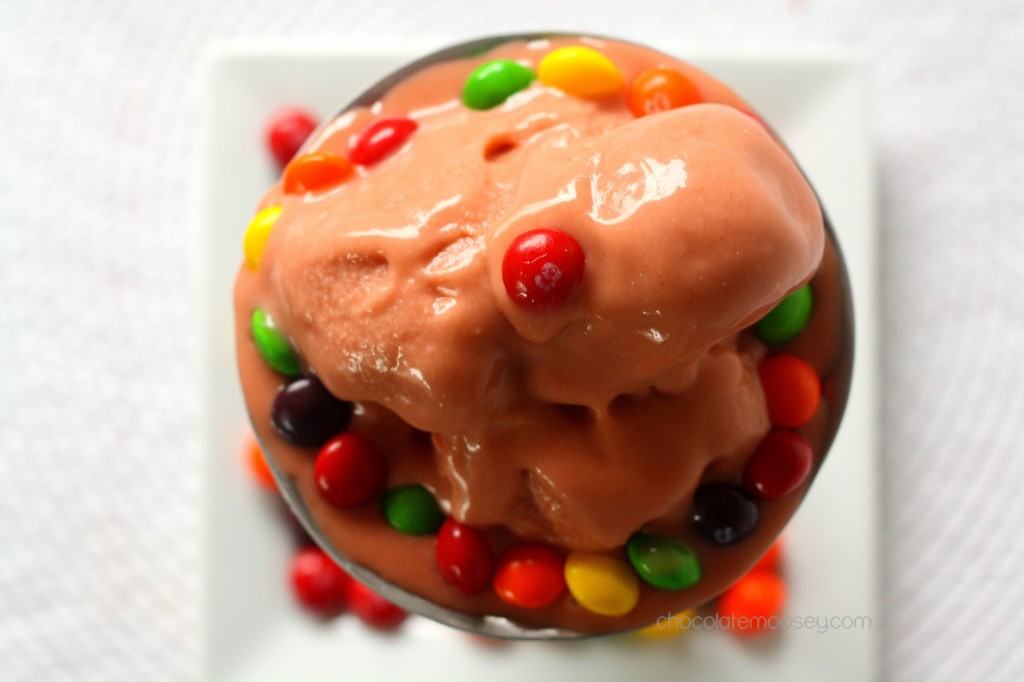 I didn't know which flavor Skittles to use, so I used all of them. Of course I was skeptical with the flavor but I'll tell you – it tastes EXACTLY like Skittles. You can't describe it. It's not like you taste cherry or lemon or lime. It tastes like, well, Skittles! And depending on how many of each color you use will determine the color of your ice cream.
My ice cream looks really soft, but I think I'm having trouble with the freezer. A few other ice cream treats came out soft that shouldn't have, and as of Sunday night, it was at 4 degrees. Oy.
To fill you in, I am teaming up with Jen of Juanita's Cocina and Jennie of The Messy Bakerto bring you ice cream recipes all week. There will be 7 posts from each of us, meaning 21 exciting recipes to keep you cool for the rest of summer! Feel free to join in the fun too. Post (as few or as many days as you'd like) this week using #icecreamweek then on Saturday add your link to our link-up.
Be sure to check out Skittles Ice Cream from both Juanita's Cocina and The Messy Baker!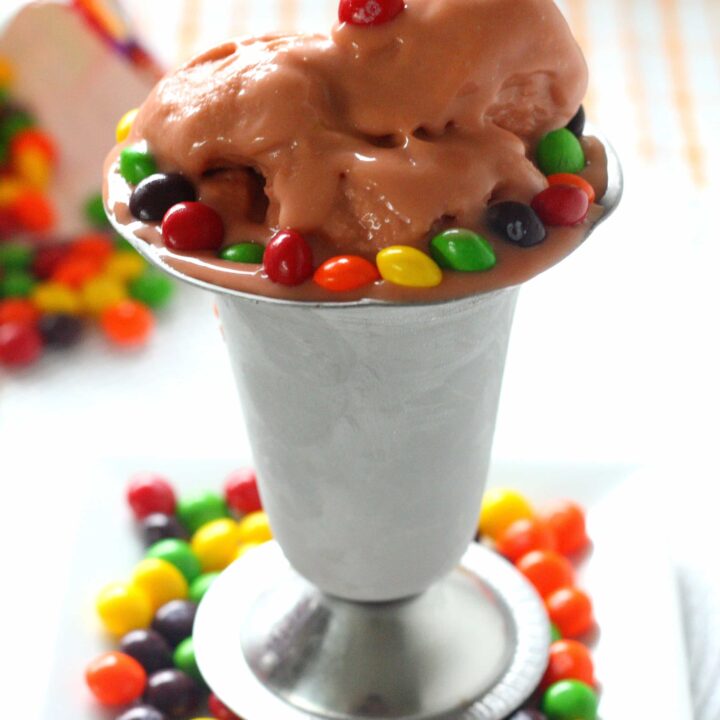 Skittles Ice Cream
Ice cream made with Skittles candy
Ingredients
1/2 cup Skittles candy
2 Tbsp water
1 cup heavy whipping cream
1/2 cup whole milk
1/4 cup + 2 Tbsp sugar
Pinch of salt
3 egg yolks
Instructions
In a small saucepan, heat Skittles and water until melted. Set aside.
Pour 1/2 cup cream into a medium bowl then place a strainer on top. Place bowl in an ice bath.
In a medium saucepan, warm the milk, sugar, 1/2 cup heavy cream, and salt.
Place egg yolks in a small bowl. Whisk in some of the warm milk mixture then pour back into the saucepan. Cook until thickened, stirring constantly. Pour through the strainer and stir into the cream. Pour the melted Skittles into the strainer and stir into the cream. Cool to room temperature in the ice bath.
Chill in the refrigerator until cold then freeze either in your machine or in the freezer and whisk by hand every 30-45 minutes until frozen.
Source: Adapted from The Perfect Scoop
This post may contain affiliate links. As an Amazon Associate and member of other affiliate programs, I earn from qualifying purchase.