There's something magical about a root beer float. The bubbly sweet concoction that fizzes when poured over several scoops of creamy vanilla ice cream. Which is funny because I drink root beer on its own maybe twice a year, usually when I need a drink on the go. Even then, I don't choose it unless my only other choice is Pepsi or Mountain Dew. But pour it over ice cream, and I'm all in. Of course, root beer floats aren't exactly take-along treats, especially out in the hot sun. Last year I made
cupcakes
. This year I made Root Beer Float Sandwich Cookies – two chewy cookies reminiscent of root beer with vanilla cream in the middle. I'm bringing these babies to our #SundaySupper Summer BBQ event.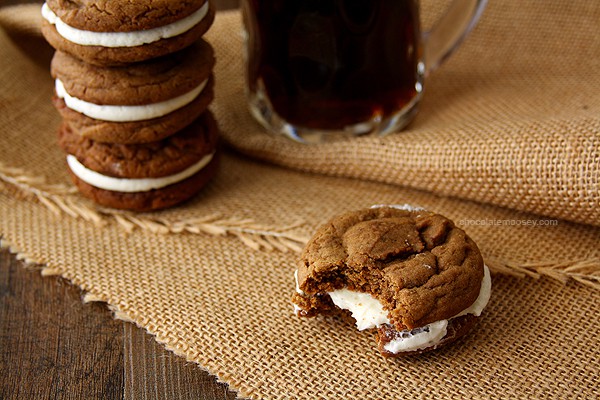 I wonder who thought of root beer floats. Did that person think "hey what if I mixed together root beer and vanilla ice cream?" Or maybe it was a happy accident where someone knocked root beer into a bowl of ice cream. I need to shake that person's hand for inventing it.
A little secret – there is no actual root beer in these cookies. You're familiar with vanilla extract, yes? I used root beer extract for the flavor. McCormick is the brand I've seen most, which you can buy at Walmart in store or
online at Amazon
. It smells and looks just like root beer.
For the filling, I scraped a vanilla bean pod into the buttercream because I wanted that authentic vanilla bean ice cream flavor and look (although substituting vanilla extract works the same). If you're feeling really adventurous and don't have anywhere to go, use a scoop of ice cream to make ice cream sandwiches.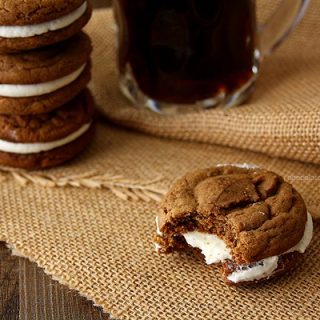 Root Beer Float Sandwich Cookies
Ingredients
1 3/4 cups all purpose flour
1/2 teaspoon salt
1/2 teaspoon baking soda
1/2 cup unsalted butter, softened
1 cup brown sugar
1 egg
1 tablespoon root beer extract
Vanilla Filling
1 1/2 cups powdered sugar
1/4 cup unsalted butter, softened
1 tablespoon heavy whipping cream
1 vanilla bean (or 1 teaspoon vanilla extract)
Instructions
Preheat the oven to 375F degrees. Line two cookie sheets with parchment paper.
In a medium bowl, whisk together the flour, salt, and baking soda.
In a large mixing bowl, beat together the butter and brown sugar until creamy. Beat in the egg then add the root beer extract. Gradually beat in the flour mixture.
Using a 1 1/2 tablespoon cookie scoop, scoop cookie dough onto the cookie sheets (roughly 1 1/2 inch balls). Bake 10-12 minutes or until the edges are firm. Cool for a few minutes then remove to cooling racks to cool completely.
For the filling: In a large mixing bowl, beat together the powdered sugar and butter until combined. Add the cream and beat until smooth and creamy. Scrape in the vanilla bean (or add vanilla extract) and beat another minute to combine.
Spread some of the filling onto one cookie; top with another cookie. Repeat until all of sandwiches are made. Store the cookies in an airtight container for up to a week.
Notes
© Chocolate Moosey. All images and content are copyright protected. Please do not use my images without prior permission. If you want to republish a recipe, please rewrite it in your own words or link back to the post for the recipe.
Source: Adapted from
Taste Of Home
—-
If you enjoyed these Root Beer Float Sandwich Cookies, you may also like these other recipes from me: