Maple Gingersnap Cookies
A twist on classic gingersnaps, Maple Gingersnap Cookies use maple syrup instead of molasses for a festive Christmas treat.

This year marks the First Annual Great Cookie Blog Swap, and I'm proud to say I joined in. Usually I stay away from these types of events. Not because I don't want to, but when it comes to mailing packages, it can become a hassle (and a little pricey). I want to get more involved in the food community, so I decided to sign up and see what happens. The recipe I chose was Maple Gingersnap Cookies. One evening I was flipping through one of my million cookie cookbooks when bam Maple Gingersnap Cookies popped out. Instead of molasses, it used maple syrup. Chill the dough, roll in cinnamon and sugar, bake, eat (or mail). Side note – maple syrup smells so much better than molasses. Never smell molasses. I made this recipe twice. The second time I ran out of maple syrup, so I did half maple, half honey. I figured using half molasses would clash with the maple (and maybe make it an ugly color).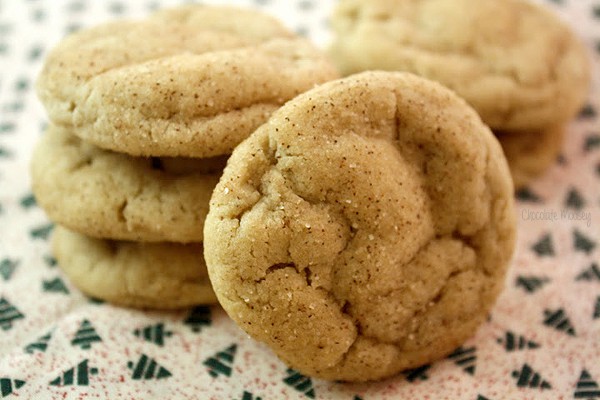 The first dozen cookies I got was from Molly of Duchess of Fork. She sent me
Snickerdoodle Biscoff Blondies
. If you are a snickerdoodle fan (me!), then these are perfect for you (and me). Since I don't live with anyone or have family nearby, I took most of them to work so I didn't eat a whole dozen myself. The coworkers kept raving about them. They even got more attention than the peanut butter nutella crinkles I put next to them. Great job, Molly! And thanks :D
The second dozen cookies I got was from Lindsay herself of Love and Olive Oil (one of the event co-hosts). She sent me Chocolate Malted Sandwich Cookies. Oh. My. They tasted like Oreos (except with a little more love ;) ). I already ate about four of them :X I took the rest into work so I don't end up gaining 10 pounds. Thank you, Lindsay! :D
A special thank you to Lindsay from Love and Olive Oil and Julie from The Little Kitchen for coordinating this huge event! It even made the newspaper. The sign up had over 600 participants, so think about all those cookies being mailed! Can't wait to hear the final count (silly people can't keep commitments) and see everyone's recipes.

Maple Gingersnap Cookies
Yield: 2 dozen
Prep Time: 1 hour 15 minutes
Cook Time: 10 minutes
Total Time: 1 hour 25 minutes
A twist on classic gingersnaps, Maple Gingersnap Cookies use maple syrup instead of molasses for a festive Christmas treat.
Ingredients
2 1/4 cups all-purpose flour
1 1/4 teaspoon baking soda
1 teaspoon ginger
1 teaspoon ground cinnamon
1/2 teaspoon ground clove
1/4 teaspoon salt
3/4 cup + 2 tablespoons granulated sugar
3/4 cup vegetable shortening (preferably butter flavored)
1/2 cup maple syrup
1 egg
Instructions
In a large bowl, whisk together the flour, baking soda, ginger, 1/2 teaspoon cinnamon, clove, and salt.
In another large bowl, beat together 3/4 cup sugar and shortening until smooth and creamy. Beat in the maple syrup and egg. Gradually beat in the flour mixture. Cover with plastic wrap and refrigerate for at least an hour.
Preheat oven to 350F. Line 2 baking sheets with parchment paper.
In a small bowl, mix together the remaining 2 tablespoons sugar and 1/2 teaspoon cinnamon.
Shape dough into 2-inch balls then roll in cinnamon sugar mixture. Place 2 inches apart on a cookie sheet. Bake 8-10 minutes or until light golden brown. Cool a few minutes before removing to cooling rack.
Source: Pillsbury Cookies, Bars, Brownies 1994, page 11
More Christmas Cookies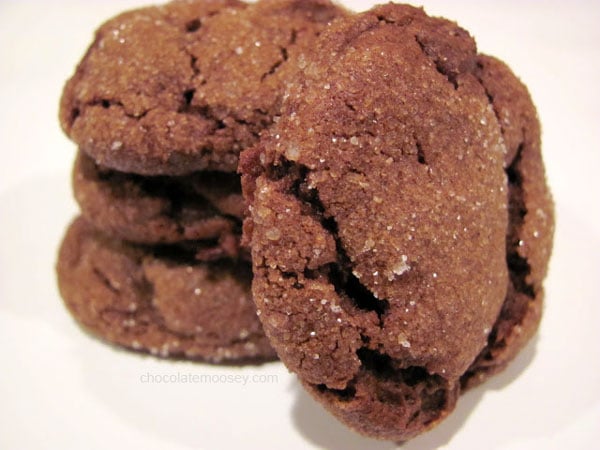 Chocolate Gingersnap Cookies
This post may contain affiliate links. As an Amazon Associate and member of other affiliate programs, I earn from qualifying purchase.