Kit Kat Cupcakes with Caramel Buttercream Frosting
Sinful chocolate cupcakes filled with Kit Kat bars and topped with caramel buttercream frosting are guaranteed to put a smile on your face.
Ever get an idea but then have trouble executing it, so you keep trying?
I ended up making these Kit Kat Cupcakes three times before succeeding.
Persistence really does pay off because you won't believe how rich and delightful these decadent cupcakes are!
I'm not sure which part is my favorite – the kit kat cupcake or the caramel frosting.
Not only do the flavors play well together, the color contrast really makes the frosting pop.
I was so excited to share these Kit Kat Cupcakes, I actually rearranged my posting calendar so you wouldn't have to wait any longer.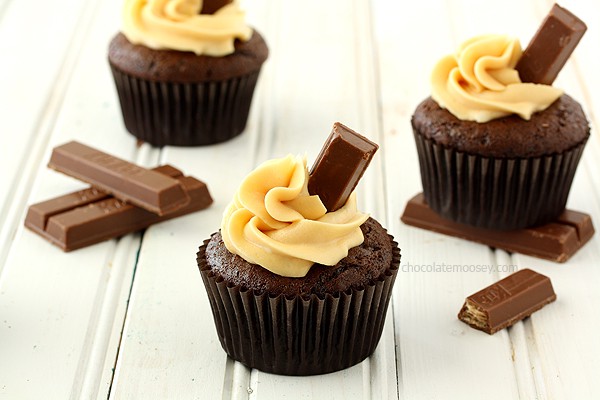 It all started when I was looking at my search results and seeing what my readers were interested in.
15 people were looking for Kit Kat Cupcakes. The only Kit Kat dessert I have is my Kit Kat Cheesecake Brownies, so I sat down to figure out what exactly a Kit Kat Cupcake was.
I didn't want to simply chop up some candy and throw it in the batter. I wanted it to be a little more special.
What if I filled a cup half way with batter, added Kit Kat to the middle, then finished filling? Kit Kat stuffed cupcakes!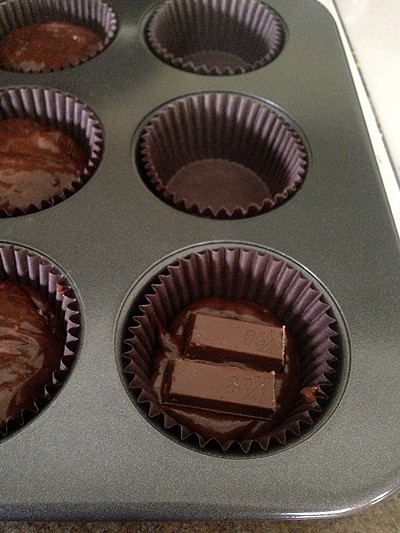 Well it wasn't as straight forward as I had hoped.
First, the recipe I chose to adapt made 14 cupcakes, not the 12 like it had indicated. This makes me wonder if there are different size pans.
I adjusted the ingredient list and tried again. 10.5 cupcakes. Not quite!
Finally, on my third try I got 12 cupcakes exactly. Who wants to drag out an extra pan anyway?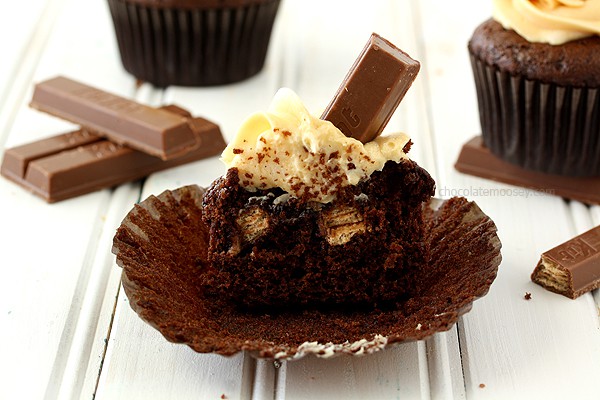 As far as adding Kit Kat bars to the middle, well that wasn't straight forward either.
The candy tended to move around a bit after you add batter on top.
Some did stay in the middle as intended. Some were in the middle but spread apart a little. Others had the bars float to the top. You can see a Kit Kat sticking out of this cupcake: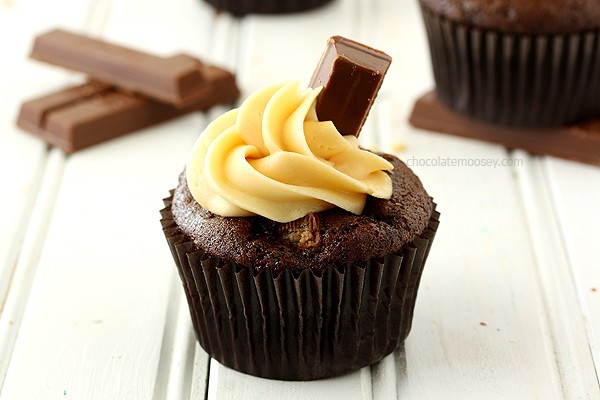 Even though the Kit Kats may not stay perfectly in the middle, you still get that crunch factor no matter where you bite.
The tops of the cupcake do sink in a little bit because of the candy, but that's why frosting was invented.
I wanted to do a caramel buttercream because chocolate and caramel pair well together plus I wanted some color contrast.
I had my homemade caramel sauce in the fridge, so I just added some to my buttercream frosting.
So thanks to you, my readers, Kit Kat Cupcakes are now born. I was determined to make these work for the sake of dessert.
On the plus side, this goes to show you how easy this recipe is because I made them 3 times in less than 24 hours.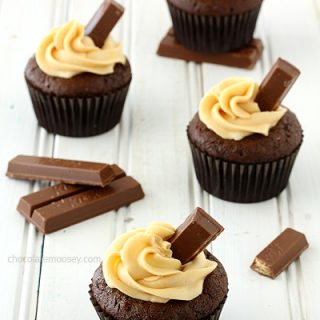 Kit Kat Cupcakes with Caramel Buttercream Frosting
Ingredients
1 cup + 2 tablespoons all purpose flour
1/2 cup cocoa powder
1/2 teaspoon baking soda
1/8 teaspoon salt
3/4 cup + 2 tablespoons granulated sugar
1/4 cup vegetable oil
1 egg
1 teaspoon vanilla extract
2/3 cup buttermilk
6 fun-sized Kit Kat bars, broken into single wafers (12 wafers total)
Caramel Buttercream Frosting
1/2 cup (1 stick) unsalted butter, softened
1 1/2 cups powdered sugar
Pinch of salt
1/4 cup caramel sauce (homemade or store bought)
Instructions
Preheat the oven to 350F. Line a cupcake pan with 12 paper liners.
In a medium bowl, whisk together the flour, cocoa, baking soda, and salt.
In a large mixing bowl, beat together the sugar and oil until smooth.
Beat in the egg and vanilla.
Alternating between the flour and buttermilk, gradually add the flour in 3 parts and the buttermilk in 2 parts.
In one liner, scoop enough batter to cover the bottom. Cut one Kit Kat wafer in half then place both halves on top of the batter. Scoop enough batter on top to cover. Repeat with the remaining cupcakes.
Bake 16-18 minutes or until a toothpick inserted in the middle comes out almost clean (you want a little bit of chocolate so they aren't too dry). The tops may sink slightly. Cool completely.
For the frosting: In a large mixing bowl, beat together the butter, sugar, and salt until smooth. Add the caramel sauce then beat until light and fluffy. Pipe onto cooled cupcakes.
With the remaining Kit Kat wafers, cut each in half then stick the cut side into the frosting for garnish.
Source: Adapted from
125 Best Cupcake Recipes
—-
If you liked these Kit Kat Cupcakes with Caramel Buttercream Frosting, you may also like these recipes:
From me:
From other bloggers:
This post may contain affiliate links. As an Amazon Associate and member of other affiliate programs, I earn from qualifying purchase.