Goat Cheese-Stuffed Squash Blossoms
Delicate squash blossoms stuffed with creamy goat cheese make a great healthier alternative to French fries.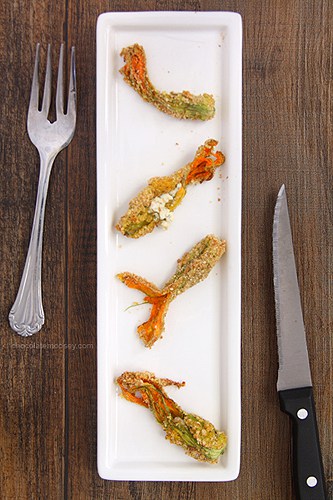 I try not to have too many regrets in life. After all, there is a reason for every decision made. However, this summer I neglected something I hold dear to my heart, not on purpose but rather because time slipped away – attend farmer's markets. It's my favorite thing to do when the produce is fresh and abundant, especially if I can pick my own. What made it difficult this summer are two things – one: farmer's markets are on Saturdays around here, and I pretty much had something to do every Saturday morning and two: it takes time to travel. There are a few small farm stands on the way, but if I wanted to go to a farmer's market to walk around and take in the scene (which to me is the best part), it takes probably 30-45 minutes, depending on who I get stuck behind on the way there. Not only do you have trucks traveling the mountain, you barely have any passing zones along the way. And then when you do get to the market, they are small with about 5-10 booths. I'm jealous of those markets that have rows and rows with every produce imaginable. I love to discover new produce and figure out how to use them. One year it was squash blossoms, and I was amazed at how much I loved them.
Last year was the first time I tried squash blossoms. I was visiting my parents for the weekend and went to a farmer's market in the city. I spotted them those golden petals as I was getting ready to leave. Dare I try them? I bought only six since I was hesitant to eat them. Who eats flowers anyway? As I tweeted about my new gold mine, I got replies about simply stuffing and frying, so that's how I prepared them. And I fell in love. This summer, I dragged convinced my parents to go back. Although that farmer didn't have them, I found squash blossoms in another area of the city with a different farmer.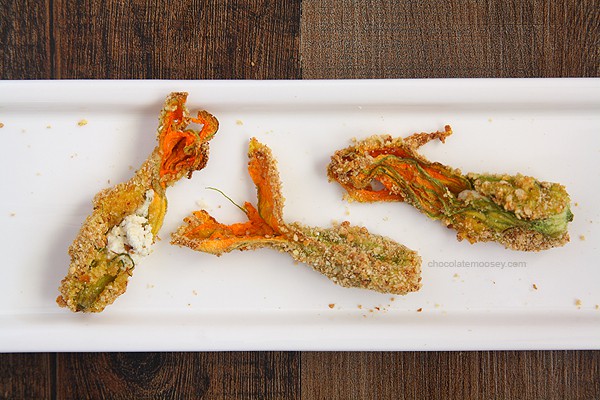 Funny story – a few years ago, I tried growing zucchini in my parent's garden. I got a bunch of flowers but not actual zucchini, so I threw them away. Had I known how amazing they are to eat (not to mention how pricey), I would have gobbled them up in no time. Since I don't see them often, I make sure to buy a small batch when I do.
A lot of people ask how they taste. Squash blossoms remind me of zucchini fries, especially if you pan fry them. I opted to bake them for this recipe as a healthy alternative, but I prefer them fried. They are very delicate to stuff, so be gentle. You need to remove the pollen stem in the middle before stuffing. I chose goat cheese that was already flavored with herbs. However, if you use plain goat cheese, smash some fresh herbs into it before stuffing. You can also use cream cheese as a substitute.
So tell me – what adventurous item have you tried from the farmer's market?

Goat Cheese-Stuffed Squash Blossoms
Yield: 1 dozen
Prep Time: 15 minutes
Cook Time: 10 minutes
Total Time: 25 minutes
Delicate squash blossoms stuffed with creamy goat cheese make a great healthier alternative to French fries.
Ingredients
12 small squash blossoms
1/4 cup herbed goat cheese (if using plain, mix some herbs into the cheese)
1 egg
1/4 cup breadcrumbs
Salt
Instructions
Preheat the oven to 400F. Have a baking sheet ready.
Carefully open each blossom and remove the stems. Gently spoon in about a teaspoon of goat cheese into each one*. Twist shut.
In one small bowl, lightly beat the egg. In another bowl, combine the breadcrumbs with a pinch of salt.
Dip each blossom into the egg then into the breadcrumb. Place on the baking sheet and bake** for 10 minutes or until lightly brown and crispy. Cool a few minutes before serving.
Notes
My squash blossoms were a bit on the small side. If you have bigger blossoms, you may need to add more cheese. *
If you enjoyed these Goat Cheese Stuffed Squash Blossoms, you may also like these recipes:
From me:
This post may contain affiliate links. As an Amazon Associate and member of other affiliate programs, I earn from qualifying purchase.