Chocolate Chip Cookie Brownie Bites
Can't decide between chocolate chip cookies and brownies? Now you can have both with these Chocolate Chip Cookie Brownie Bites! They may be tiny in size, but they are big in flavor.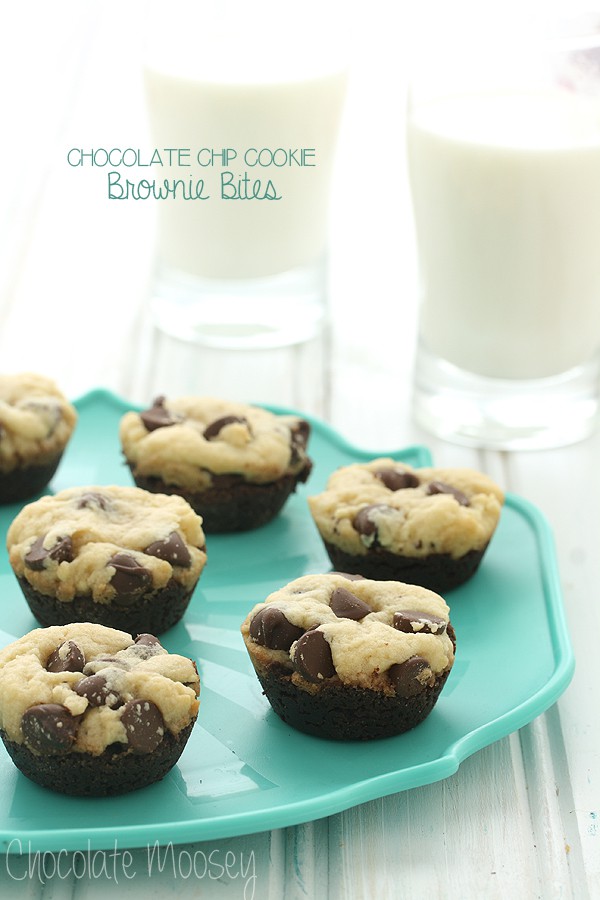 At any given moment, I have a million ideas going through my head.
I'm constantly writing them down, usually on scrap paper, then transferring them to my recipe planner.
Right now there's about 4 full pages of recipes to make and constantly growing each week.
Sometimes it takes me months to test an idea, like these Chocolate Chip Cookie Brownie Bites.
I've been wanting to make them since Christmas, but December is the busiest month for bakers, so they were pushed to the back burner.
Fast forward a few months, and I finally made them.
Just when you thought chocolate chip cookies couldn't get any better, they are paired with a fudgy brownie bottom.
Brownie pants for your cookies. How often do you get to say that?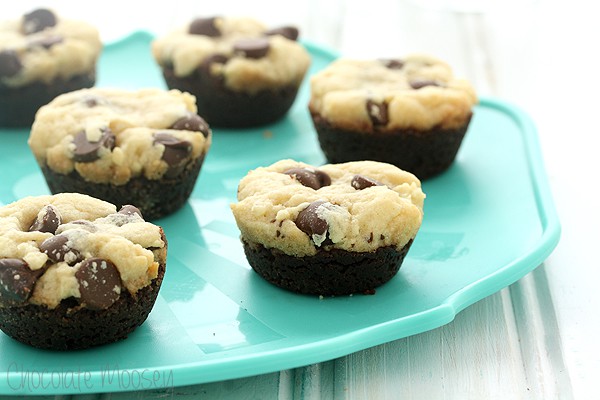 Sometimes you just need a small, chocolatey bite to get you through the day. These brownie bites, although small, will satisfy your sweet tooth craving.
The best part is you don't have to choose between a chocolate chip cookie or a brownie; you can easily have both!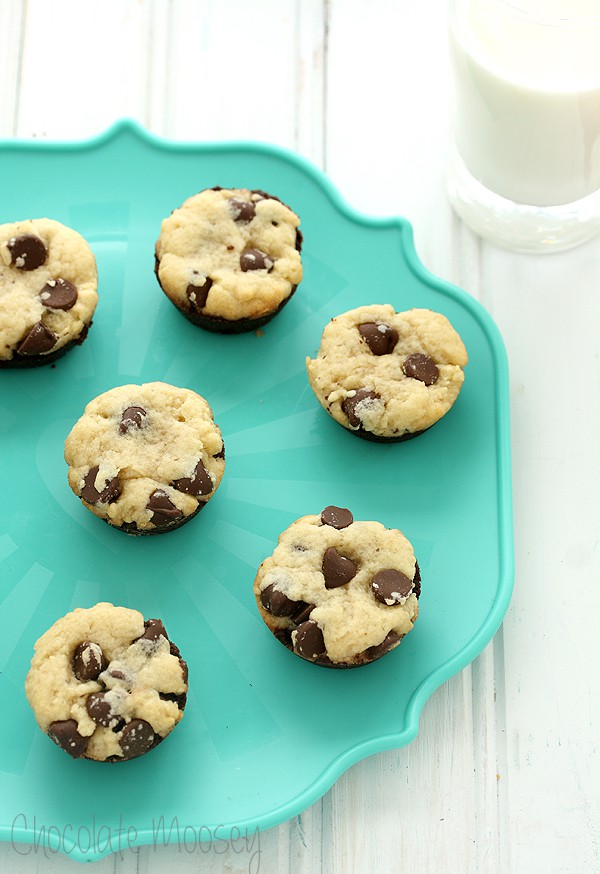 This recipe makes a good amount of brownie bites, but luckily they freeze easily.
Imagine being home alone without any dessert in the house when the urge for something sweet strikes.
Then it hits you – there are brownie bites hidden in the freezer! Crisis averted.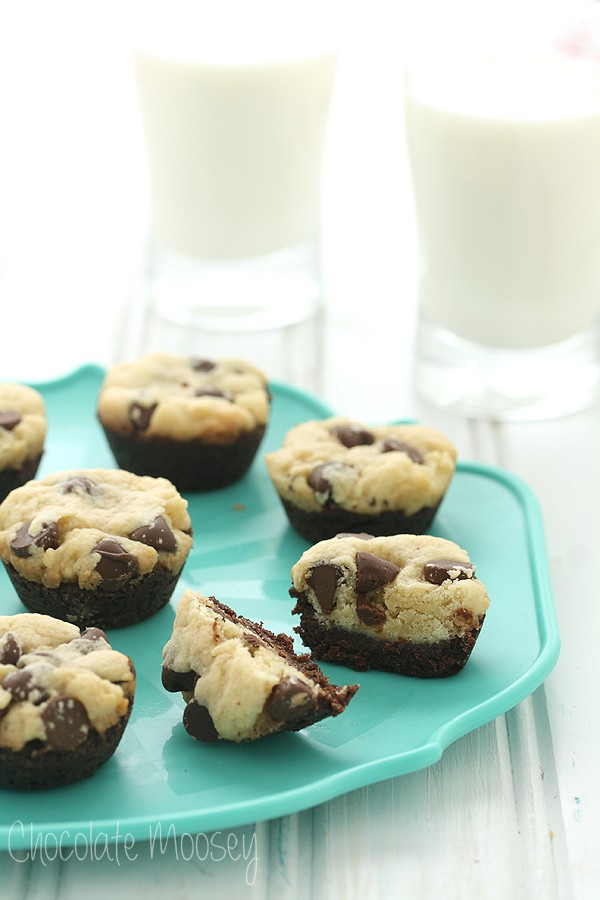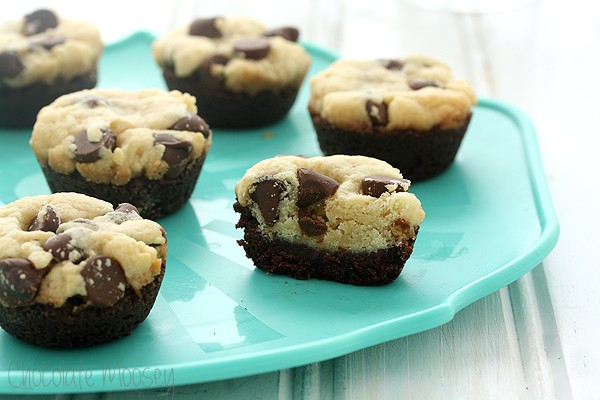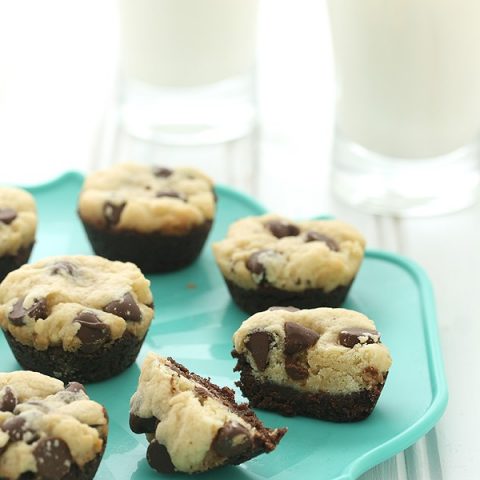 Chocolate Chip Cookie Brownie Bites
Yield: 48
Prep Time: 30 minutes
Cook Time: 12 minutes
Total Time: 42 minutes
Ingredients
Brownie Layer
1/2 cup (1 stick or 4 ounces) unsalted butter, cut into 8 tablespoons
2 ounces unsweetened chocolate, chopped
1/2 cup unsweetened cocoa powder
1 1/4 cups granulated sugar
1/4 teaspoon sea salt
1 teaspoon vanilla extract
1 egg
3/4 cup all purpose flour
Cookie Layer
1 1/2 cups all purpose flour
1/4 teaspoon baking soda
1/8 teaspoon baking powder
1/2 teaspoon salt
6 tablespoons unsalted butter, softened
1/4 cup brown sugar
1/4 cup granulated sugar
1 egg
1/2 teaspoon vanilla extract
3/4 cup semisweet chocolate chips
Instructions
Preheat oven to 350F. Lightly grease two mini 24-cup muffin pans.
For the brownie layer
In a large saucepan, melt together the butter and chocolate. Once smooth, remove from the heat and whisk in the cocoa, sugar, and salt. Whisk in the vanilla and egg until fully combined then whisk in the flour just until incorporated.
Fill each muffin cup half way with the brownie batter, spreading to fill the bottom of the cup (roughly 1 teaspoon each). Set aside.
For the cookie layer
In a medium bowl, whisk together the flour, baking soda, baking powder, and salt.
In a large mixing bowl, beat together the butter and both sugars until creamy, about 2-3 minutes. Beat in the egg and vanilla. Gradually beat in the flour mixture then add the chocolate chips.
Scoop the cookie dough on top of each brownie layer (roughly 1 teaspoon each). Smooth out the dough so it completely covers the top.
Bake 10-12 minutes or until cookies are golden and a toothpick comes out with very few crumbs. Cool in the pan for 5 minutes before removing the cookies to the cooling rack.
Source: Adapted from
Baking: From My Home to Yours
—-
If you liked these Chocolate Chip Cookie Brownie Bites, you may also like these recipes: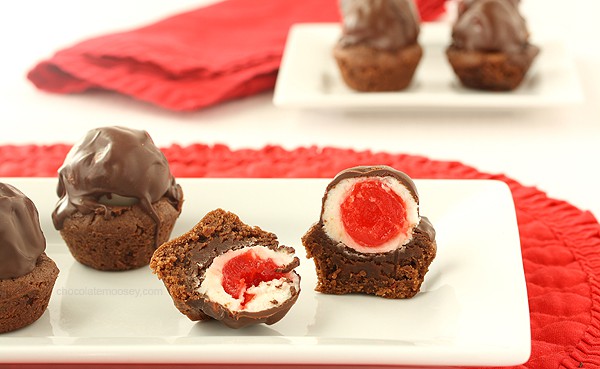 Chocolate Covered Cherry Brownie Bites
This post may contain affiliate links. As an Amazon Associate and member of other affiliate programs, I earn from qualifying purchase.