Cherry Cordial Blossom Cookies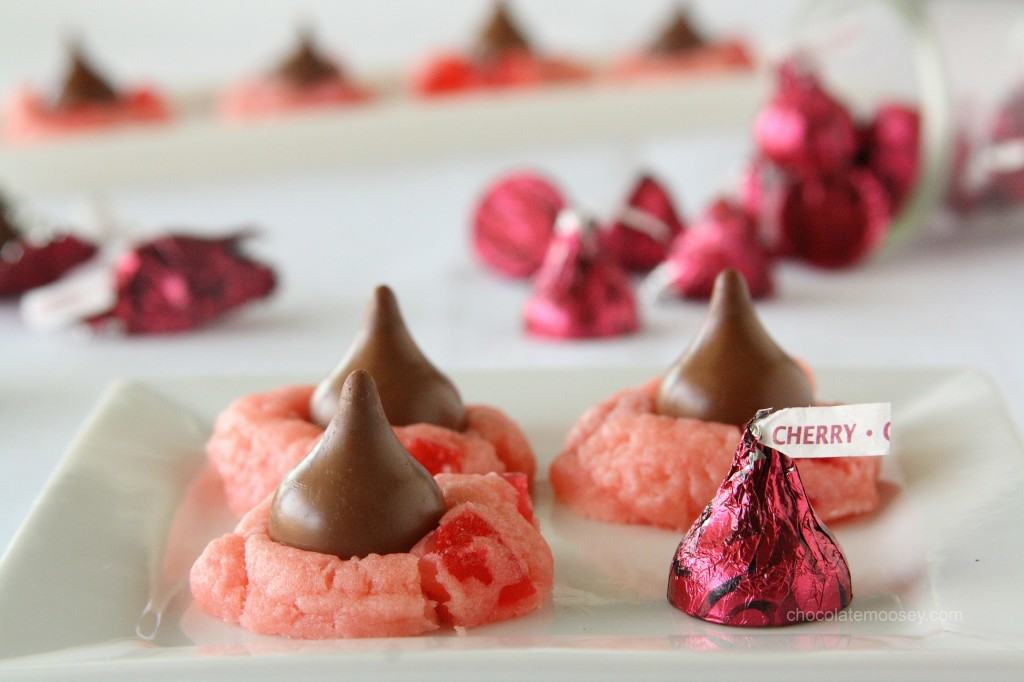 For the past few years, Hershey has been making kisses with different fillings – cherry, mint, candy cane, caramel, pumpkin spice, raspberry, orange, Irish cream, and probably a few more I missed. They are fun to bake with because of the different flavors. I made these Cherry Cordial Blossom Cookies one year before I saw the cherry kisses. I said next time, I will buy those kisses and make these cookies. Well I did, several times in fact. When I was looking up the recipe this year, I decided to check the date. I posted the recipe in 2008.
Three
years ago!! I think it's time for me to reshare this recipe.
Update – This post was last updated on 11/10/12 with better photos, new name, and slightly adjusted recipe.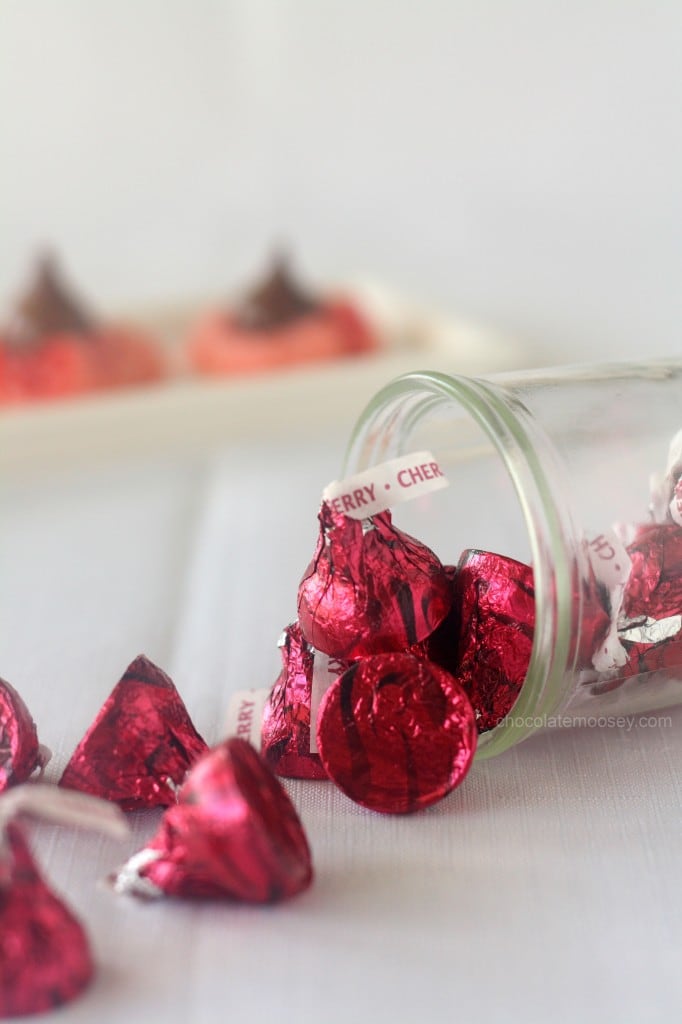 I make these Cherry Cordial Blossom Cookies every year. I will admit the cookie part without the cherry pieces is a little…bland. The kisses really bring it together. Make sure there are enough cherry chunks in each ball when you roll them.

Photo from 2011
Photo from 2008

Photo from 2012
Cherry Cordial Blossom Cookies
Cherry Blossom Cookies with chocolate kisses
Ingredients
1/4 cup powdered sugar
1/4 cup (2 ounces or 4 tablespoons) unsalted butter, softened
1 tablespoon maraschino cherry juice
1/4 teaspoon almond extract
2/3 cup all-purpose flour
1/8 teaspoon table salt
1/4 cup maraschino cherries, chopped
12 Hershey's Cherry Cordial Creme Kisses, unwrapped
Instructions
Preheat oven to 350F. Line one cookie sheet with parchment paper or a silicone mat.
In a medium bowl, beat together the sugar, butter, juice, and almond extract. It will look curdled - keep going. Mix in flour and salt. Stir in chopped cherries.
Divide the dough into 12, roll into balls, and place on the cookie sheet. Bake 10-12 minutes or until edges are set. Immediately top each cookie with a kiss, pressing down firmly to flatten out cookies. Remove to cooling rack.
Source:
Food.com
This post may contain affiliate links. As an Amazon Associate and member of other affiliate programs, I earn from qualifying purchase.