Caramel Kiss Cinnamon Spritz Cookies
These butter spritz cookies spiced with cinnamon then topped with caramel Hershey's kisses need to make an appearance on your cookie trays for Christmas.
Hope everyone had an enjoyable Thanksgiving! I don't know about you, but I don't want to hear Christmas music until Thanksgiving has come and gone. Every Sunday after Thanksgiving, I help put up my parents' Christmas decorations and watch Murray claim ownership of the tree skirt and attempt to fit inside Baby Jesus' manger. Another Christmas tradition is
not counting calories
baking a ton of cookies, including ones you don't see outside of December. Ones like these Caramel Kiss Cinnamon Spritz Cookies – buttery spiced cookies that you make with a cookie press then top with a Caramel Hershey's Kiss.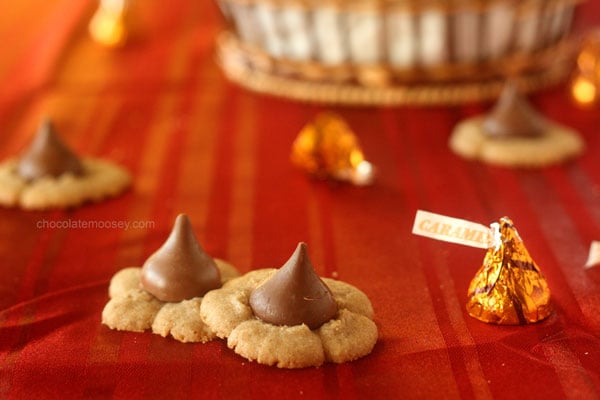 What are spritz cookies, you ask? Spritz cookies are those pretty shaped cookies you often see on Christmas cookie trays. You have a special tool called
a cookie press
that pushes the dough through stencils to make different shapes. You can easily knock out a few dozen spritz cookies in just a few minutes, so they are ideal to make when you need lots of cookies.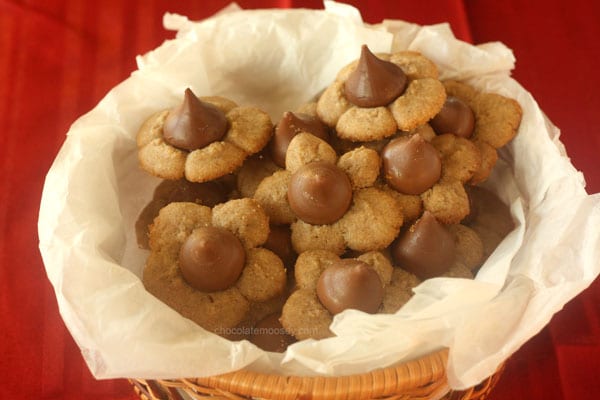 What I love about these cinnamon spritz cookies is they are melt-in-your-mouth buttery goodness spiced with cinnamon. Not to mention the caramel kiss that oozes out over top when you take a bite.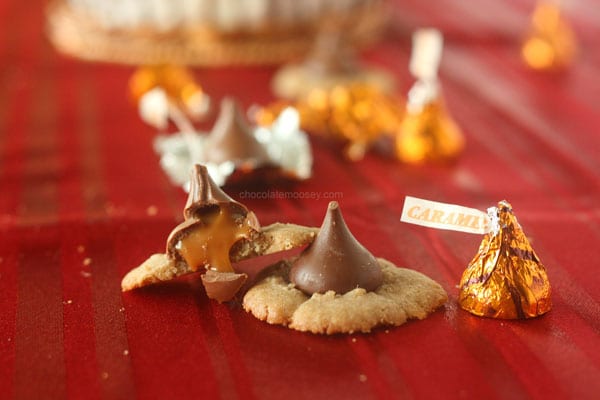 I am sad to announce that this is the first and last time I'll be making these cinnamon spritz cookies. You see, I managed to get two dozen in the oven. When I was using the last bit of dough, my cookie press got stuck. After trying to get the dough out, it snapped apart. I thought, ok I'll just snap it back together. Unfortunately, a piece of plastic was laying on the counter, and the press did not stay together. Boo hiss. I got it as a gift a few years ago, so I'm going to see what the warranty is. Since I don't have a receipt, I'm not sure what the company would do for me.
Update: I now own an OXO Cookie Press, which I highly recommend since it has yet to break on me.
Equipment you may need:
Caramel Kiss Cinnamon Spritz Cookies
Yield: 2 dozen
Prep Time: 30 minutes
Cook Time: 11 minutes
Total Time: 41 minutes
These butter spritz cookies spiced with cinnamon then topped with caramel Hershey's kisses need to make an appearance on your cookie trays for Christmas.
Ingredients
1 cup flour
1 teaspoon ground cinnamon
1/8 teaspoon salt
1/2 cup (4 ounces) unsalted butter, softened
1/4 cup + 2 tablespoons sugar
1 egg yolk
1/2 teaspoon vanilla
30 Caramel Hershey's Kisses, unwrapped
Instructions
Preheat oven to 375F. Have 3 ungreased cookie sheets ready*.
In a medium bowl, whisk together the flour, cinnamon, and salt.
In a large mixing bowl, beat the butter, sugar, yolk, and vanilla until creamy, about 2-3 minutes. Gradually beat in the flour mixture until well mixed.
Prepare cookie press with desired stencil then fill with dough**. Press cookies about 1 inch apart onto each cookie sheet. Bake until edges are lightly browned, about 8-11 minutes. Immediately place an unwrapped kiss in the center of each cookie and gently press down to attach. Remove cookies to a cooling rack and cool completely.
Notes
If you only have two cookie sheets, bake as directed then let one of the cookie sheets cool for a few minutes before using again.

*If you don't have a cookie press, you can make them like regular thumbprint cookies. Just roll into balls and flatten a little with your thumb before baking.
Source: Adapted from Land O' Lakes 5th Annual Holiday Cookies Cookbook
More Holiday Cookie Recipes For You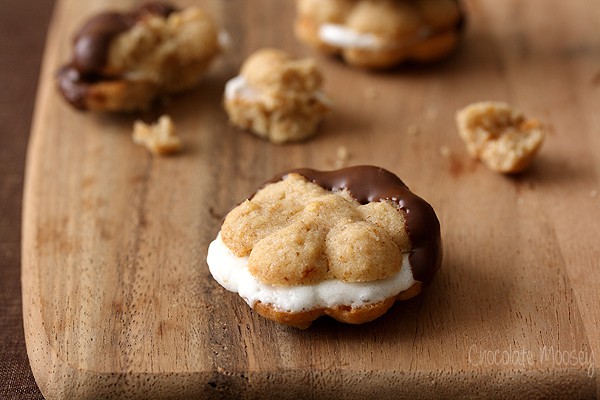 S'mores Spritz Sandwich Cookies
Giveaway (Closed)
The giveaway is now closed. Ruta was the winner.
Disclosure: I was given a Hershey's Baking Prize Pack to give away. All photos, opinions, and text are mine. This post also contains Amazon affiliate links, which helps keep my blog running. As always, thank you for your support!
This post may contain affiliate links. As an Amazon Associate and member of other affiliate programs, I earn from qualifying purchase.