Apple Upside Down Cake
Apple Upside Down Cake is a warm cinnamon spice cake flipped upside down to reveal a gooey delicious topping of caramelized apples and walnuts.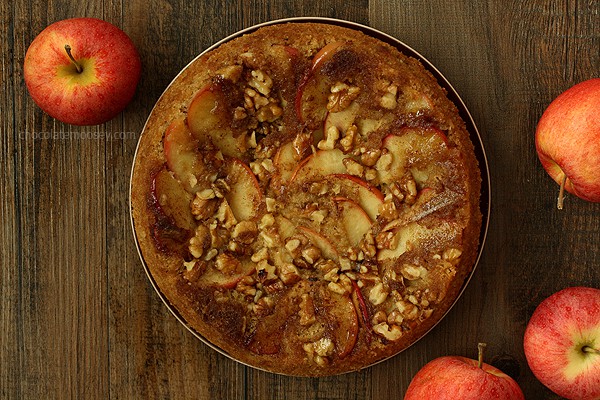 Two years ago
this month
last month (how is it October already?!), I made the best, yet one of the hardest decisions of my life.
I'm not sure if this person understands why I did it, why I had to walk away, but I had to leave the drama behind.
When you spend most of your nights crying instead of laughing, feeling more alone than ever before on top of starting a new job and moving to a new town alone, I had to make a change or I wasn't going to make it.
The decision to walk away turned my life upside down, much like this Apple Walnut Upside Down Spice Cake.
When it's in the pan, it looks plain, lonely, unordinary. However, when you flip it, magic happens. Apples and walnuts appear, all caramelized in a sweet, irresistible topping.
And suddenly, life doesn't seem too bad after all.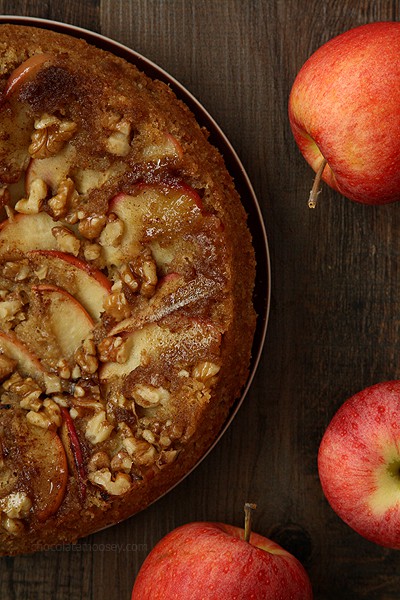 A year after I graduated college, I moved to a small town without knowing anyone to start my career. Family and friends were now far away.
Feeling lonely was to be expected, but I've never had a problem going places alone, hanging out alone.
But this was a different kind of alone. I didn't fit in at work with everyone being older, married and/or with kids.
They all knew each other, either from growing up in the area, knowing each other's families and friends, or just worked with each other for a really long time.
I was the complete opposite and didn't fit in well at all. I was the youngest and the only female in my department. I did my job alone and didn't know how to connect with others.
It wasn't until a year after I started that I finally made a few close friends with coworkers, after a group of other coworkers made me feel unwanted.
I was falling apart, and drama was the last thing I needed.
It took me months to muster up the courage, but finally one evening I just had enough and haven't looked back since.
I know you're thinking "What does this have to do with upside down cake??" You know how people say things happen for a reason?
Because of that decision to walk away, I was on a path to recovery. It was a very dark and long path, but it lead me to where I am today with this blog.
Sure, I've been blogging long before any of this happened, but I was never serious about it. Instead of drowning in loneliness and pity, I focused my energy on blogging.
Blogging showed me that not only do I have passion and talent, there are other crazy people who just like me.
If you asked me right now who my best friends are, 90 percent of them are other bloggers. Some I've met at events; others I have plans to meet someday.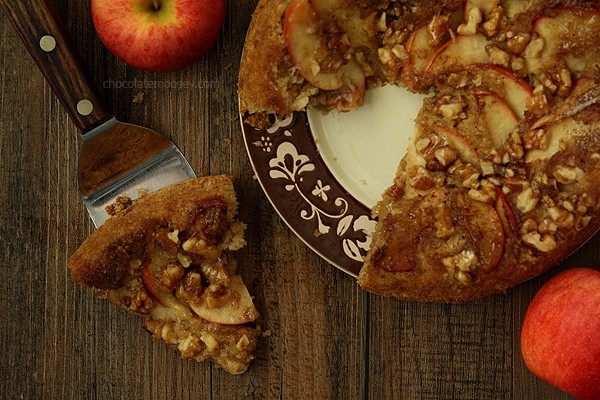 This apple upside down cake is to remind me how far I've come.
Would I still be blogging like I am today if I didn't walk away?
One decision is all it takes to turn everything upside down, and although upside down at the time felt like I was out of control, upside down also means magic is waiting for you when the chaos calms down.
Apple Walnut Upside Down Spice Cake
Warm cinnamon spice cake flipped upside down to reveal a gooey delicious topping of caramelized apples and walnuts.
Ingredients
Cake
1 1/3 cups all-purpose flour
1 tsp baking powder
1/4 tsp baking soda
1/4 tsp salt
1/4 tsp cinnamon
1/4 tsp clove
1/2 cup unsalted butter, softened
2/3 cup brown sugar
1 egg
1 tsp vanilla
2/3 cup sour cream
Topping
1/4 cup brown sugar
1/4 tsp cinnamon
1/4 tsp clove
1/2 cup walnuts, chopped
1 cup apple slices (peeling optional)
Instructions
Preheat oven to 350F. Put 2 tablespoons butter into an 8-inch round pan and place into the oven. Heat until butter is melted then remove from oven. Brush the melted butter around the bottom and sides of the pan. Set aside.
For the cake: In a medium bowl, whisk together the flour, baking powder, baking soda, salt, cinnamon, and clove.
In a large bowl, beat together the butter and sugar until pale and fluffy, 2-3 minutes.
Add egg and vanilla then beat 1 minute. Gently beat in the flour mixture then the sour cream. Do not overbeat the batter.
For the topping: In a small bowl, whisk together brown sugar, cinnamon, clove, and walnuts. Sprinkle the mixture into the pan over the melted butter then lay apples slices on top in a single layer. Spoon in the cake batter and spread evenly.
Bake for 35 minutes or until a toothpick in the middle comes out clean. Let cake rest for 10 minutes before running a knife around the edge and inverting it onto a plate. Serve warm.
Source: Adapted from
Joy The Baker
—-
If you liked this Apple Walnut Upside Down Spice Cake, you may also like these recipes:
From me:
From other bloggers:
This post may contain affiliate links. As an Amazon Associate and member of other affiliate programs, I earn from qualifying purchase.