Tapioca Pudding with Fresh Apple Slices
Creamy homemade tapioca pudding with fresh crisp apple slices on top make a nice ending to your dinner. So much better than those pudding cups you had as a kid!

How important is it for you to be Earth friendly? I used to work at an environmental education center during college. Although my job was to update the website with upcoming events and news, the center's passion for the environment really stuck with me. When it's recycling night at the apartment, the recycling bin is almost always full; however, there's more to being Earth friendly than just recycling. Sometimes, it's also in the items we buy. When you buy wine, do you think about the impact making it has on the environment? I didn't until I was introduced to
Frei Brothers Reserve
, a winery in California who is committed to sustainability through preserving natural resources while upholding the quality of their wine. With the motto
Respect the Land, Love the Wine
, Frei Brothers Reserve believes in both producing exceptional wine and nurturing the earth, not only to enjoy today but for future generations to enjoy as well. That's why it's important for the winery to preserve Frei Ranch, for us all to preserve our special places around the country.

My place worth preserving is Triple B Farms in Monongahela, PA, which is located about 40 minutes from my hometown (over in the Pittsburgh area). Every year, my dad and I visit to pick our own produce, including apples. I made Tapioca Pudding with Fresh Apple Slices to preserve my place, not only to capture the apples but also because tapioca pudding is one of my dad's favorite desserts.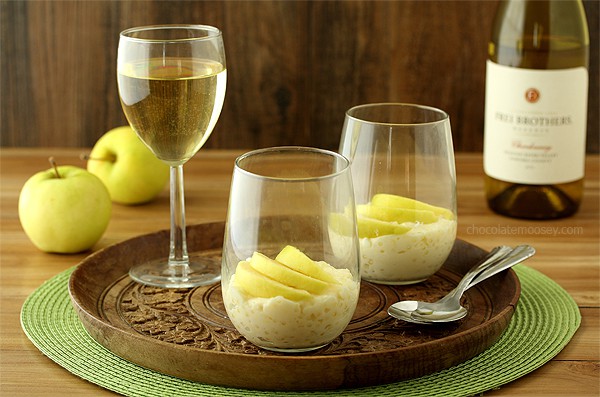 In case you don't know my story, about three years ago I moved several hours away from my hometown for a job, so currently I live about three hours from Triple B Farms. That doesn't stop me from going when I visit my parents for the weekend. Sure, my visits are less frequent now, but that makes it even more important for me to preserve this place with memories.
Triple B Farms is more than just a farm; they embrace the community by inviting everyone to pick their own produce – strawberries, raspberries, peaches, even apples. The first time my dad took me here, we picked strawberries until the basket couldn't hold anymore. Now with me only being able to visit on weekends, this summer was a little tough. Strawberry picking was late, so I missed it. I was away every weekend in July. August I needed a break from traveling. Finally, Labor Day rolled around, and I just had to go pick apples. I couldn't go all year without visiting! Dad and I picked about eight quarts of apples of two varieties – Golden Gala and Jonagold. I ended up taking most of them back with me since I'm the baker in the family. You can see what I've been up to
with my apple recipes
.
I chose Frei Brothers Reserve Chardonnay wine to pair because the description said the wine displays flavors of green apple, orange zest and apple pie, complemented by notes of butter and toast. Between the apple and butter notes, I felt that Tapioca Pudding with Apples would be a nice finish to end dinner. My original plan was to top the pudding with caramelized apples, but I felt the dessert ended up being too sweet for the wine. Instead, I sliced a few crisp, slightly tart apples to help balance out the sweetness.
The key to making tapioca pudding is patience. You need to cook on low or you will burn the bottom. The pudding also thickens when it cools, so give it time to set before you think you didn't cook it long enough (guilty). I love the texture of the tapioca pearls, and I promise you it's a million times better than the tapioca pudding in those snack packs you had growing up as a kid. I bought my tapioca pearls from a local bulk grocery store, but I've seen it in the baking section of grocery chain stores. Make sure it says pearls and not instant tapioca pudding. If all else fails,
buy it online
.
Tapioca Pudding with Fresh Apple Slices
Creamy homemade tapioca pudding with fresh crisp apple slices on top make a nice ending to your dinner. So much better than those pudding cups you had as a kid!
Ingredients
1/4 cup tapioca pearls*
1 1/2 cups whole milk
1/8 teaspoon salt
1/4 cup granulated sugar
1 egg
1/4 teaspoon vanilla
1 apple, cored and sliced
Instructions
In a large saucepan, mix together the tapioca pearls, milk, and salt. Heat on medium high heat until boiling, stirring often (keep a close eye on it - it may boil up and spill over). Turn the heat down to the lowest setting possible and simmer 5 minutes, gradually adding the sugar.
In a separate small bowl, beat the egg. Temper the egg by slowly whisking in some of the hot milk. Return the mixture to the pan. Slowly bring the mixture to barely a boil, stirring constantly**. Stir constantly several minutes more until it thickens to a pudding consistency. Cool 15 minutes then stir in vanilla. Serve warm or chilled, topping with apple slices.
Notes
Some tapioca pearls require overnight soaking. Refer to your package's directions.
*If some of the egg does get cooked, pick out the pieces.
Source: Adapted from
Around My French Table
This post is sponsored by Frei Brothers Reserve and Kitchen PLAY. I received monetary compensation and one bottle of wine to pair. All opinions and content are my own.
This post may contain affiliate links. As an Amazon Associate and member of other affiliate programs, I earn from qualifying purchase.