Thai Inspired Beef and Pasta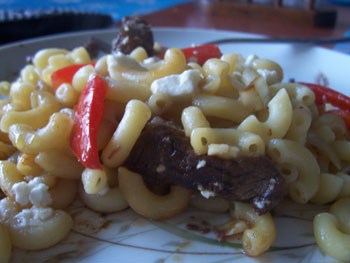 WARNING – This is the most amazing beef dish I've ever cooked/eaten. This is definitely a meal I could make weekly. You must marinade the beef in order to get the flavor factor. The recipe called for 4 hours up to overnight, but I marinaded it for an hour. Tasted amazing to me. It also says to grill or broil; I fried it in a skillet. Not the healthiest, but hey. As far as changing the ingredients, I adjusted the amount to one serving and forgot to add the sesame seeds (which I do have). I also left out the green beans.

[rss-cut]

Thai Inspired Beef and Pasta
Thai inspired beef and pasta for dinner
Ingredients
3 tablespoons lime juice
3 tablespoons soy sauce
3 tablespoons oil
2 tablespoons brown sugar
1/4 teaspoon garlic powder
1/4 teaspoon ginger
1/4 curry powder
1 cup uncooked penne
1 beef eye round steak
1/4 cup thinly slice onions
1 cup red pepper, thinly sliced
1/4 cup feta cheese
1/8 cup sesame seeds
Instructions
Mix together 1 1/2 Tbsp lime juice, 1 1/2 Tbsp soy sauce, 1 1/2 Tbsp oil, 1 Tbsp brown sugar, 1/8 tsp garlic powder, 1/8 tsp ginger, and 1/8 tsp curry powder. Place beef in a freezer bag. Pour marinade into the bag; cover the meat as best as you can. Place in the refrigerator for at least an hour or overnight. The longer it sits, the better the flavor.
Once the meat is ready, pour some oil into a skillet and fry meat until no longer brown. If you're having trouble getting the middle to be brown, cut the meat into chunks. Once the meat is brown, cut into bite-size chunks (if you haven't done so already).
While the meat is cooking, bring a pot of water to a boil. Cook pasta until done.
Pour remaining lime juice, soy sauce, oil, sugar, garlic powder, ginger, and curry powder into a second skillet. Saute onions, red pepper, and sesame seeds. Add browned beef. Add in cooked pasta. Sprinkle the top with feta cheese.
Source: Recipe Zaar
This post may contain affiliate links. As an Amazon Associate and member of other affiliate programs, I earn from qualifying purchase.