The perfect solution for a home-cooked dinner after a busy day – One Pan Cheesy Chicken Broccoli Rice Skillet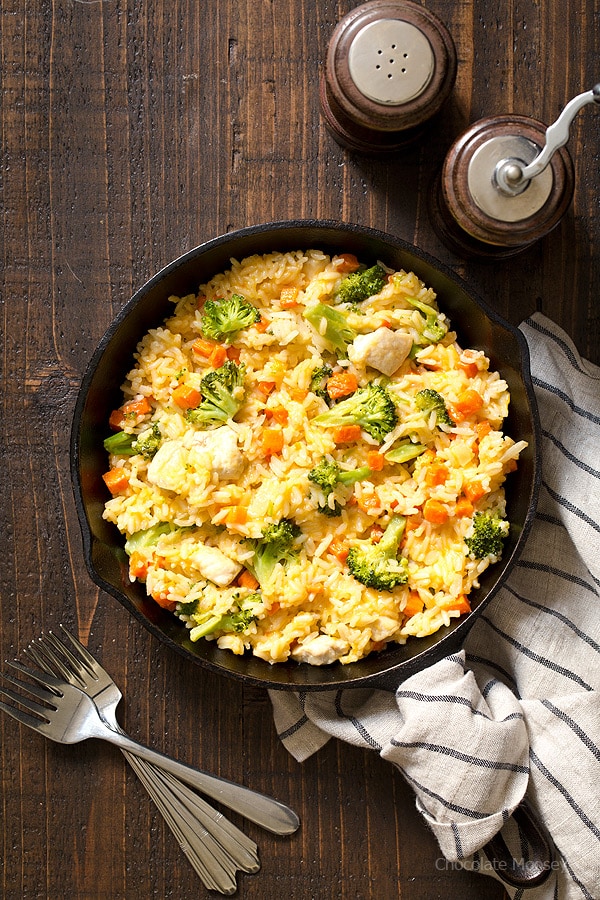 One of the things I love about living near the city is there's always something to do. Before I moved back to Pittsburgh two years ago, I lived in the middle of nowhere which I nicknamed cow country (my landlord literally had cows). Sure, we had a few stores right in town so I didn't have to travel far for groceries or the bank, but if I wanted to do anything more than that, or even go to stores like Target or Kohls, it was anywhere from 30-45 minutes over the mountain. I tried my best to keep myself busy and find activities to do, but it wasn't easy. Now I'm not far from the numerous neighborhoods Pittsburgh has to offer and about 10 minutes from downtown. I can also venture in any direction away from the city and not be far from something to do or somewhere to see.
Because of this, when my parents visit me (who are about 40-45 minutes away pending traffic), we end up being busy all day. Exploring, eating, sometimes grocery shopping (hey two birds with one stone if we're near where I need to go). That means I'm not home to make dinner. And although we enjoy dining out, my parents do miss my cooking. That puts me in a tough situation – a home cooked meal that doesn't take all afternoon to make and something low key because I'm usually tired from running around all day. And that's how this One Pan Cheesy Chicken Broccoli Rice Skillet was born – ready in under 60 minutes, only one pan, and mostly hands-off cooking. The perfect solution for a home-cooked, filling dinner after a busy day.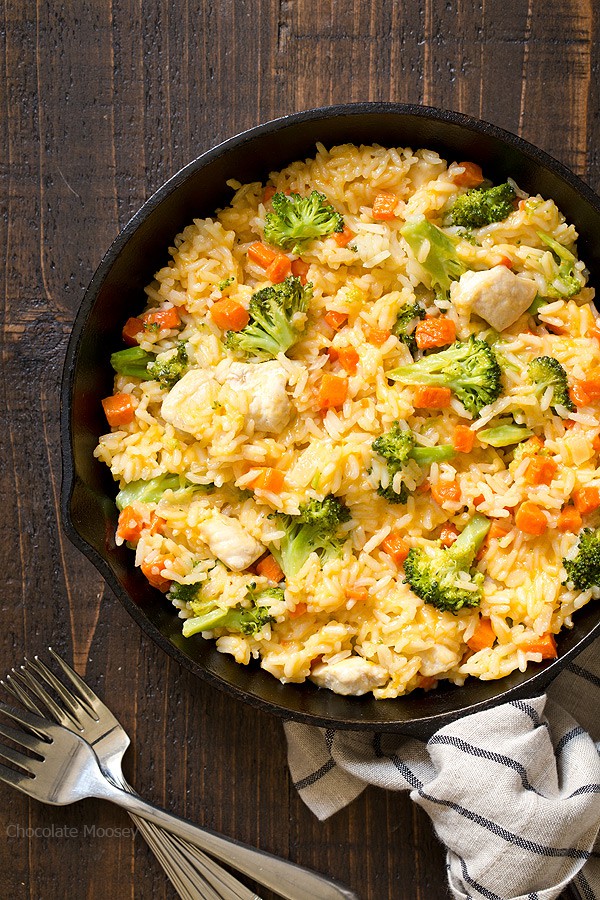 The inspiration for this cheesy rice skillet came as a request from my dad after asking what I should make for dinner. His answer was "chicken breast". I said that was boring. He said "with rice?" Ironically I had been craving cheesy broccoli rice that same week, so I thought why not make what I want and throw some chicken into it? Everybody wins.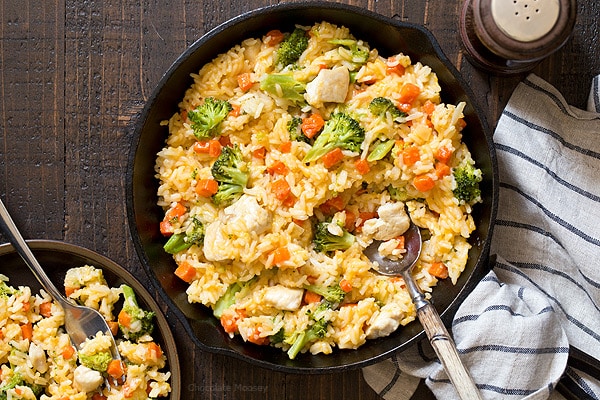 Making it all in one skillet is the best part. You don't have to cook the rice in a separate pot, which not only saves you time, it also saves you from washing one extra pot. I can't tell you how many times I've been unmotivated to make a dish because I have to cook chicken in one pan, sauce in another, and rice in another. I added lots of broccoli and carrots to this recipe because I love vegetables. Sometimes I'll even add mushrooms or peas, depending on what I have on hand.
One Pan Cheesy Chicken Broccoli Rice Skillet
Ingredients
2 tablespoons vegetable or olive oil
1/2 cup chopped onion
2 large carrots, peeled and diced
1 large boneless skinless chicken breast, cut into 1-inch pieces and lightly sprinkled with salt
1 clove garlic, minced
1 cup uncooked white rice (not minute rice)
2 1/4 cups chicken broth
1/2 teaspoon salt
2 cups chopped broccoli
2 cups shredded cheddar cheese
Instructions
In a deep 12-inch skillet, heat 1 tablespoon oil. Once hot, add the onion and carrots. Cook for 5 minutes or until they start to soften. Push them to the side of the pan then add the chicken in the middle. Cook until brown, about 2-3 minutes then flip and cook until brown again, another 2-3 minutes. Add the garlic and cook 30 seconds.
Push the chicken to the side. Add the remaining 1 tablespoon oil to the middle. Once hot, add the rice. Stir until coated and cook 1 minute. Slowly whisk in the broth and salt. Bring to a boil.
Once boiling, cover the pan and cook for 10 minutes. Stir in the broccoli. Cover again and cook for another 3-5 minutes or until the rice is fully cooked and broccoli is tender. Stir in the cheese until melted.
Source: Adapted from The Girl Who Ate Everything