Bet you can't just have one bite of this Creamy Onion Dip with green onion, jalapeno, and Parmesan cheese. Serve it with warm crusty bread or with crackers.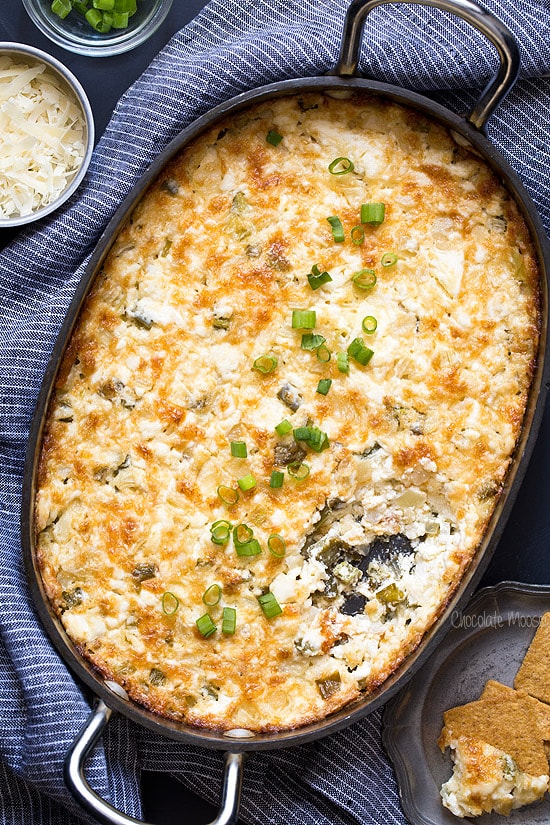 Is it weird to say onions are one of my favorite vegetables?
After all, an onion is a vegetable, even though when you picture vegetables on a food chart, you think more about broccoli and carrots than you do an onion.
It doesn't matter if it's white, sweet, red, or green.
Whether we are talking lightly fried, caramelized, onion rings, soup, chicken salad, deviled eggs, or dips, my motto is the more onion, the better.
The first time I had this Creamy Onion Dip was when I attended Todd and Diane's photography workshop back in March.
They fed us pretty well all weekend and brought out their famous onion dip at one point, aka crack dip. I have mixed feelings on calling it crack dip simply because drug addiction isn't a joke.
Anyway, it's a cream cheese and mayonnaise based dip packed full of onion flavor. I adapted their recipe from their Bountiful cookbook and added a few twists of my own with jalapeno and green onion for both flavor and color.
Attending the workshop was the first time I've been to California. Before that, the furthest west I've traveled was the Grand Canyon.
Half of the attendees were fellow blogger friends of mine, so we hung out during our down time.
Saturday night we drove to the beach where I got to touch the Pacific Ocean for the first (and hopefully not the last) time.
I may not be much of a swimmer, but there's something ever so soothing about waves crashing on a beach during sunset.
Since you're baking a dip and not a cake, it doesn't matter what baking dish you use as long as it's heatproof.
Personally small casserole dishes work the best, but a regular baking pan will work too.
I used what I'm guessing is a small oval roasting pan I bought at a thrift store. I just love the way it looks for presentation.
Serve your onion dip with crackers or barbecue chips.
Creamy Onion Dip
Total Time:
1 hour
5 minutes
Ingredients
8 ounces cream cheese, softened
1 cup mayonnaise
1 cup grated Parmesan cheese
1 cup chopped white or sweet onion
2 green onions, chopped
1/2 cup chopped jalapeno (roughly 1 large or 2 small)
Instructions
Preheat oven to 350F. Have a small heatproof casserole dish or pan ready.
In a large mixing bowl, beat together the cream cheese and mayonnaise until smooth. Beat in the cheese, onion, green onion, and jalapeno.
Transfer the mixture to the casserole dish or pan. Bake 45-50 minutes or until the top is golden brown. Serve warm with crackers or crusty bread.
Source: Adapted from
Bountiful cookbook
More Dip Recipes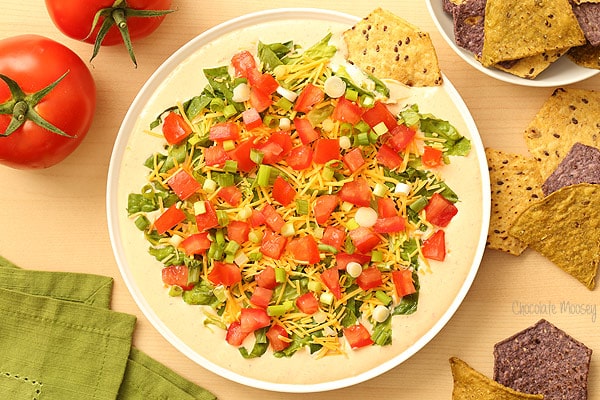 Chipotle Ranch Taco Dip
Disclosure: This post contains Amazon affiliate links.