Whether you have leftover canned pumpkin to use up or are looking for a twist on a Thanksgiving classic, Cheddar Pumpkin Mashed Potatoes with rosemary is total comfort food in a bowl.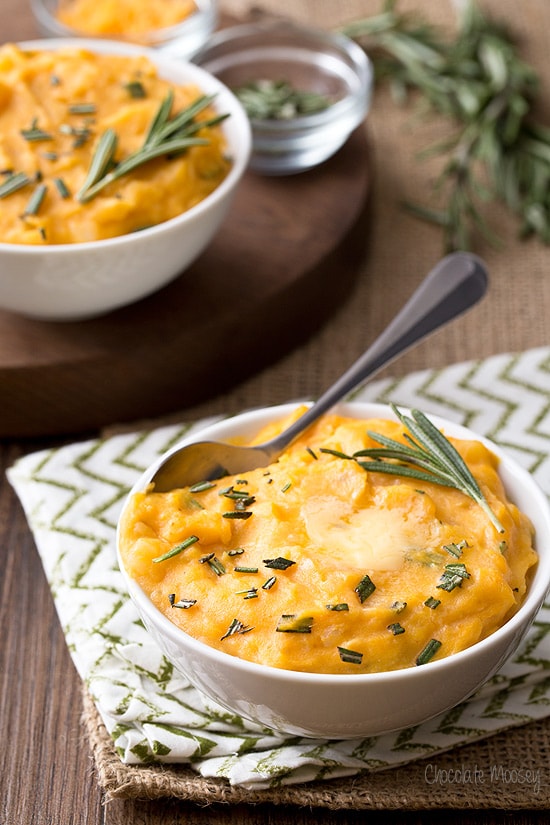 Have you started planning your Thanksgiving menu yet? Do you stick to the same recipes year after year or do you incorporate 1-2 new dishes? My family and I usually stick to the same recipes, although sometimes we may rotate the meat choice between
Cornish hen
and turkey legs. After talking with friends about Thanksgiving traditions, I've concluded most people don't like to stray too far from the classics. However, they are open to trying a variation of their favorite classic. Take mashed potatoes for example. Every household has mashed potatoes for Thanksgiving. Although they taste wonderful and comforting on their own with butter, and cream, they are a blank canvas for introducing other flavors, especially when cleaning out the fridge. The idea for these Cheddar Pumpkin Mashed Potatoes came when I had some leftover pumpkin puree in the fridge. I swear no matter how hard I plan, every time I open a small can, I almost always have leftover pumpkin puree. As much as I'd love to bake another pumpkin dessert, sometimes I need to, you know, actually eat real food. Since there will be pumpkin pie for dessert, might as well have a pumpkin side dish too. You certainly don't have to wait until Thanksgiving either to enjoy these mashed potatoes. Cheddar pumpkin mashed potatoes make a great comforting side dish any day of the week.
Last month I shared my visit to Idaho to experience the Idaho Potato Harvest with my
chicken pot pie baked potatoes
. Now it's time to make some mashed potatoes! Idaho Russet Burbank potatoes are the best choice when making mashed potatoes because they are high in starch, which results in a light and fluffy texture that easily soaks up butter and milk.
Mashed potatoes are synonymous with Thanksgiving. However, the one problem I have when making such a large dinner is keeping them warm while working on other dishes. Luckily there are several ways to keep mashed potatoes warm until you're ready to serve. If you only need to keep them warm for 15-20 minutes, usually a dish towel covering the bowl keeps in enough heat. However, if you need to keep them warm longer, say an hour or so, set the (heatproof) bowl of mashed potatoes over a pot of simmering water (like a makeshift double boiler), cover it with a dish towel, and stir every 15 minutes or so. When you're ready to eat – voila! Warm mashed potatoes.
For more information, please visit Idaho Potato's
website
and say hello on
Facebook
,
Pinterest
, and
Instagram
.
Cheddar Pumpkin Mashed Potatoes
Ingredients
1 pound Idaho® potatoes, peeled and cubed (roughly 2 large potatoes)
3 whole garlic cloves, peeled
1/2 cup (4 ounces or 8 tablespoons) unsalted butter, softened
1/2 teaspoon salt
1/4 cup whole milk
1 cup canned pumpkin puree
1 cup shredded cheddar cheese
1 tablespoon fresh chopped rosemary
Instructions
Bring a large pot of water to a rolling boil. Once boiling, add the potatoes and garlic cloves. Cool until soft but not overdone, roughly 12-15 minutes. Drain.
In a large mixing bowl (or by hand with a potato masher), beat the cooked potatoes and garlic until mashed and smooth (do not overbeat). Beat in the butter and salt until completely incorporated then slowly beat in the milk. Beat in the pumpkin, cheese, and rosemary.
More Thanksgiving Recipe Ideas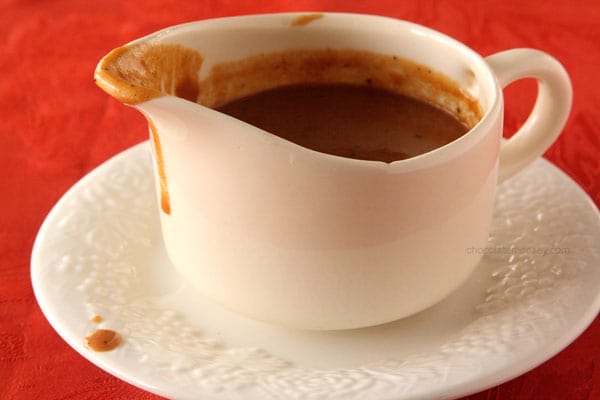 Homemade Gravy Without Meat Drippings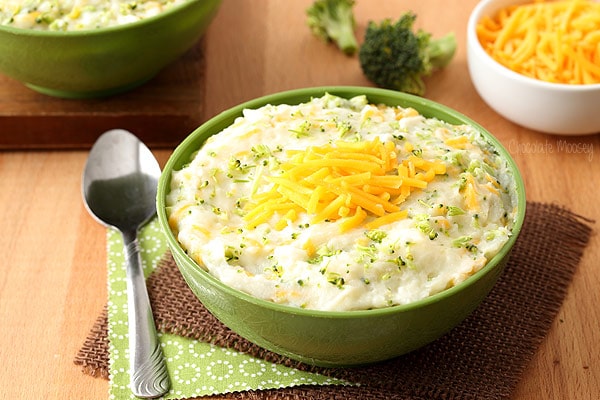 Broccoli and Cheese Mashed Potatoes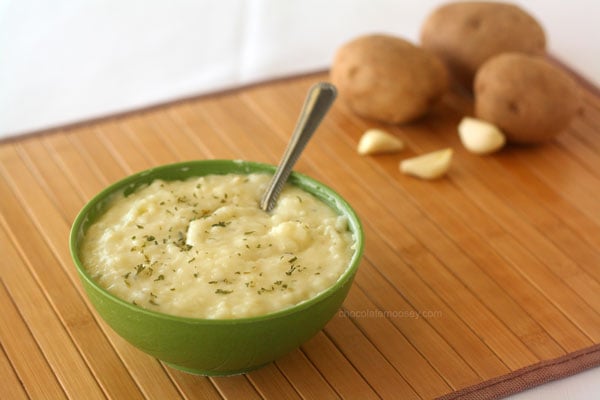 Creamy Garlic Mashed Potatoes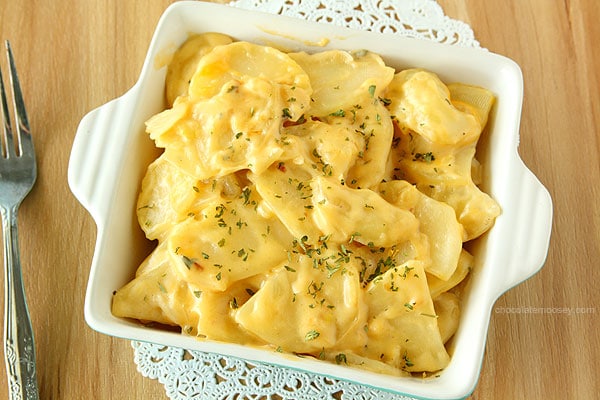 Easy Cheesy Scalloped Potatoes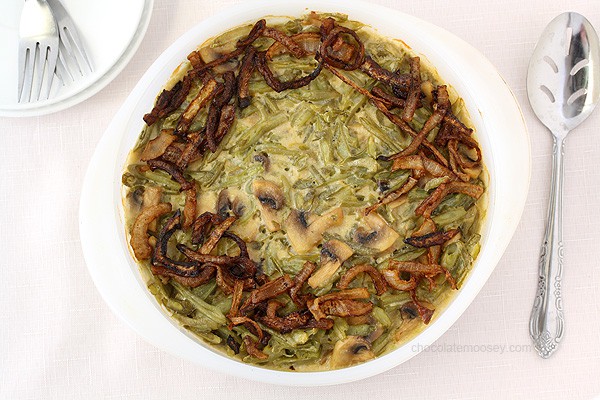 Green Bean Casserole Without Canned Soup
Disclosure: This post is sponsored by Idaho Potato Commission. Thank you for supporting me and the companies I work with as sponsored posts help pay for the costs of running Chocolate Moosey, including website hosting and groceries for recipe development.