Whether you're looking for a fun twist on taco night or new tailgating recipes, these Taco Pizza Roll Ups will be an instant crowd pleaser. All you have to do is roll up pizza dough with ground beef, salsa, and cheese.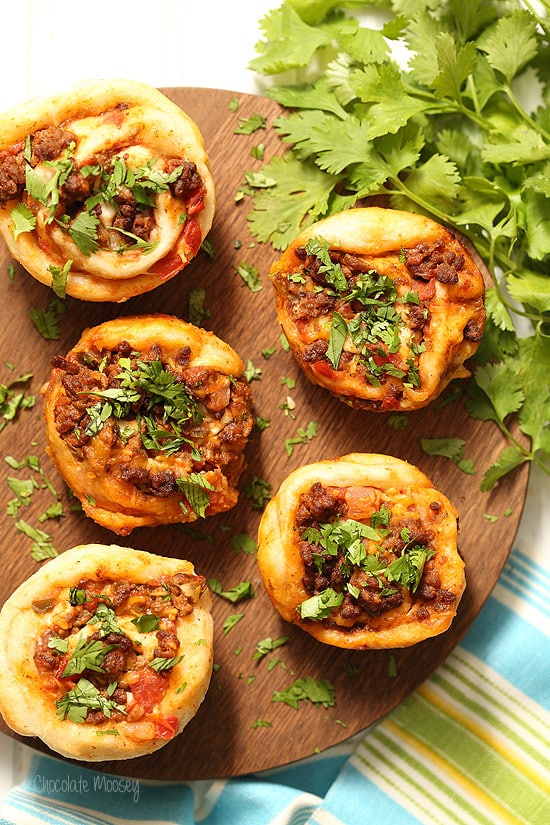 Football season is finally upon us, which marks the time of year where I'm in a weird transition. Part of me still wants buckets of peaches, tomatoes, and corn. Daylight lasting until 9 PM and pitchers of cold brew coffee. The other part of me is ready to move on to days that aren't in the 90s and don't need to crank up my air every time the oven is on. Picking apples while wearing jeans and drinking pumpkin spice lattes. Diving into lots of chicken wings and dips for dinner while the Steelers play on TV. I don't host tailgating parties (mainly because most of my friends live far away), but I do love eating tailgating food for dinner. One item that I often see at parties are roll ups, usually tortillas stuffed with various lunch meats; I could eat the whole tray if I didn't have to share. As I thought about ways to use up some salsa in the fridge (besides the usual chips and dip), somehow I started thinking about serving hot roll ups using pizza dough. Soon taco pizza came to mind. Now you could make a regular taco pizza and call it dinner, but to keep with the tailgating spirit I turned it into Taco Pizza Roll Ups, which are divided into smaller portions to share with a crowd. They are small enough to fit onto your already-packed plate of food after the game starts (just me)? Even if you don't have plans to tailgate anytime soon, you can still eat a few of these for dinner as pizza rolls are much more fun to eat than a boring slice of pizza. You can even make them for a fun twist on taco night.
When I make traditional tacos, I usually add salsa to the ground beef to make it more flavorful. I took that same idea for taco pizza and added
Sabra Roasted Garlic Salsa
to the beef before adding to the pizza dough. I love using Sabra salsa because it's made with fresh ingredients including vine-ripened tomatoes. I sprinkled the cheese down first to act as a barrier between the dough and the salsa; otherwise the dough will get too wet when you try to roll it up.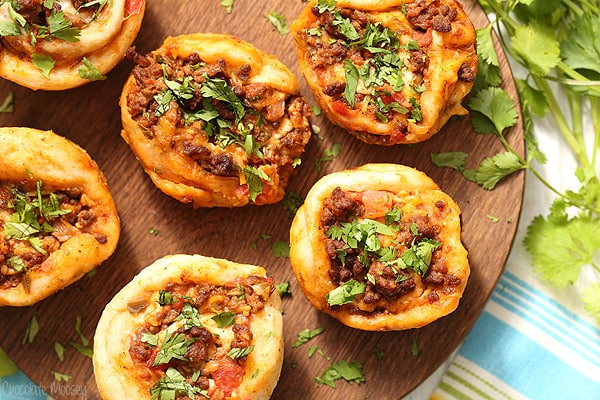 Secret – I'm not very good at rolling up my dough, so don't worry if it's not perfect. Just cover it up with lots of cilantro like I did.
For more information on Sabra, please visit their website and say hello on Facebook, Twitter, and Pinterest.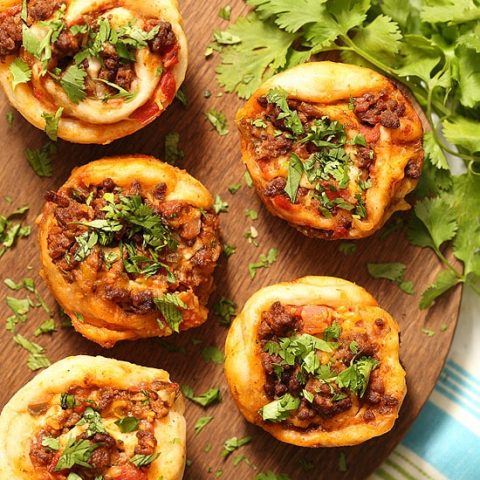 Taco Pizza Roll Ups
Ingredients
1 teaspoon vegetable oil
1/2 pound ground beef, thawed
1 1/2 teaspoons ground chili powder
1 teaspoon ground cumin
1/4 teaspoon salt
1 cup Sabra Roasted Garlic Salsa
Pizza dough (homemade or store bought in a can)
1/2 cup shredded cheddar cheese
2 tablespoons chopped fresh cilantro (plus more for garnish)
Instructions
Preheat oven to 425F. Lightly grease a muffin pan with cooking spray.
In a large skillet over medium heat, heat the oil. Once hot, add the ground beef, chili powder, cumin, and salt. Cook until brown and no longer pink, about 7-10 minutes. Remove from the heat and drain any grease that may have accumulated. Stir in the salsa.
On a lightly floured surface, roll the pizza dough into a 13x9 rectangle. Sprinkle the cheese on top of the dough then add the meat (if beef has extra liquid from the salsa, drain the liquid). Top with cilantro.
Starting with one of the long ends, tightly roll into a long roll. Using a serrated knife, slice into 1-inch slices. Place each slice into a muffin cup (alternatively you can use an ungreased baking sheet. They will spread out a little more).
Bake for 10-12 minutes or until golden brown. Cool for 5 minutes then garnish with cilantro and serve warm.
More Salsa Recipes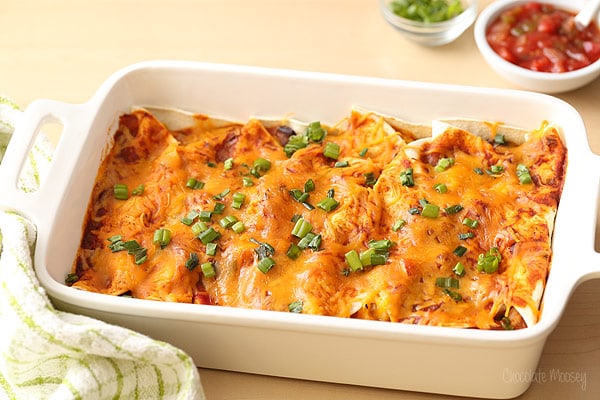 Salsa Chicken Enchiladas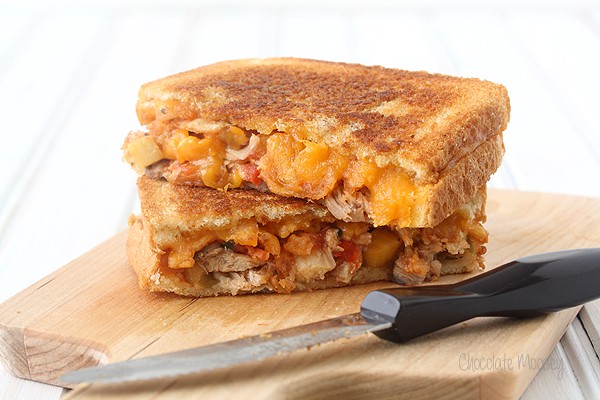 Salsa Chicken Grilled Cheese
Disclosure: This post is sponsored by Sabra. Thank you for supporting me and the companies I work with as sponsored posts help pay for the costs of running Chocolate Moosey, including website hosting and groceries for recipe development.