This healthy 3 ingredient Peanut Butter Banana Ice Cream is so easy to whip up on a hot summer day when you're craving ice cream and is a great way to use up those overripe bananas. You can even make this ice cream without a machine.

Even though I often talk about being lazy and watching TV all night, truth is I do exercise 2-3 times a week. I've been going to Zumba off and on for about 5-6 years now (if you don't know what Zumba is, the easiest way to explain it is exercise to music). I finally found an instructor I'm happy with in Pittsburgh and have been sticking to a steady schedule with her. Now that the weather is finally staying warmer, I've been spending my other evenings walking at the park. I enjoy my walks because it gets me away from the computer and outside into the fresh air to clear my mind. Sometimes if it's really warm outside, I'll eat a little bit of ice cream when I get home. However, I can't do that every night (as much as I want to). Unless that ice cream also happens to be healthy.
Did you know that blending frozen bananas in a food processor makes banana ice cream? You don't even need an ice cream maker! I know it sounds a little crazy, but it's true. It may not have a true ice cream texture since there is no cream or eggs, but you won't be disappointed with it either. I actually made banana fudge swirl ice cream a few years ago, so I knew the concept worked. When I had a few overripe bananas leftover from my banana chocolate chip snack cake, I knew banana ice cream was in my future. Then I thought about adding peanut butter to it. Yes! Peanut Butter Banana Ice Cream. A healthy, 3 ingredient dessert that you can feel good about eating in the summer.
The key to banana ice cream is using bananas that are brown without any hint of green, much like the ones you would use for
banana bread
. If they do have some green in them, then they won't be as sweet and may even end up a bit bitter. Since you need to freeze the bananas anyway, just slice them up and keep them in the freezer. Then you'll have access to homemade banana ice cream any time you want.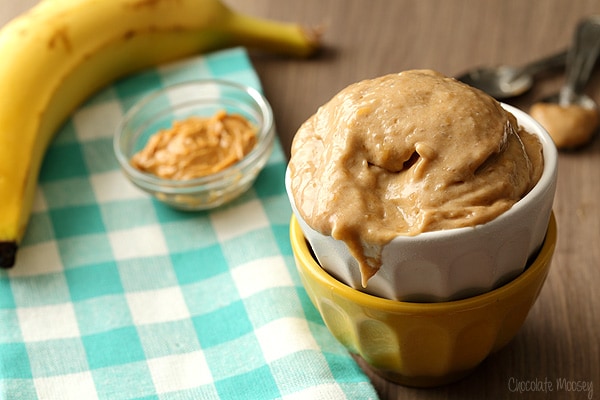 Even though I made my recipe with peanut butter, you can use almost anything you want –
caramel sauce
,
hot fudge sauce
, chocolate chips. I think next time I'm going to stir some chocolate chips into mine.
Peanut Butter Banana Ice Cream
Ingredients
2 large overripe bananas, cut into slices and frozen at least 2 hours
1/4 cup creamy peanut butter
1 teaspoon vanilla extract
Instructions
In a food processor, process the frozen banana slices, peanut butter, and vanilla for a few minutes or until smooth (if the mixture is too crumbly and won't smooth out, press the mixture together and it'll smooth out). Spoon it into a freezer-proof container and freeze for at least 1 hour before serving.
More Banana Recipes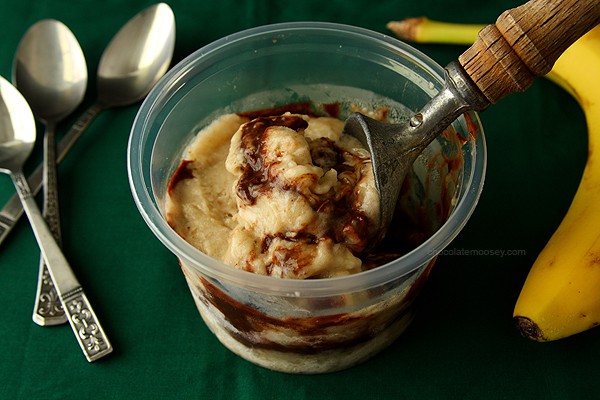 Banana Fudge Swirl Ice Cream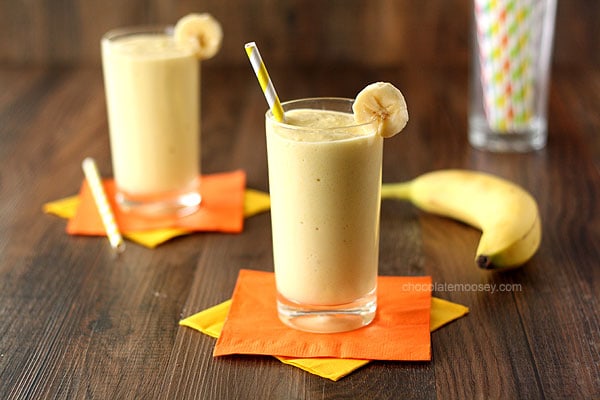 Banana Mango Yogurt Smoothie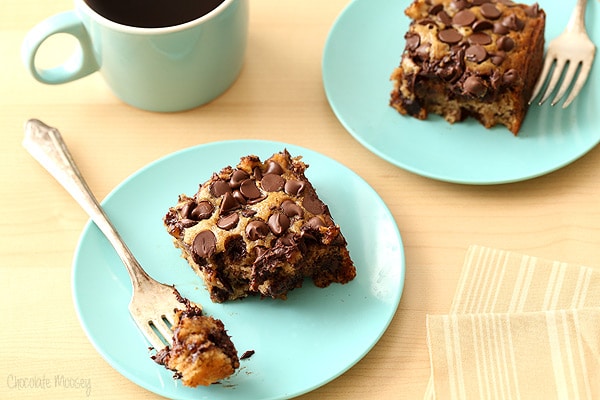 Banana Chocolate Chip Snack Cake