Time to take your taste buds to Greece with these Greek Sloppy Joes made with ground lamb, peperoncini, feta cheese, and a homemade tzatziki (cucumber yogurt) sauce.

As often as I cook with beef and chicken at home, I must admit lamb is my favorite meat. At first I only ate it for Easter where I would make a lamb chop while everyone else ate ham. I don't even know how that tradition started other than I probably whined about how I didn't want ham. When I started making a decent paycheck a few years ago, I bought ground lamb on occasion. Then earlier this year, I got a Middle Eastern cookbook that featured lamb. A lot. I've been so smitten over this book that I've been adding lamb more and more to my menu planning. In fact, I'd take ground lamb over beef any day. Then I started thinking about my friends and family who have not (or very rarely) cooked with lamb. Why isn't lamb more popular? The
American Lamb Board
had that same question and asked me to develop a recipe that would encourage you to have lamb for dinner tonight (or at least pick up some lamb the next time you buy groceries). Cooking with ground lamb is the best place to start; if you can cook ground beef, you can cook ground lamb. See? You're off to a great start already! Lamb also naturally lends itself so well to global flavors, which is why I went Greek with these Greek Sloppy Joes served with a tzatziki (cucumber yogurt) sauce and homemade pita chips. You know sloppy joes. You know Greek food. Now you can have both in one sandwich.
What makes these sloppy joes Greek? When I think of Greek food, I immediately think of gyros, which is almost always lamb. I started with my
traditional sloppy joe recipe
and subbed ground lamb for the beef. Then I added red onion, a good bit of dried oregano, chopped peperoncini, feta cheese, and of course topped it all off with a homemade tzatziki sauce (don't worry – I can't pronounce it either). I loved the temperature contrast of the hot lamb mixture with the cold sauce. If you're a little wary about using peperoncini (which is milder than a jalapeno), you can certainly substitute green bell pepper.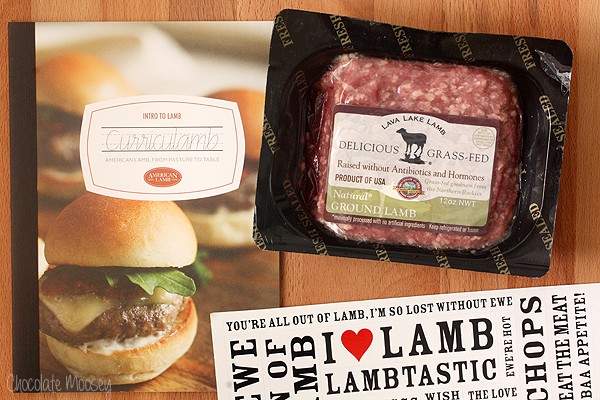 Let's talk about the star of the dish – the lamb.
American Lamb
sent me ground lamb, which is known for its quality, flavor, and tenderness. With more than 82,000 family-owned sheep operations in almost every state, American Lamb is local and available year round. No more waiting for Easter! The lamb is also grass-fed as I know some of you take that into consideration when buying meat. Also, this company has a great sense of humor. I mean, look at those stickers! And a book titled "Curriculamb." Gotta love companies who are punny.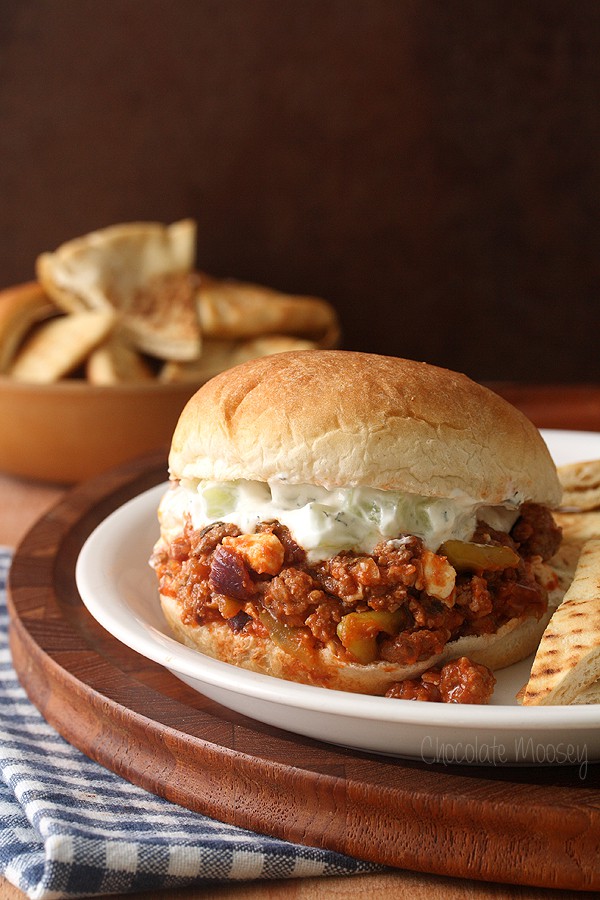 I served my Greek Sloppy Joes with homemade pita chips. Funny story about those – I went to the store to pick up a bag. Except it was $4 for a small bag! Right below the chips was fresh pita bread for $2. Knowing how quick and easy it was to bake my own (
see my recipe here
), I just saved $2 and probably got twice as many pita chips than the bag.
Tell me – will you be cooking with lamb more often? What will you make first?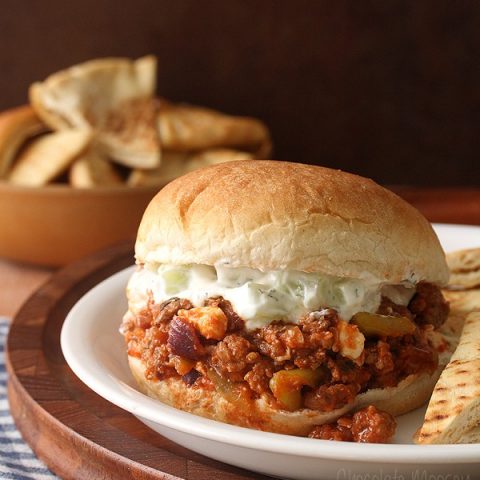 Greek Sloppy Joes
Yield: 6

Prep Time: 30 minutes

Cook Time: 20 minutes

Total Time: 50 minutes
Ingredients
Sloppy Joes
1 tablespoon vegetable oil
1/2 cup chopped red onion
1 garlic clove, minced
12 ounces ground lamb, thawed
2 teaspoons dried oregano
1/4 teaspoon salt
1/4 cup chopped peperoncini (can sub green bell pepper)
1/2 teaspoon brown sugar
3/4 cup tomato sauce
1/4 cup ketchup
1/2 cup crumbled feta cheese
6 hamburger buns
Tzatziki Sauce
3/4 cup full fat Greek yogurt (roughly one 5.3 ounce cup)
1/2 cup chopped cucumber, peeled and seeded
1 teaspoon lemon juice
1 teaspoon dried dill
1/2 teaspoon garlic powder
Instructions
For the sloppy joes
In a large skillet over medium heat, add the oil. When hot, add the onion and cook for 5 minutes. Add garlic and cook for 30 seconds.
Add the lamb, breaking it up with a wooden spoon. Add the oregano, salt, and peperoncini. Cook until the lamb just has a little bit of pink left (do not completely cook through). Drain the grease.
Stir in brown sugar, tomato sauce, and ketchup. Simmer until the sauce thickens, roughly 8-10 minutes. Remove from the heat and stir in the feta cheese. Serve on hamburger buns with tzatziki sauce spooned on top.
For the tzatziki sauce
In a medium bowl, mix together the yogurt, cucumber, lemon juice, dill, and garlic powder. Store in the refrigerator until ready to use.
More Sandwich Recipes For You

Sloppy Joe Sandwiches
Disclosure: I was selected for this opportunity as a member of Clever Girls. As always, thank you for reading and supporting brands I work with, which allows me to bring you more recipes. All opinions, text, and photographs are my own.