Rocky Road Cookie Fudge Bars
Rocky Road Cookie Fudge Bars are decadent, rich cookie bars topped with chocolate-covered marshmallows and walnuts (plus a cookbook review of Dessert Mash-Ups).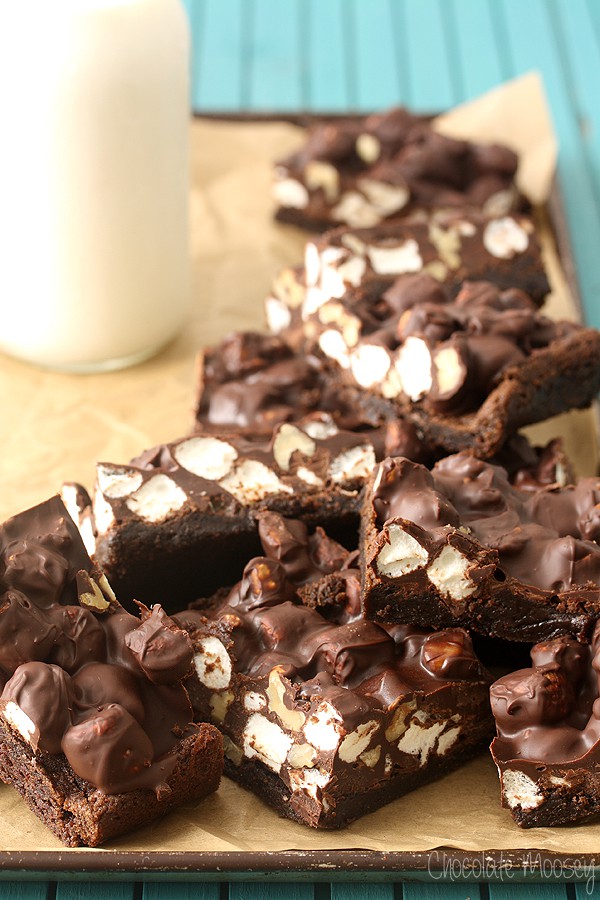 It's no surprise that I love to combine two recipes into one –
Strawberry Shortcake Cheesecake
,
Chocolate Chip Cookie Brownie Bites
,
Carrot Cake Cinnamon Rolls
. I have nothing against the original recipes (like I would ever turn down a slice of plain cheesecake or a traditional cinnamon roll), but there's something fun and exciting about taking two classic recipes and mashing them together. Hence today's cookbook review on
Dessert Mash-Ups
by Dorothy Kern of
Crazy For Crust
. I've been reading Dorothy's blog for quite some time as we had cross paths on Facebook. Her book is about tasty two-in-one treats that anybody with a sweet tooth will love to make. So many recipes caught my eye (and my stomach), but for this review I made the Rocky Road Fudge Cookie Bars, combining rocky road fudge and cookies into one seriously chocolately treat. Rocky road fudge reminds me of my mom because it was her favorite fudge (although now she can't really eat it anymore). It's also one of my favorite fudge because marshmallows! And chocolate! Anything with chocolate-covered marshmallows instantly wins in my book.
(And if you keep reading, you have a chance at winning a copy of Dessert Mash-Ups for your bookshelf).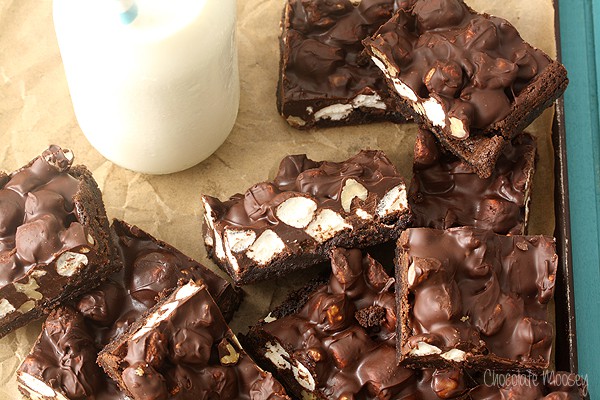 The first impression I got when opening this book is calories don't count. Lots of butter, sugar, and eggs used throughout (which is exactly how I bake, so no worries here). Cheesecake Chocolate Chip Cookie Dough Truffles, Cake Batter Blondie Bars, Oatmeal Cookie Cheesecake Bars, just to name a few of the recipes I almost made instead of the rocky road bars.
I'm glad I trusted my instincts because these Rocky Road Fudge Cookie Bars hit the spot. Very fudgy, very decadent, very uh messy (please tell me I'm not the only one who gets melted chocolate everywhere). I couldn't stop eating them. In fact, I donated most of them to my library's bake sale (and they were gone within the few first hours).
As with any book review, not everything is perfect. Two things I wasn't thrilled about with this recipe. One – the cookie batter is really sticky. Dorothy highly recommends spraying your hands with cooking spray so you can press the dough with your hands. I don't like to spray my hands, but I can see how it may be necessary. Two – she calls for an 11.5-ounce bag of chocolate chips. I store my chocolate chips in a jar, not a bag. Luckily, I had an unopened bag stashed in my pantry, which was 12 ounces. This is why I prefer measuring chocolate chips in cups rather than by bag. Luckily the extra half-ounce didn't affect the recipe (just meant a little more chocolate on top).
I'd recommend
Dessert Mash Ups
to those who love to bake, have a huge sweet tooth, and aren't afraid of calories. Most of the recipes seem to be doable for beginner bakers. All of the recipes are made from scratch, including some yeast dough for monkey bread and cinnamon rolls. If this does not describe you, then this book may not be for you.
Rocky Road Cookie Fudge Bars
Rocky Road Cookie Fudge Bars are decadent, rich cookie bars topped with chocolate-covered marshmallows and walnuts
Ingredients
1/2 cup (4 ounces) unsalted butter, softened
1/2 cup packed brown sugar
1/4 cup granulated sugar
1 teaspoon vanilla extract
1 egg
1/3 cup unsweetened cocoa powder
1 teaspoon baking soda
1/4 teaspoon salt
1 cup all-purpose flour
2 cups semisweet chocolate chips
1/2 cup chopped walnuts
1 1/2 cups mini marshmallows
Instructions
Preheat oven to 350F. Line a 9x9 pan with parchment paper.
In a large mixing bowl, beat together the butter, brown sugar, and sugar until creamy and smooth, about 2-3 minutes.
Beat in the vanilla and egg.
Beat in the cocoa powder, baking soda, salt, and flour until well blended.
Spread into the prepared pan (Note: the batter will be sticky, so it may help to spray your hands with cooking spray). Bake for 15-18 minutes or until the top loses its sheen.
While the bars are still hot, in a large heatproof bowl over a pan of simmering water (do not let the bowl touch the water), melt the chocolate chips.
Remove the bowl from the pan and let sit 2 minutes. Stir in the walnuts and marshmallows. Spread over the hot cookie bars. Let sit until the chocolate hardens.

You can refrigerate the bars to speed up the process, but allow the bars to sit at room temperature for 30 minutes before slicing to avoid cracking in the chocolate. Store in an airtight container for up to 1 week.
Source:
Dessert Mash-Ups
More Mash Up Recipes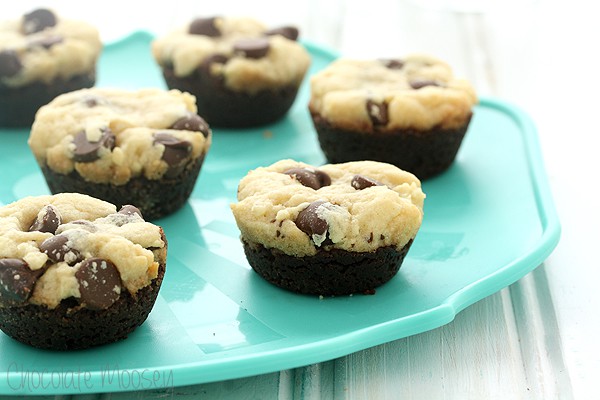 Chocolate Chip Cookie Brownie Bites
Cookbook Giveaway
Ready to add Dessert Mash-Ups to your cookbook collection? Enter by logging into the widget below and follow the instructions. U.S. residents only. Giveaway ends on October 31, 2014 at 11:59 PM EST. One winner will be randomly selected and have 24 hours to respond to the email. Failure to do so will result in forfeit of the prize, and another winner will be contacted.

a Rafflecopter giveaway
Disclosure: I received a copy of Dessert Mash-Ups to review from Ulysses Press plus one copy to give away. No further compensation was provided. This post also contains Amazon affiliate links, which means if you purchase anything using these links, I will receive a (very small) portion of it. This money helps pay my hosting fee and other blogging expenses. As always, thank you for supporting Chocolate Moosey!
This post may contain affiliate links. As an Amazon Associate and member of other affiliate programs, I earn from qualifying purchase.