Broccoli Pesto is very versatile and can be used for pizza, pasta, bruschetta, sandwich spread, dipping sauce, and so much more. Just throw everything in a food processor or blender and done.

I think the best recipes found on Chocolate Moosey are the ones I didn't plan on sharing, like this Broccoli Pesto for example. It's one of those recipes where I make it for dinner then realize how much I'm in love with it and just have to tell everyone. Food is magical like that sometimes. This Broccoli Pesto is extra special, not only because I love broccoli but also it incorporates more vegetables into my diet (
a goal of mine for 2014
). So what does one do with broccoli pesto anyway? I use it mainly as a pizza sauce, but sometimes I toss it with pasta. You can also spread it onto bruschetta or serve it with chicken. The possibilities are endless, really. Not to mention so simple to make – just throw everything in a food processor or blender until smooth.
Broccoli is one of my favorite vegetables, so when I saw a recipe from Food Network for broccoli pesto pizza, I knew I had to try it. Except I work full time during the week and never plan ahead to make pizza dough. My solution? French bread pizzas. I'll buy a loaf of French bread from the store (although in this photo it's Italian because the store didn't have French), cut it into about six or eight halves, add my toppings, then bake at 350F for about 10-15 minutes. If you're like me where the loaf of bread is more than what you can finish in a week, the halves do freeze well.
I also use the pesto as a pasta sauce when I don't want pizza. As long as the noodles are hot when you add the sauce, there's no need to heat up the pesto separately.
I purposely make a lot of broccoli pesto (since it's just me) so I can make several meals in one week, whether it's pizza for two nights or pizza and pasta. It makes a great spread for sandwiches (like a broccoli pesto grilled cheese sandwich) and a dipping sauce for cooked chicken breast.
Broccoli Pesto (For Pizza and Pasta)
Use broccoli pesto for pizza, pasta, bruschetta, sandwich spread, dipping sauce, and so much more.
Ingredients
1 cup cooked broccoli*
1/4 cup grated Parmesan cheese
2 teaspoons fresh chopped basil
1/4 teaspoon sea salt
2 tablespoons olive oil
Instructions
Add broccoli, cheese, basil, salt, and olive oil to a food processor or blender. Process until smooth.
Notes
*To cook broccoli, bring a pot of water to a boil. Add broccoli and cook for 3 minutes or until done.
Source: Slightly adapted from
Food Network
—-
Want more recipes?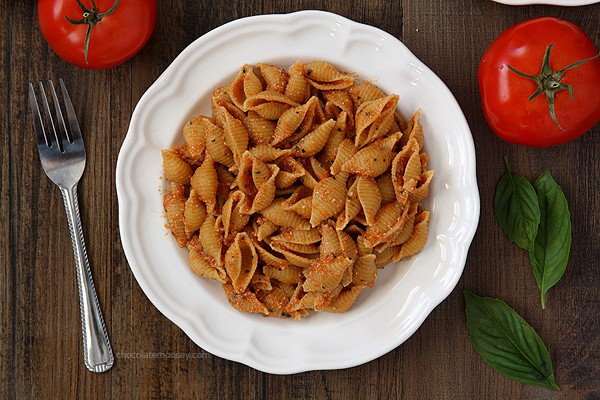 Caprese (Tomato, Mozzarella, Basil) Pesto