Classic chocolate chip cookies stuffed with mini creme eggs makes an easy treat for Easter.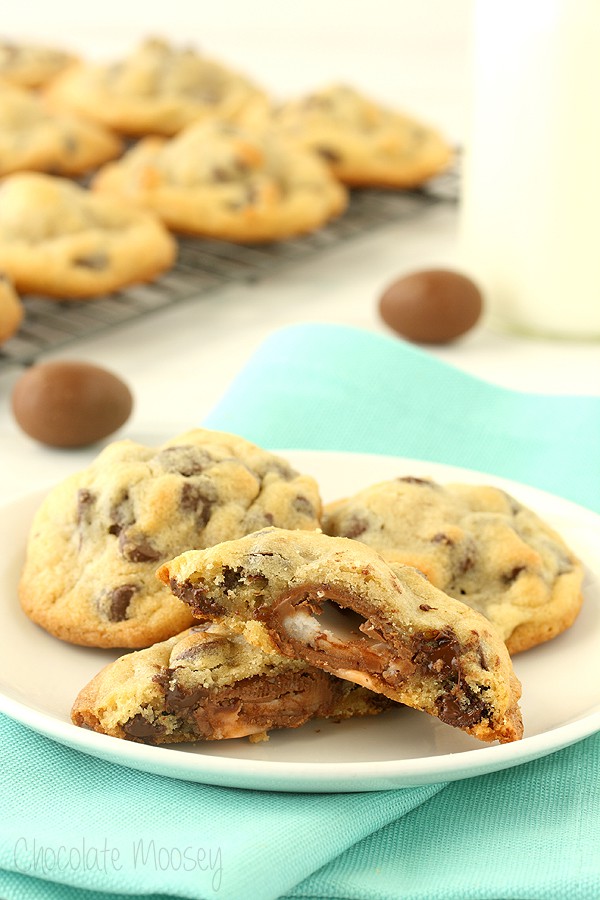 Easter is probably my favorite holiday when it comes to candy.
Chocolate bunnies, marshmallow peeps, red and yellow jelly beans, and my absolute favorite – Cadbury Creme Eggs.
There is something magical about a chocolate egg with that sweet creamy center.
A few years ago, I discovered that they started making mini creme eggs to go along with their cousin, solid chocolate mini eggs.
I knew I wanted to stuff the mini eggs into cookies, and what better dessert than two of my favorites combined – Creme Egg Stuffed Chocolate Chip Cookies.
Take your classic cookie dough recipe, wrap it around mini eggs, and bake. Soon you'll have a treat that even the Easter bunny can't top.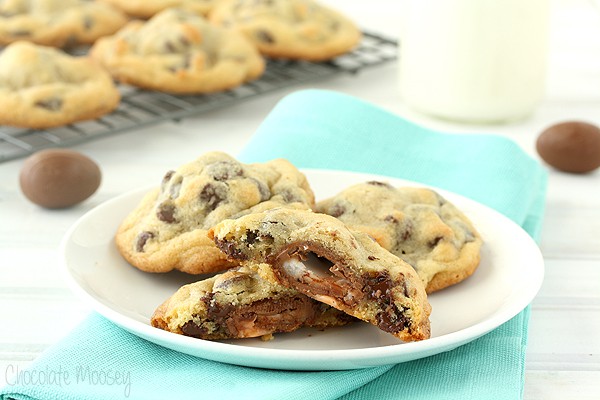 Stuffing candy into cookies is nothing new. I've done it with
peanut butter cups
and
caramel squares
.
I chose the mini creme eggs because I like them better, but you can absolutely use the solid chocolate mini eggs as well.
If you happen to run out of mini eggs, you can use your favorite chocolate candy on hand.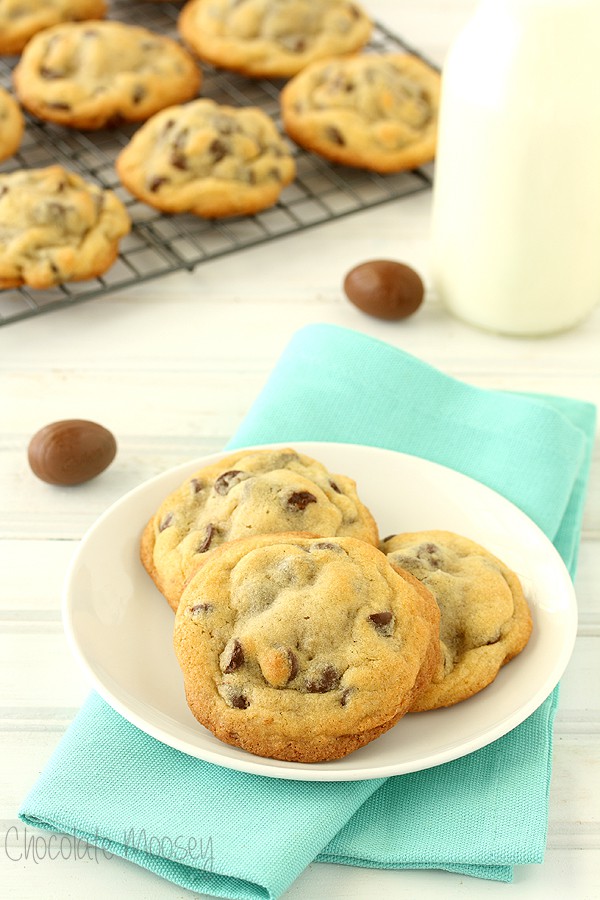 The key to these cookies is making sure the butter and dough aren't too warm. You'll also want to make sure the cookie dough completely seals the egg.
Creme Egg Stuffed Chocolate Chip Cookies
Yield: 18 cookies

Prep Time: 20 minutes

Cook Time: 10 minutes

Chill Time: 1 hour

Total Time: 1 hour 30 minutes

Classic chocolate chip cookies stuffed with mini creme eggs makes an easy treat for Easter.
Ingredients
1 1/4 cup all purpose flour
1/2 teaspoon baking soda
1/2 teaspoon salt
1/2 cup (4 ounces or 8 tablespoons) unsalted butter, softened
1/3 cup granulated sugar
1/3 cup packed brown sugar
1 egg, room temperature
1 teaspoon vanilla extract
1 cup semisweet chocolate chips
18 mini creme eggs, unwrapped
Instructions
In a large bowl, whisk together the flour, baking soda, and salt.
In another large bowl on medium-low speed, beat together the butter, granulated sugar, and brown sugar until smooth and creamy, about 1-2 minutes.
Beat in the egg and vanilla until smooth.
Turn the speed down to low and gradually beat in the flour. Add the chocolate chips.
Using a #40 cookie scoop or by hand, measure out 1 1/2 tablespoons of dough, flatten it, then wrap it around one mini egg. Make sure it's sealed all the way around. If the dough gets too warm and sticky, chill the dough for 15 minutes then try again.
Repeat with the remaining eggs. Refrigerate the dough balls for 1 hour*.
Preheat the oven to 350F. Have 2 ungreased cookie sheets ready or line with parchment paper.
Bake 10-12 minutes or until brown and firm. Cool for 5 minutes on the tray before carefully removing to a cooling rack. Serve warm or cool completely.
Notes
*If you don't want to bake all of the cookies at once, transfer the now-firm cookie dough to a freezer-proof bag for up to 3 months.
Recommended Products
As an Amazon Associate and member of other affiliate programs, I earn from qualifying purchases.



Source: Adapted from Nestle Toll House recipe
—-
If you like these Creme Egg Stuffed Chocolate Chip Cookies, you may also like these recipes: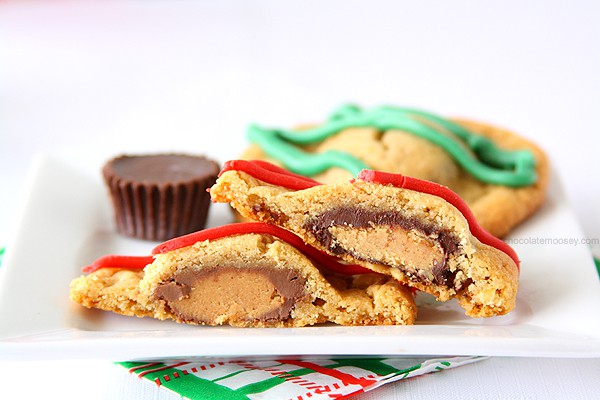 Double Peanut Butter Surprise Cookies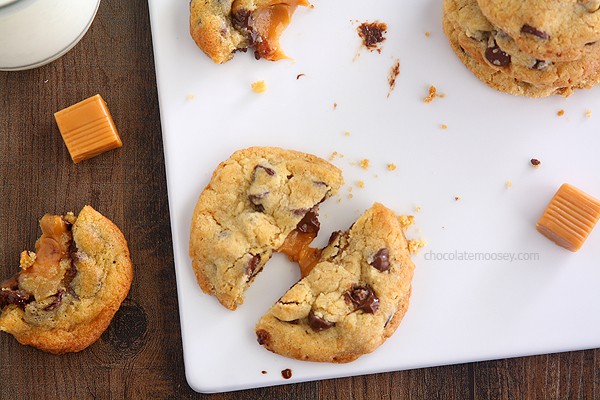 Caramel Stuffed Chocolate Chip Cookies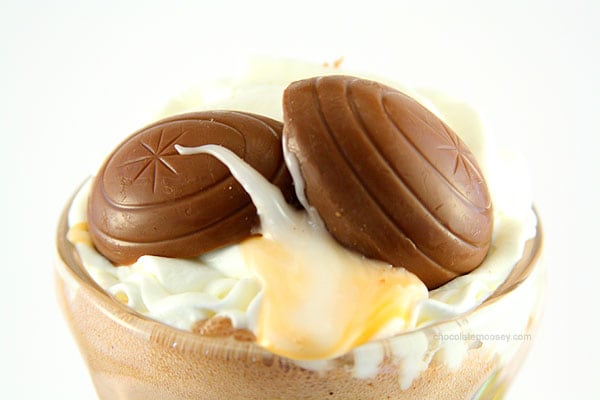 Cadbury Creme Egg Milkshake

Cadbury Creme Egg Cupcakes

Cadbury Creme Egg Ice Cream

Cadbury Creme Egg Pull Apart Sweet Rolls