These Irish Cream and Pistachio Chocolate Thumbprint Cookies may be for adults only, but once you taste the Irish cream ganache filling, being an adult isn't so bad after all.
Can you believe it's almost the end of the first week in March? I swear just yesterday I was tackling the start of a new year and figuring out where I'm heading in 2014. Now I'm making recipes for St. Patrick's Day while reminiscing about my time spent in Ireland. Surprisingly I didn't drink a whole lot of Irish cream while I was over there (you'd think given the name I would have). Regardless, it's probably one of my favorite liqueurs to enjoy, and although I consume it all year round, there's something about pairing up March and Irish cream. That's why I made these Irish Cream and Pistachio Chocolate Thumbprint Cookies. Little bites that are for adults only.
I had just enough pistachios leftover from my
goat cheese truffles
and
pistachio pudding
to make one more recipe of something, so I brainstormed ideas. Not entirely sure how that process led to pairing pistachios and Irish cream, but soon I scribbled down the idea for these chocolate thumbprint cookies. Sometimes brainstorming doesn't have a logical path.
If you're unfamiliar with Irish cream liqueur, it's pretty much Irish whiskey mixed with cream. I'm sure there's more to it than that, but that's the basis. The brand I used is Bailey's (bonus points for selling little bottles of it). However, feel free to use your favorite Irish cream brand.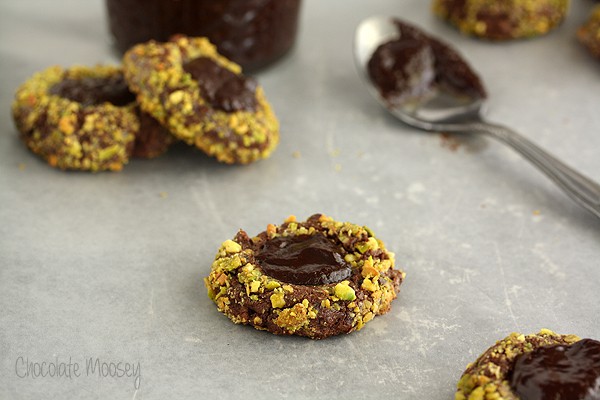 Irish Cream and Pistachio Chocolate Thumbprint Cookies
The dough takes 2 hours to chill, so plan ahead accordingly.
Ingredients
1 cup all purpose flour
1/3 cup unsweetened cocoa powder
1/4 teaspoon salt
1/2 cup (1 stick) unsalted butter, softened
2/3 cup granulated sugar
1 egg (separated into 1 egg white and 1 egg yolk)
2 tablespoons milk
1 teaspoon vanilla extract
1/2 cup ground pistachios
2 ounces semisweet chocolate, chopped
2 tablespoons heavy whipping cream
2 tablespoons Irish cream
Instructions
In a large bowl, whisk together the flour, cocoa powder, and salt.
In another large bowl, beat together the butter and sugar until creamy. Beat in the egg yolk, milk, and vanilla. Gradually beat in the flour mixture. Gather up the dough and wrap in plastic wrap. Chill for at least 2 hours.
Preheat the oven to 350F. Line three cookie sheets* with parchment paper or lightly grease.
In one small bowl, add the egg white. In another bowl, add the ground pistachios.
Using a 1-inch cookie scoop, scoop the dough into balls. Roll each ball into the egg white then into the pistachios. Using your thumb, make an indent into the center of each cookie (don't flatten too much). Place cookies about 1 inch apart.
Bake for 10 minutes or until the edges are firm. If necessary, use the back of a teaspoon to re-indent the cookies. Cool on the tray for 3 minutes before removing to a cooling rack.
Once the cookies are completely cooled, make the Irish cream ganache: In a heatproof bowl, add the chopped chocolate. Set aside.
In a saucepan, heat the heavy cream and Irish cream until steaming hot (do not boil). Remove from the heat and pour over the chocolate. Wait 1 minute then whisk together until everything is smooth. If the cream mixture wasn't hot enough, gently reheat in the microwave or back in the saucepan.
Spoon some of the ganache into the center of each thumbprint**. Let the chocolate harden before serving.
Notes
If you don't have enough cookie sheets, just reuse your sheet after each batch. Make sure you cool your sheet completely between each use. I use the refrigerator to cool down quickly.

*Ganache is designed to harden as it cools. If you make it ahead of time or if you get distracted and it thickens too much, reheat until smooth and spreadable again.
Source: Adapted from Better Homes and Gardens
—-
If you enjoyed these Irish Cream and Pistachio Chocolate Thumbprint Cookies, you may also like these recipes:
From me: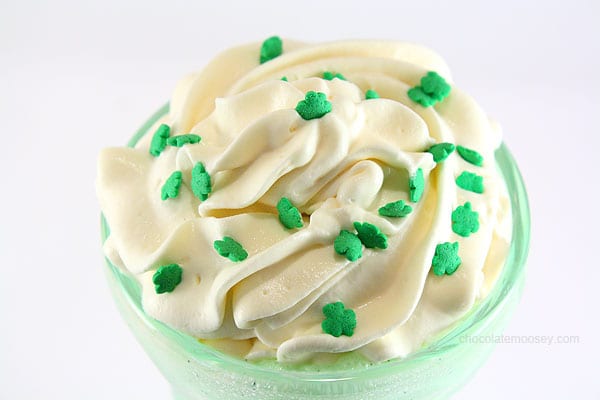 From other bloggers: