Cherry Cheesecake Stuffed Cupcakes will win over anybody's heart (and not just for Valentine's Day either). Really though, you can't beat chocolate cupcakes stuffed with cherry pie filling and no bake cheesecake.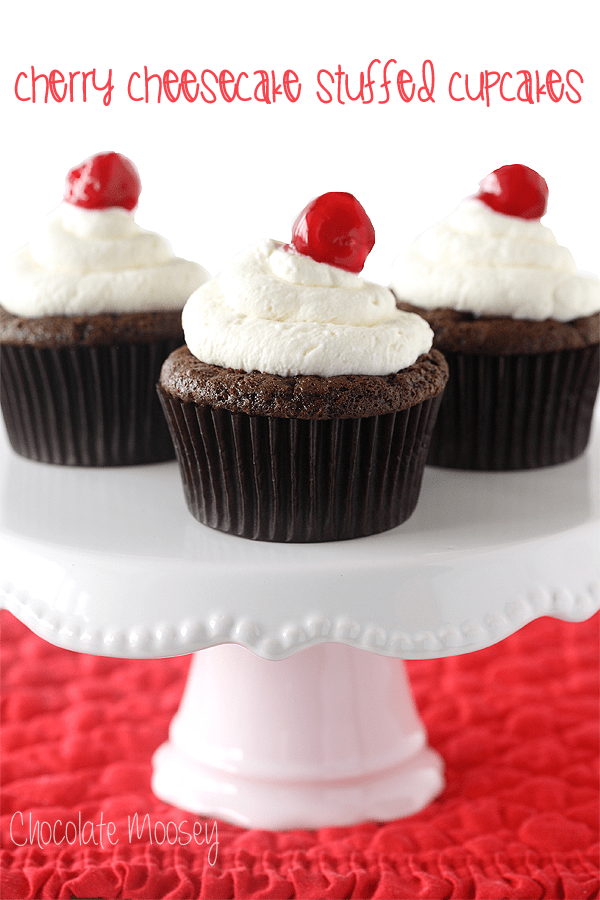 Valentine's Day is next week, and do you know what that means? The Holiday Food Party bloggers are back with recipes served with love. You know, I'm not sure if I've ever had a Valentine before. Sure, I've gotten flowers, candy, and those cheesy cards before, but I don't think I've ever been on a Valentine date. Not that I'd spend my evening at a crowded restaurant, but I'd love to make a dinner and dessert for two (although I'd do that any day of the week, not just February 14). And flowers, well I don't even like flowers that much. One time I got a carnation and my cat kept eating it. We had to hide it behind bags of potato chips on top of the refrigerator and block access so he would stop (little brat). Want to win my heart? Give me a bouquet of cupcakes. Really really want to win my heart? Give me these Cherry Cheesecake Stuffed Cupcakes because we all know how obsessed I am with
cheesecake
. Chocolate, cherry, cheesecake, whipped cream. Sounds like a romantic dessert, no?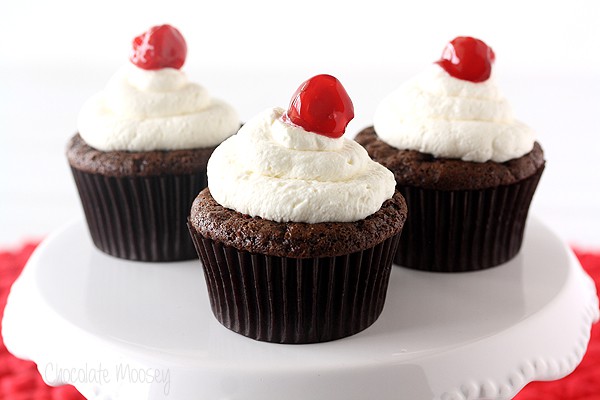 I had the idea for these cupcakes back in July when sour cherries are in season. Except I was so busy traveling, I completely missed it (cherry picking has a very small window, unlike strawberries and peaches). Originally I wanted to make the
cherry pie filling from scratch
, but it's nearly impossible in the winter. After striking out on finding frozen sour cherries (not sweet), I did find
a can of plain sour cherries
. However, after looking at the price tag, I settled on canned pie filling.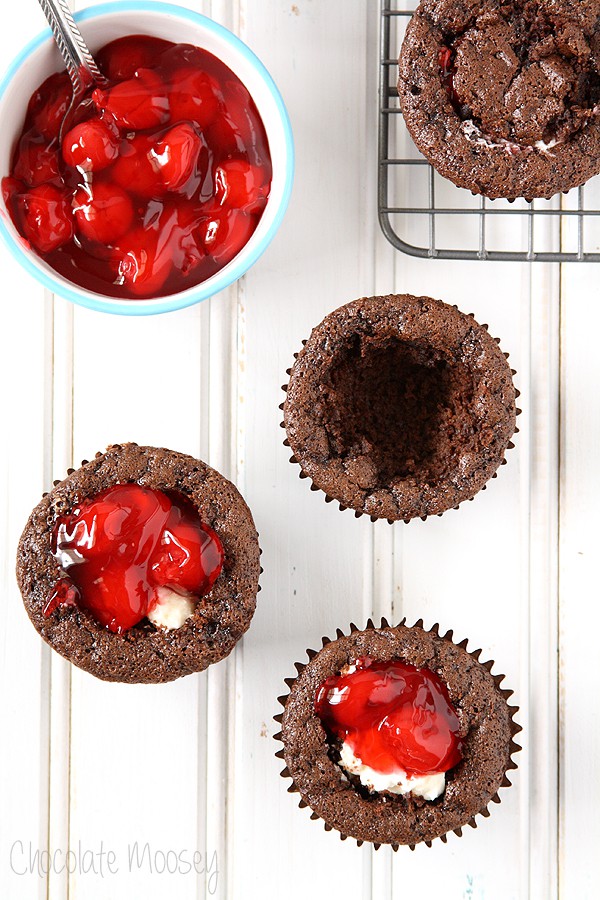 As you can imagine, these cupcakes do take some time to assemble, but it doesn't have to be in the same day. Make the cupcakes and cheesecake filling one night then stuff and frost the next night.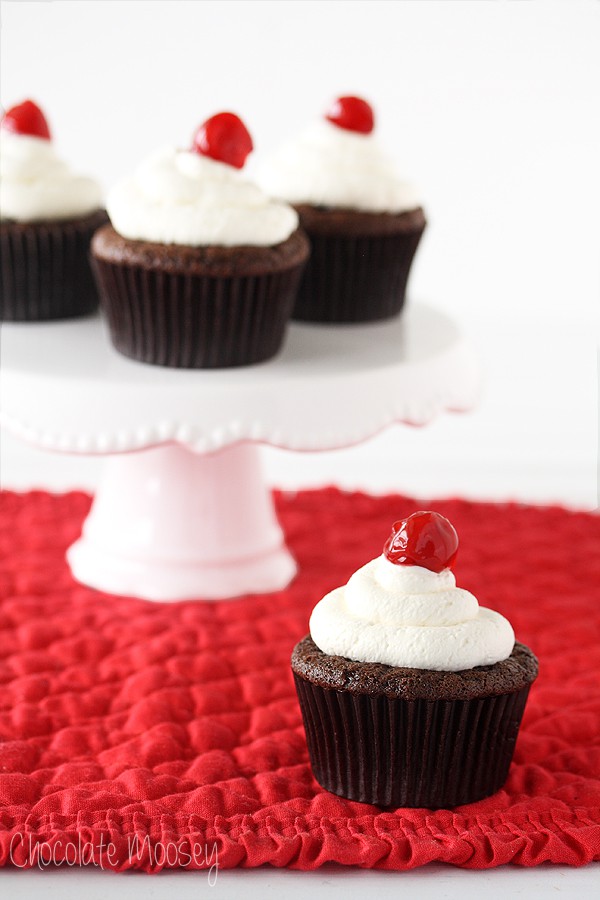 Even though they do require refrigeration, I like to take them out roughly 30 minutes before serving to let the cake "thaw" a bit at room temperature (I'm not a fan of eating cold cake straight from the fridge). Of course that's in the winter. If the weather is warm, you'll have to use your judgment (especially if the whipped cream starts to melt).
Cherry Cheesecake Stuffed Cupcakes
Ingredients
Cupcakes
1 cup + 2 tablespoons all purpose flour
1/2 cup unsweetened cocoa powder
1/2 teaspoon baking soda
1/8 teaspoon salt
3/4 cup + 2 tablespoons granulated sugar
1/4 cup vegetable oil
1 egg
1 teaspoon vanilla
2/3 cup buttermilk
Filling
2 tablespoons granulated sugar
4 ounces cream cheese, softened
1/4 teaspoon vanilla
1/2 cup cherry pie filling (homemade or store bought)
Whipped Cream Frosting
3/4 cup heavy whipping cream
3 tablespoons powdered sugar
1/2 teaspoon vanilla
Instructions
For the cupcakes
Preheat the oven to 350F. Line a cupcake pan with 12 paper liners.
In a medium bowl, whisk together the flour, cocoa, baking soda, and salt.
In a large mixing bowl, beat together the sugar and oil until smooth. Beat in the egg and vanilla. Alternating between the flour and buttermilk, gradually add the flour in 3 parts and the buttermilk in 2 parts.
Fill liners with batter. Bake 18-20 minutes or until a toothpick inserted in the middle comes out almost clean (you want a little bit of chocolate so they aren't too dry). Cool completely.
For the filling
In a large mixing bowl, beat together the sugar, cream cheese, and vanilla until smooth and fluffy. Set aside.
For the frosting
In a large mixing bowl, beat the cream until it thickens. Gradually beat in the sugar and vanilla. Beat on high until stiff peaks form (when you pull the beaters straight up, peaks form and won't fall over). Reserve 2 tablespoons. Keep the rest cold in the refrigerator.
To assemble
Cut a hole out of each cupcake, being careful not to cut through the bottom. Reserve the tops but discard the rest of the crumbs.
Fold the reserved 2 tablespoons whipped cream into the cheesecake filling. Spoon about a tablespoon into each cupcake then spoon 2 cherries on top. Top with a reserved cupcake top. Repeat with the remaining cupcakes.
Fill a pastry bag with the frosting. Pipe on top of each cupcake. Top with a cherry. Keep refrigerated in an airtight container.
Source: Adapted from
125 Best Cupcake Recipes
(Amazon affiliate link)
—-
If you enjoyed these Cherry Cheesecake Stuffed Cupcakes, you may also like these recipes from me: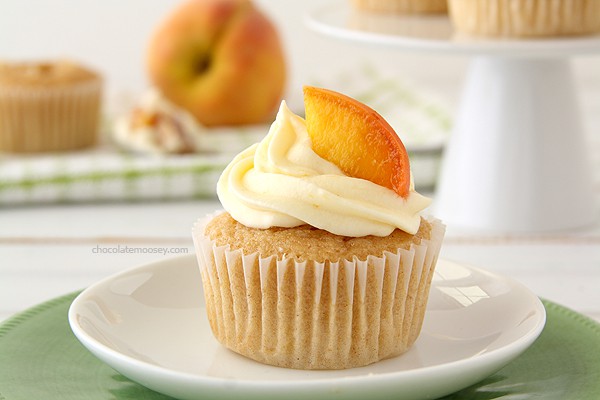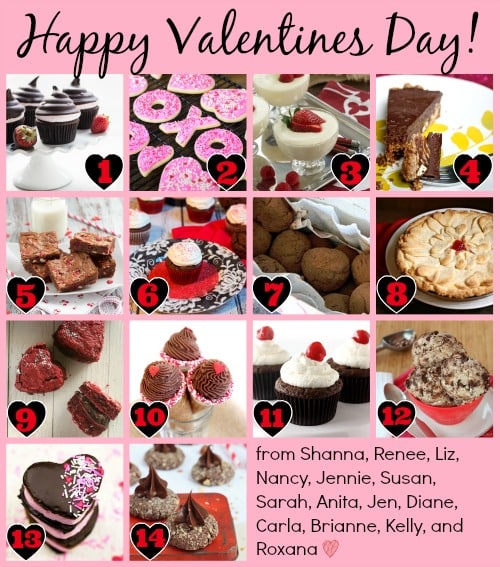 Want more recipes for love? Check out the rest of the Holiday Food Party bloggers:
1. Chocolate Dipped Sttrawberry Hi Hat Cupcakes (Gluten Free) from Pineapple and Coconut
2. Frosted Cream Cheese Cutout Cookies from Magnolia Days
3. White Chocolate Mousse with Frangelico from That Skinny Chick Can Bake
4. Chocolate Caramel Pretzel 'n Chip Tart from Gotta Get Baked
5. White Chocolate Cherry Brownies from The Messy Baker
6. Chocolate Champagne Cupcakes from The Girl in the Little Red Kitchen
7. Sugar-Free Blueberry Yogurt Truffles from What Smells So Good
8. Strawberry Cheesecake Heart Pie from Hungry Couple NYC
9 Red Velvet Heart Sandwich Cookies from Jen's Favorite Cookies
10. Chocolate Cannoli Cones from Created By Diane
11. Cherry Cheesecake Stuffed Cupcakes from Chocolate Moosey
12. Nutella Brownie Cheesecake No-Churn Ice Cream from Cupcakes and Kale Chips
13. Valentines Smores Hearts from Kelly Bakes
14. Chocolate Hazelnut Cookies from Roxana's Home Baking