Cinnamon sugar cookie pizza topped with caramel frosting, crisp apple slices, and a caramel drizzle will put you in the mood for fall.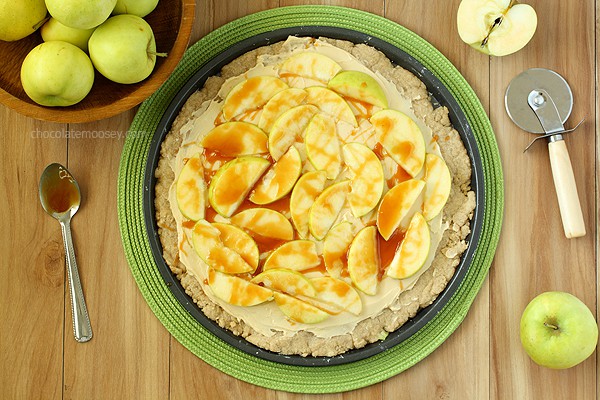 Brr it finally feels like fall in Pennsylvania! For awhile, the weather decided to be sunny and 80 degrees. Now I wake up in the mornings to FROST on my car. The mornings of running out to warm up my car while I finish getting ready for work are soon beginning. As the chillier weather settles in, it's time to break out the fall festivities – apple picking, pumpkin carving, sweater wearing, leaf gazing – and I am bringing Caramel Apple Sugar Cookie Pizza to the party.
Truth be told – I kinda hate caramel apples on a stick. I'd rather have apple slices dipped in caramel. Weird, right? It's not the flavor combination at all; it's the whole biting into a giant apple covered in caramel aspect. Maybe because I hate biting into candy apples, which then I relate to caramel apples. My solution is to make caramel apple things, such as this cookie pizza. I have no problem diving into this dessert.
So why a cookie pizza? Because I'm lazy :D Ok so that's partially true. Rather than take the time and make several dozen then frost several dozen, I just did one giant cookie and only had one cookie to frost and decorate.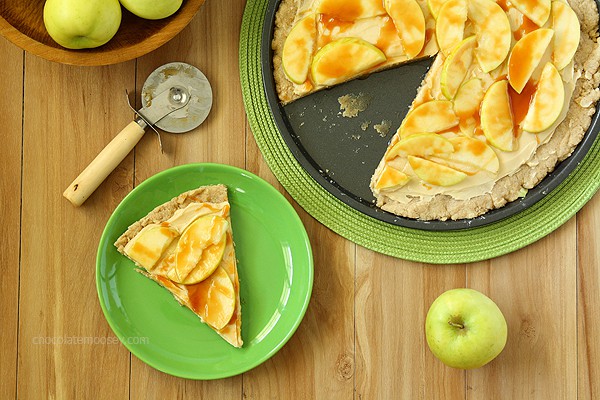 I wish dessert pizzas were more common. Growing up, there was a pizza buffet that served a dessert pizza. I always made sure I saved room for dessert, between that and the gooey cinnamon rolls. And somehow, a few cinnamon rolls would magically appear in my purse later that evening. Funny how they wrap themselves up in a napkin and sneak home with you. No need to sneak this cookie pizza home because I doubt there will be any leftovers!
Ingredients
Cookie

1 1/2 cups all purpose flour
1/2 teaspoon baking powder
1/4 teaspoon salt
1 teaspoon ground cinnamon
1/2 cup (1 stick) unsalted butter, softened
1/2 cup granulated sugar
1/4 cup brown sugar
1 egg
1 teaspoon vanilla extract

Caramel Frosting

1/2 cup (1 stick) unsalted butter, softened
1 cup powdered sugar
Pinch of salt
1/4 cup caramel ( homemade or store bought)
1/2 teaspoon vanilla extract

1-2 apples, cored and sliced (depends on size of the apples)

2 tablespoons caramel, to drizzle
Instructions
For the pizza

Preheat the oven to 325F. Grease a round 12-inch pizza pan.
In a medium bowl, whisk together the flour, baking powder, salt, and cinnamon.
In a large mixing bowl, beat together the butter and sugars until creamy. Beat in the egg and vanilla. Gradually beat in the flour. The dough will still be slightly sticky.
Lightly flour your hands and press the dough into the pan. Bake until the edges are brown and set in the middle, 12-15 minutes. Cool completely.

For the frosting

In a large mixing bowl, beat together the butter, sugar, and salt until creamy and fluffy. Beat in the 1/4 cup caramel. Spread onto the cooled cookie pizza. Top with apple slices then drizzle 2 tablespoons caramel.
7.6.3
3191
https://www.chocolatemoosey.com/2013/09/22/caramel-apple-sugar-cookie-pizza/
Source: Adapted from
Kelsey Nixon
—-
If you liked this Caramel Apple Sugar Cookie Pizza, you may also like these recipes:
From me: