Chocolate chip cookies meet traditional cheesecake in these Chocolate Chip Cookie Dough Cheesecake Bars, packed with plenty of cookie dough on top.

Updated 2/9/2015: Once a month, my friend hosts a themed dinner at her house where we all bring at least one dish to share with everyone. With the theme being comfort food, I knew I had to make these Chocolate Chip Cookie Dough Cheesecake Bars again. After all, what is more comforting than chocolate chip cookies, cookie dough, and cheesecake all rolled into one treat? Before bringing them to the dinner, I took advantage and shot new and improved photos as the old photos didn't justify just how good these are. I also updated the recipe to reflect some changes I've made from my original attempt.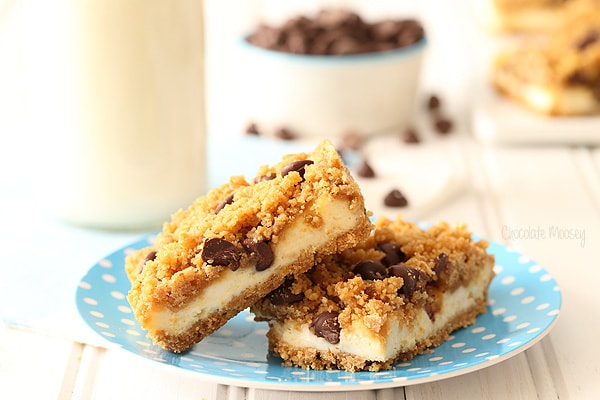 Original post 8/17/2010: Now that I live alone, I don't bake as often. Sure, I could take stuff into work (and I have), but it seems like everyone is on Weight Watchers. Plus I don't always have the energy. How do all you parents do it? I barely have energy to cook and clean for myself, let alone a family. I guess you get used to it? I hope so, or I'll never be able to take care of one. My family does come up to visit, so when they do, I want to have a special treat for them. That way I can bake and get rid of the extra calories.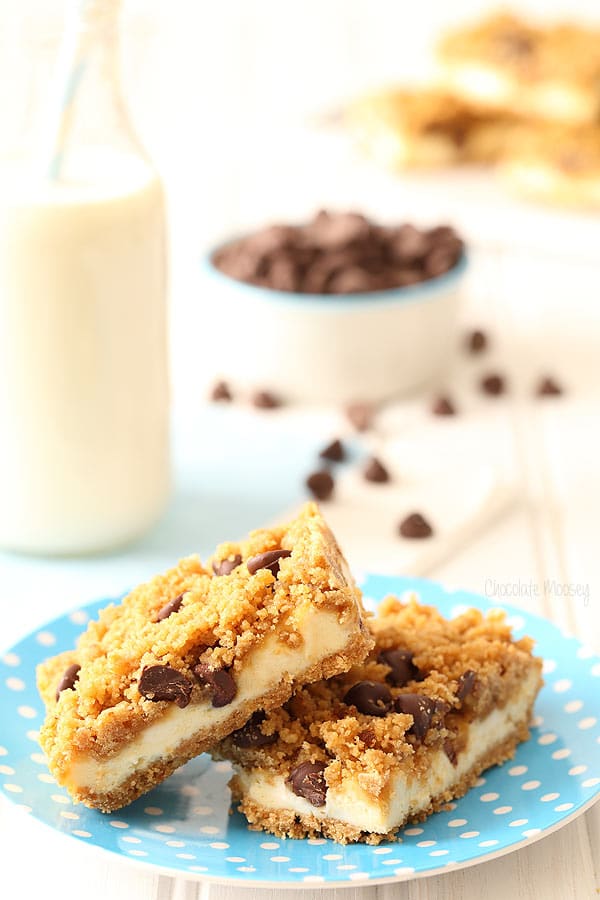 Several months ago, I found a used copy of
The Essential Chocolate Chip Cookbook
. I've had this on my Amazon Wish List ever since I saw
these cheesecake bars on Bake or Break
. It's more than just chocolate chip cookies. It has cookies, muffins, pies, tarts, puddings, cakes, ice cream desserts, pretty much anything with chocolate chips, including the
Strawberry and White Chocolate Cheesecake
I made back in June. Anyway, after drooling at the pictures, I decided to make these Chocolate Chip Cookie Dough Cheesecake Bars. What a mouthful! And a good one too. The cookie dough layer on top ending up being almost a whole layer rather than chunks here and there, so the cheesecake layer isn't as dominant. I opted to leave off the chocolate drizzle. I enjoy them cold, preferably from the freezer. Of course my family forgot to take the extras home, so that's why they ended up in my freezer in the first place.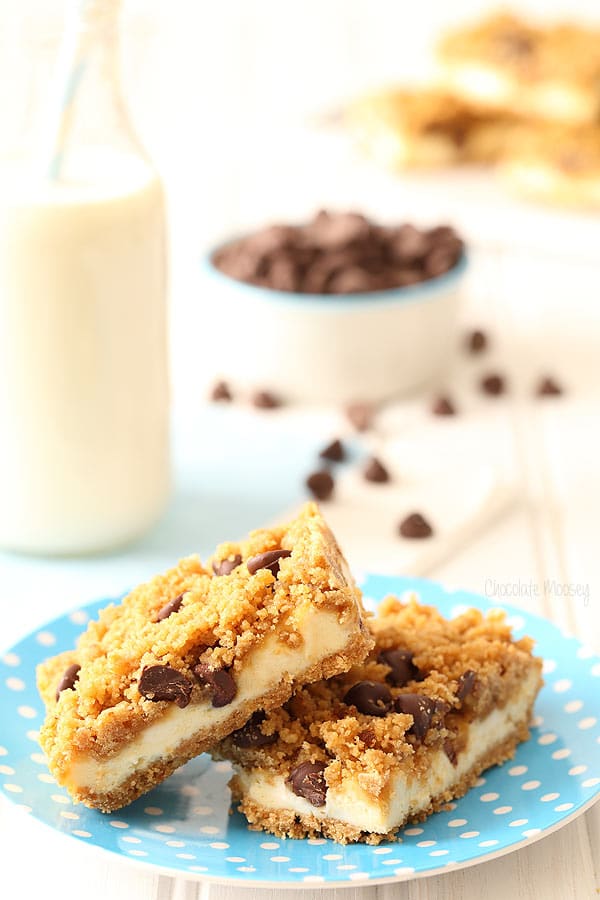 Ingredients
Crust

1 1/4 cup graham cracker crumbs
4 tablespoons unsalted butter, melted

Cookie Dough

4 tablespoons unsalted butter, softened
1/3 cup brown sugar
2 tablespoons granulated sugar
1/4 teaspoon salt
1 teaspoon vanilla extract
1/2 cup all-purpose flour
1 cup semisweet chocolate chips

Cheesecake Filling

8 ounces cream cheese, softened
1/4 cup granulated sugar
1 egg, room temperature
1 teaspoon vanilla extract
Instructions
Make the crust

Preheat oven to 325F. Line an 8x8-inch pan with parchment paper.
In medium bowl, mix together the crumbs and melted butter until evenly moistened. Press into the bottom of the pan and bake 8 minutes. Leave the oven on and cool the crust while making the cookie dough and filling.

Make the cookie dough

In a large bowl, beat together the butter, brown sugar, sugar, salt, and vanilla until smooth and creamy, about 1-2 minutes. Gradually beat in the flour just until incorporated. Stir in the chocolate chips (if it stays crumbly and doesn't form a dough, as long as you can press the dough together with your fingers, you'll be ok). Set aside while you make the cheesecake filling.

Make the cheesecake filling

In a large mixing bowl, beat together the cream cheese and sugar until smooth and creamy, about 2-3 minutes. Beat in the egg and vanilla for another minute.
Evenly spread the filling on top of the cooled crust, being careful to not tear up the crust. Drop spoonfuls of cookie dough over top. Bake for 25-30 minutes or until the top is firm and a toothpick inserted in the center comes out clean. Cool completely (at least 1 hour) then cut into 12 bars. Store in an airtight container in the refrigerator for up to 1 week.
7.6.3
2950
https://www.chocolatemoosey.com/2010/08/17/chocolate-chip-cookie-dough-cheesecake-bars/
Source: Adapted from
The Essential Chocolate Chip Cookbook
More Chocolate Chip Recipes

Caramel Chocolate Chip Cookie Dough Brownies