Lemon Garlic Shrimp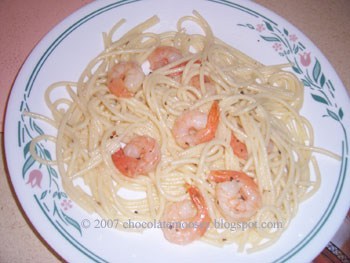 It's very hard to make seafood dinners when one member of the family hates it. Not only do I have to make the seafood dinner, I also have to make something else to accommodate my mom's hate for seafood. Usually she's content with a grilled cheese sandwich, but since there was veal in the freezer, Friday night I made 2 dinners and dessert. It was easy to do because both involved spaghetti and I could bake the meat while cooking the shrimp, but there's a lot of preparation for one person to do. Fortunately, dessert only took 5 minutes to prepare. Here is the recipe for the Lemon Garlic Shrimp.
Lemon Garlic Shrimp
Lemon Garlic Shrimp served over pasta
Ingredients
1 pound large shrimp, peeled, deveined and cooked (tails optional)
2 Tbsp + 1 tsp lemon juice (or juice from 2 lemons)
1 Tbsp minced garlic
1 tsp dried basil
1/4 cup olive oil
Enough spaghetti for 4 people
Instructions
Prepare shrimp as necessary. If frozen, run under hot water. Make sure all shrimp are deveined (if using prepared bag, some shrimp are overlooked in the deveining process). Tails are ok to leave on (although I would recommend tailless). If not already cooked, cook the shrimp.
Boil pasta in water. Meanwhile, combine lemon juice, garlic, basil, and oil in a bowl. Pour into skillet. Heat shrimp in lemon mixture until hot. Add more lemon juice if needed.
Drain pasta. Add pasta, shrimp and lemon mixture to bowl; toss together.
Source: Inspired by Razzle Dazzle Recipes
This post may contain affiliate links. As an Amazon Associate and member of other affiliate programs, I earn from qualifying purchase.