Swiss Chard, Beet, and Goat Cheese Empanadas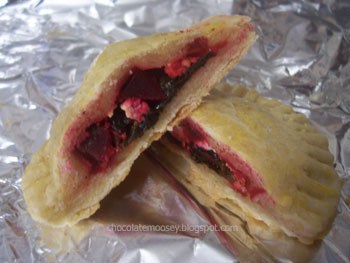 I love to broaden my food palette by using new ingredients. Whenever I was looking for a beets recipe, I came across beet gnocchi and beet empanadas but didn't have the ingredients at the time. Then when I went back to my local farm for more beets, I decided to make the empanadas and picked up some swiss chard as well. Then I stopped at the store on the way home and picked up some goat cheese. Now, when I explained what I was making to my dad (no way my mom or brother would eat these), he was a tad bit skeptical. He asked me what swiss chard was, was it lettuce, what goat cheese tastes like, etc. So I did some research.
Swiss chard is in the same species as beets, making it a perfect pair with beets themselves. The taste reminds me of spinach (after all, another name for chard is perpetual spinach), so if you are a spinach fan, swiss chard is for you. If you are looking for it in the produce area, it looks like giant leaves with red stalks and "veins" (I am not a botanist).
Now for the goat cheese. I know I've had it in my cooking class in high school, and I didn't remember anything bad about it, but I also couldn't remember what it tasted like. If you are looking for it in the store, your best bet is with the specialty cheeses (not cheese slices or shredded cheese unless that is how your store is set up). Goat cheese is made with goat's milk rather than cow's milk. It is popular in the Middle Eastern and Mediterranean areas because goats can survive in areas that cows can't. It is a very creamy cheese. Kinda like cream cheese except with a drier after taste. It is definitely an acquired taste. You either love goat's cheese or you hate it.
I absolutely loved the filling. In fact, I had lots of filling left over and I enjoyed that more than the empanadas themselves (probably because they didn't have much filling in them as opposed to a giant forkful from the skillet). I think the filling would make an excellent salad, just with bigger slices of beets and bigger chunks of swiss chard. I made the dough by hand, but you can also buy it premade at the store. I started making the empanadas using only one circle dough (fill the circle and fold in half), but it was getting late and I wasn't getting much filling into each one. So I decided to use two circles per empanada. Definitely freeze the dough for 15-30 minutes before baking to minimize leakage, especially if your kitchen is warm and your dough is getting soft.
Kudos to Laylita's Recipes for taking beautiful pictures that inspired me to make these empanadas. Next time I'll make my dough circles much bigger like she did. For the recipe, please visit Laylita's Recipes.
Also, how adorable is Murray? This is him laying on a shopping bag after my family and I went to the Baseball Hall of Fame in Cooperstown, NY for the weekend.
This post may contain affiliate links. As an Amazon Associate and member of other affiliate programs, I earn from qualifying purchase.