Chocolate Peanut Butter Cake
If peanut butter cups are your favorite candy, then you're going to love this make and take chocolate fudge cake with peanut butter frosting and peanut butter cups.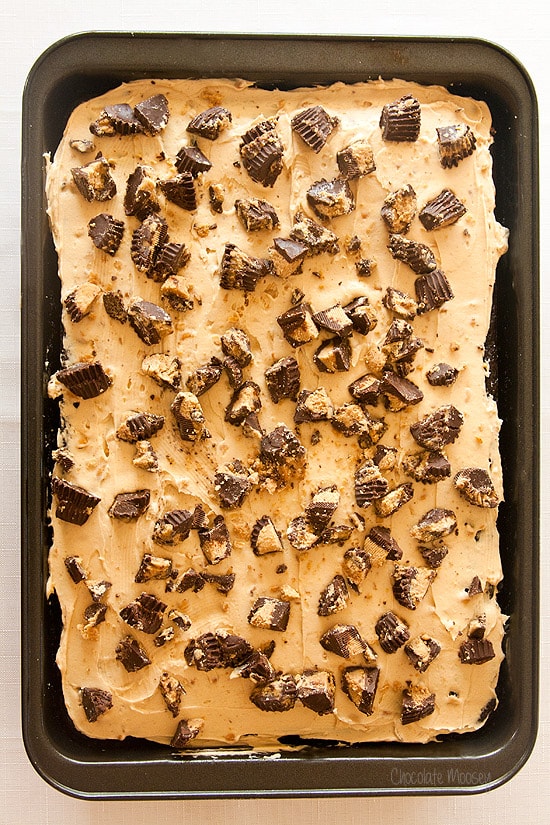 Chocolate and peanut butter is such a classic dessert pairing, and for good reason. Unless you're allergic to nuts, it's very rare that anybody can resist one bite, especially when peanut butter cups are involved. The best way to serve chocolate and peanut butter hands down is this Chocolate Peanut Butter Cake with a fluffy peanut butter frosting and topped with plenty of peanut butter cups. I love cake, but I rarely make them because I hate decorating them. I finally got the art of cupcake piping down. Just pipe and swirl. I even tried my hand at decorating a
mini ice cream cake
, which didn't turn out *too* bad. But decorate a regular cake? Let's just say I'm glad my family doesn't care what they look like, as long as they taste good. Ever watch Food Network Challenge where all of these talented cake decorators sculpt cake into Disney characters or haunted houses? Yup, that is totally not me. What I can do is make a cake look like a cake, which is why I love make and take cakes. Make the cake directly in the pan, frost the top, and sprinkle on peanut butter cups. Fancy, I know. I should win a blue ribbon for this.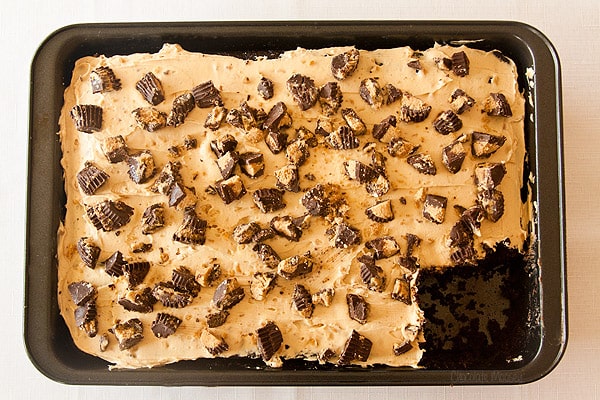 I love make and take cakes because they're the easiest cakes ever. You both bake and serve it straight from the pan, making it the ideal travel companion. My 13×9 pan even has a lid I can clip on and take in the car. That also means you only need to frost the top. My mom has been making these cakes for years and years and years for birthday cakes. She just makes a cake in a pan, frosts the top, and sticks a candle in it. Even Murray got a cake:

Don't worry. He didn't actually eat it since it's chocolate.
This chocolate peanut butter cake is very rich and sinful. That decadent chocolate cake. That fluffy peanut butter frosting. You're going to need a glass of milk (or coffee, since I hate drinking milk). I have a secret ingredient in the cake that makes it very chocolatey and moist, even after a few days – coffee! It's used more as an enhancer rather than as a flavor because it adds more depth to the chocolate, so your cake will not taste like coffee.
Chocolate Peanut Butter Cake
Yield: 15-20 servings
Prep Time: 20 minutes
Cook Time: 40 minutes
Total Time: 1 hour
If peanut butter cups are your favorite candy, then you're going to love this make and take chocolate fudge cake with peanut butter frosting and peanut butter cups.
Ingredients
2 cups granulated sugar
1 3/4 cups all-purpose flour
3/4 cup unsweetened cocoa powder
1 1/2 teaspoons baking soda
1 1/2 teaspoons baking powder
1 teaspoon salt
2 eggs
1 cup whole milk
1/2 cup vegetable oil
2 teaspoons vanilla extract
1 cup hot coffee or water
Peanut Butter Frosting:
1/2 cup (4 ounces or 8 tablespoons) unsalted butter, softened
1/2 cup creamy peanut butter
2 cups powdered sugar, sifted
Pinch of salt
2 tablespoons milk
1 teaspoon vanilla extract
1 1/2 cups chopped peanut butter cups
Instructions
In a large mixing bowl, whisk together sugar, flour, cocoa, baking soda, baking powder, and salt.
Add the eggs, milk, oil, and vanilla. Beat on low speed for 1 minute then increase the speed to medium and beat until smooth, about 2-3 minutes.
Stir in the coffee until incorporated (batter will be really thin).
Pour batter into the prepared pan. Bake 35-40 minutes or until a toothpick inserted into the center comes out clean (the top of the cake will be sticky to the touch). Cool cake completely.
For the frosting: In the bowl of a stand mixer with the whisk attachment (or in a large bowl with a hand mixer), beat on high speed the butter, peanut butter, sugar, and salt until smooth and creamy, about 2-3 minutes.
Add milk and vanilla then beat on high speed until light and fluffy, another 2-3 minutes. Spread on top of the cooled cake. Top with peanut butter cups.
Sources: Cake adapted from
Hershey's Make It Chocolate
; Frosting adapted from
125 Best Cupcake Recipes
More Chocolate and Peanut Butter Recipes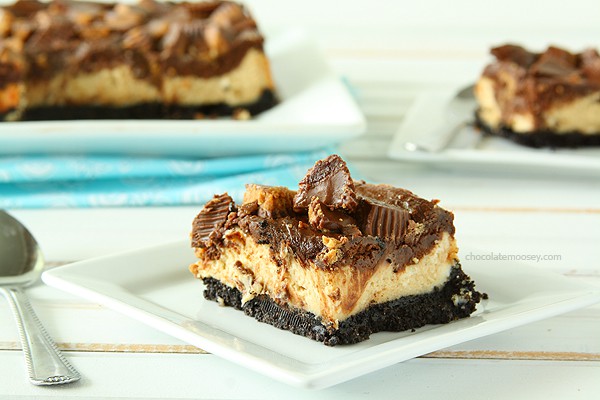 Chocolate Peanut Butter Cup Cheesecake Squares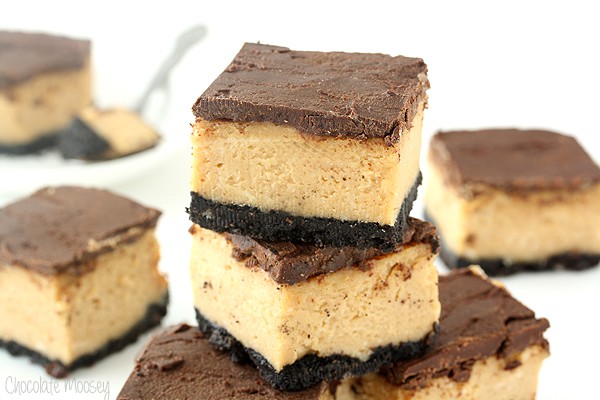 Buckeye Cheesecake Bars

Peanut Butter Cup Bars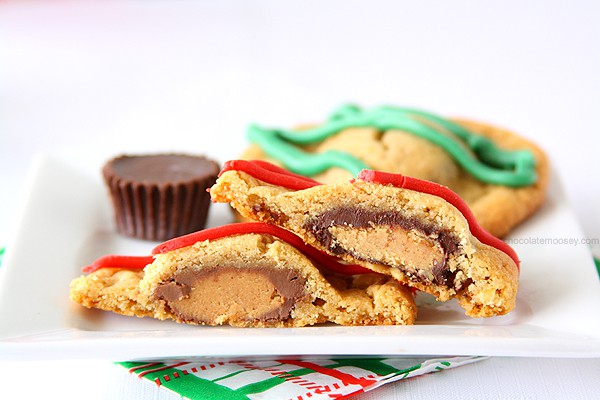 Double Peanut Butter Surprise Cookies

Peanut Butter Cup Ice Cream (No Cook, Egg Free)
This recipe was originally posted as a guest post on The Spiffy Cookie
This post may contain affiliate links. As an Amazon Associate and member of other affiliate programs, I earn from qualifying purchase.