Chocolate Chip Cookie Cake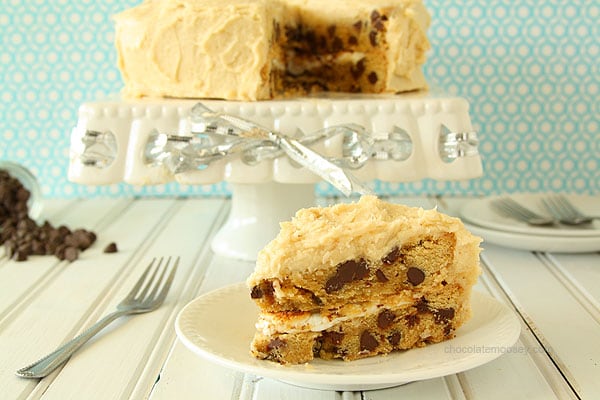 Six years. Six whole freaking years. That's how long I've been blogging. I feel so old saying that. A lot of my blogging friends are celebrating their first and second years, and here I am with six. Has it really been that long? I wanted to celebrate with my favorite dessert – chocolate chip cookies. But I didn't just want to make cookies. I wanted to make a layered chocolate chip cookie cake, complete with toasted marshmallows for the filling and cookie dough frosting. Some of my favorite things rolled into one cake.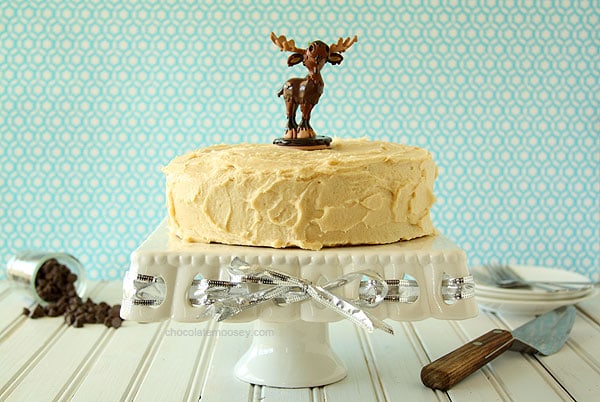 April 27, 2007 is when I started it all. A lot has happened since my last anniversary. I've written 170 posts. I improved my photography and writing. My traffic has more than tripled. My social media following has grown from the hundreds to the thousands. I now moderate two blogging communities. I attended two blogging conferences. I won a cookie contest. I've "met" so many great people that some bloggers are now my best friends. This blog has even helped me improve my skills professionally. This past year was such a great year, I can't wait to see what this upcoming year has in store. For starters, I am speaking at the
Food and Wine Conference
in July (um someone remind me why I agreed to speaking?!)
I thought it would be fun to do two layers of chocolate chip cookie instead of cake. Don't get me wrong – I love cake, but the way to my heart is chocolate chip cookies. Slightly soft, slightly chewy. Just the way I like my cookies.
And boy is this cake heavy! I almost lost it on the cake stand because I accidentally bumped it. That's one good thing about frosting a cake because you can just smooth the frosting over the fingertip marks. Ahem. Moving on. I thought it would be fitting to use my moose ornament that
Jennie of The Messy Baker
got me for Christmas as the cake topper.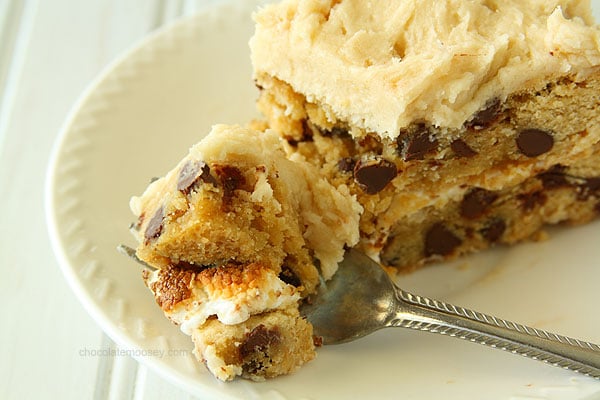 I didn't feel like messing with the filling, so I literally put mini marshmallows on top of one layer, put it under the broiler, toasted until brown, then topped it with the remaining cookie layer to stick the two together. Of course for the frosting, it just had to be cookie dough. I think I'm getting better at this whole frosting cakes thing. I didn't bother making a crumb layer because I was in a hurry. Can you believe I ran out of butter?! I was going to frost my cake then go shopping for a bit, but when I discovered I was out of butter, I had to go shopping then come back and frost (and photograph) the cake before the sun went down.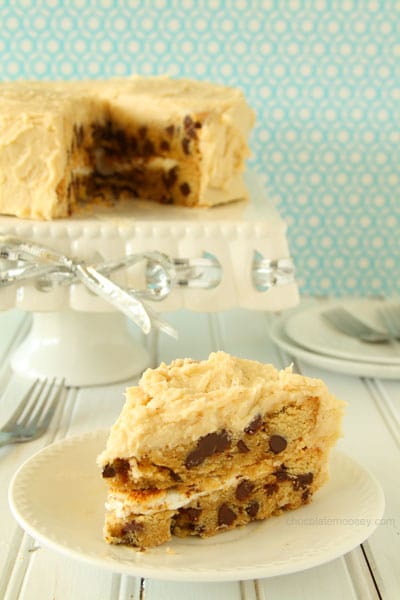 So here's to another year of blogging. Another year of sugar, butter, eggs (and calories). Another year of valuable friendships. Thank you, my readers, for your support. After all, if you weren't visiting, then I would have no reason to push myself to bring you the best recipes I can bring.
Chocolate Chip Cookie Cake with Toasted Marshmallow Filling and Cookie Dough Frosting
Ingredients
Cookie Cake
3 cups all purpose flour
2 teaspoons baking powder
1 teaspoon salt
1 cup (2 sticks) unsalted butter, softened
1 1/2 cups brown sugar
2 eggs
2 teaspoons vanilla extract
2 cups semisweet chocolate chips
Filling
Frosting
3/4 cup (1 1/2 sticks) unsalted butter, softened
1/3 cup brown sugar
1/3 cup all purpose flour
1/2 teaspoon salt
2 teaspoons vanilla extract
4 cups powdered sugar
1/3 cup heavy whipping cream
Instructions
For the cake:
Preheat the oven to 350F. Line two 9-inch round pans with parchment paper or grease with cooking spray. Set aside.
In a large bowl, whisk together the flour, baking powder, and salt. Set aside.
In a large mixing bowl, beat together the butter and sugar until creamy and fluffy, 2-3 minutes. Beat in the eggs, one at a time, until well blended. Beat in the vanilla. Gradually beat in the flour mixture then add the chocolate chips.
Divide the dough between the two cake pans. Bake 20 minutes or until golden and a toothpick comes out clean. Cool completely in the pans.
For the filling:
Turn on the oven broiler. Remove one of the cookie layers from its pan and place onto a broiler-safe tray. Place the mini marshmallows on top on the cookie in a single layer. Broil until the marshmallows are puffed and toasted. Remove from the broiler. Remove the remaining cookie layer from its pan and place on top of the toasted marshmallows. Press down to ensure it sticks together. Let the cake cool a few minutes before moving (it may be a little fragile when warm. It'll be come sturdier when it cools).
For the frosting:
In a large bowl, beat together the butter and sugar until creamy and fluffy, about 2-3 minutes. Beat in the flour, salt, and vanilla. Gradually beat in the powdered sugar. Beat in the heavy cream and beat another 1-2 minutes or until the frosting is fluffy.
To assemble the cake:
Place the cake onto a cake stand or plate. Spread the frosting over the top and sides of the cake.
Notes
© Chocolate Moosey. All images and content are copyright protected. Please do not use my images without prior permission. If you want to republish a recipe, please rewrite it in your own words or link back to the post for the recipe.
Sources: Can't remember where the cookie recipe came from. Frosting from
The Cookie Dough Lover's Cookbook
—-
If you liked this Chocolate Chip Cookie Cake With Toasted Marshmallow Filling and Cookie Dough Frosting, you may also like these recipes: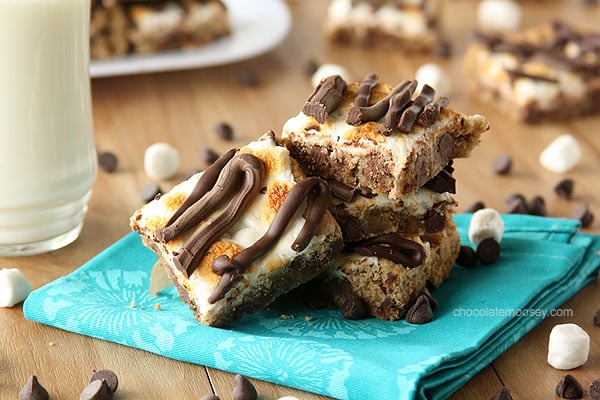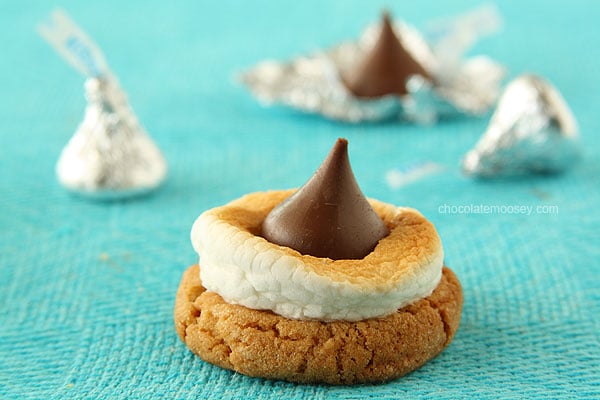 From other bloggers:
This post may contain affiliate links. As an Amazon Associate and member of other affiliate programs, I earn from qualifying purchase.