When it's dreary and cold outside, it's time to cook a comforting dinner for two! Learn how to make Stovetop Beef Stew For Two with potatoes, carrots, and peas plus learn which cut of beef is best for stews.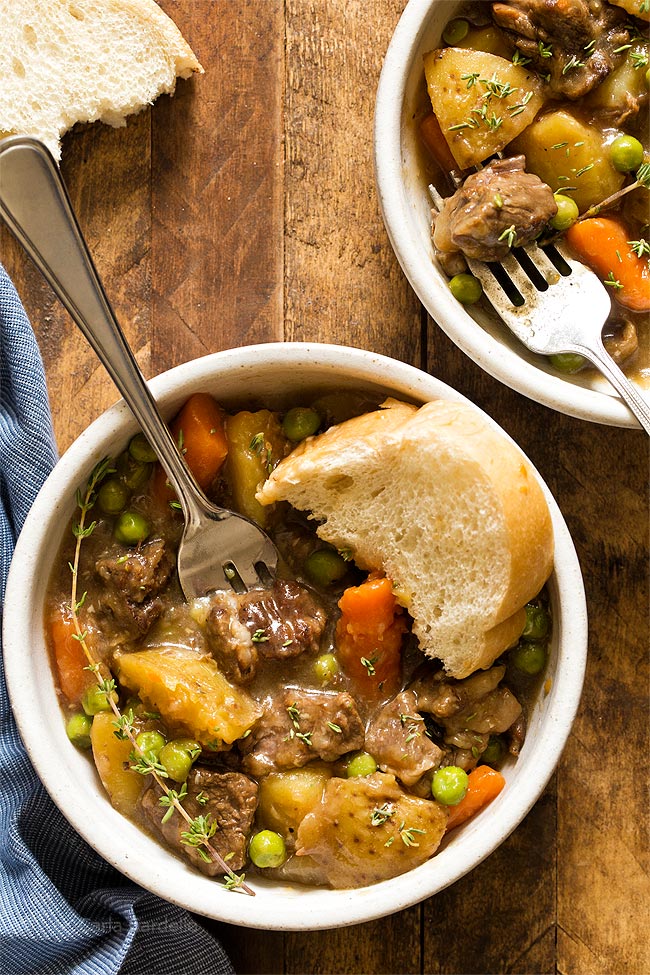 You may remember the Instant Pot Beef Stew For Two I posted last week. In fact it may seem like déjà vu especially with the photos. What's going on?!
Not everyone owns a pressure cooker, and even though I provided stovetop directions, I was afraid it got overlooked. Why would you bother looking at the recipe if you didn't have an Instant Pot?
That's why I'm bringing you my hearty Stovetop Beef Stew For Two recipe with potatoes, carrots, and peas in its own post. It's the exact same recipe but with different cooking methods.
Before the Instant Pot, I made my beef stew on the stovetop. It wasn't something I made often due to time (roughly 2 hours or so), but sometimes when it's dreary and rainy out, you need that big bowl of comfort food to get you through the evening.
In fact, I'm typing this out on the couch under the blanket and the cat while watching it pour down rain. Wish I had a bowl of it right now!
This is definitely something you'd want to serve as a Sunday supper since it's not an ideal weeknight meal, but the good news is most of the cooking time is hands off. Just make sure you don't fall asleep on the couch while waiting for dinner to finish.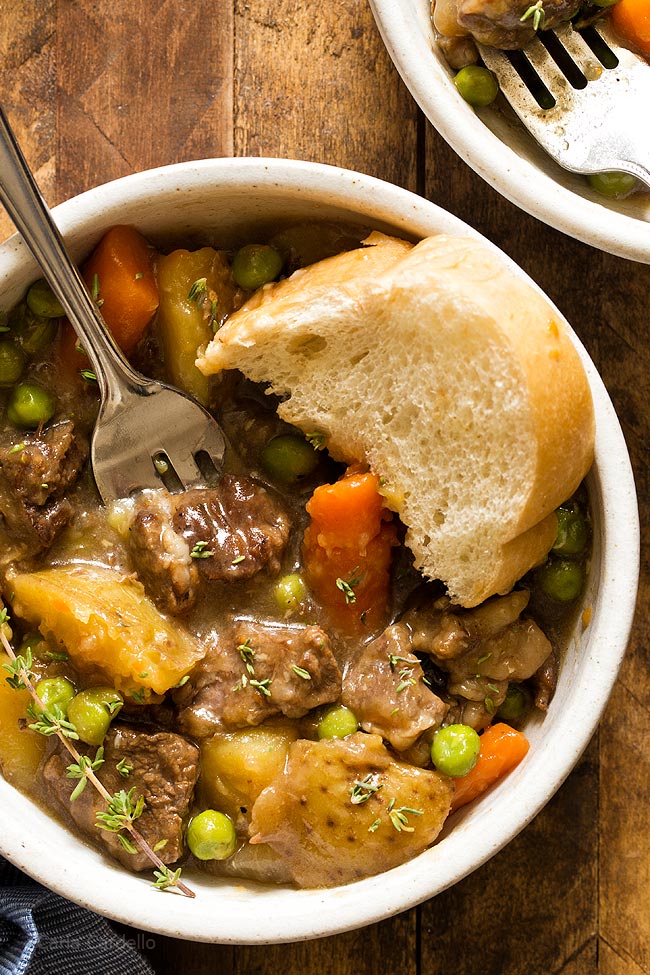 How To Make Homemade Beef Stew On The Stove
Even though this is a small batch recipe, you still want to use a large pot or Dutch oven (affiliate link) to ensure there is enough room to cook and stir without overcrowding. Make sure it has a tight fitting lid because you'll need to cover the pot after you add the beef.
The key to making beef stew tender is by cooking it low and slow. That's why it takes roughly 2 hours to cook because you're waiting for the fat in the meat to break down.
Want to make beef stew faster? Check out my Instant Pot Beef Stew For Two where using a pressure cooker helps cook the meat faster without sacrificing tenderness.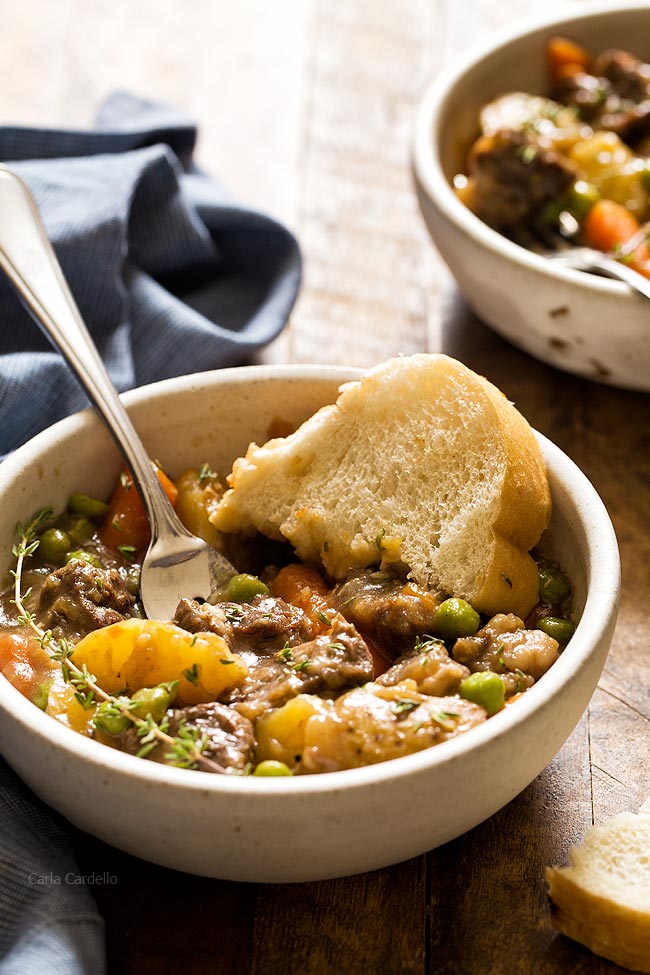 What are the ingredients for beef stew?
Traditionally beef stew has carrots, celery, onion, potatoes and peas. The vegetables are cut into large pieces so they don't overcook and become mushy during the long cooking time.
Typically you would use Russet potatoes. However, I used Yukon gold in this recipe because they were sitting on my counter.
I also like to use fresh herbs to add more flavor. Use a hardy herb like thyme or rosemary. If you don't have any fresh, you can also used dried.
Looking to add a little more oomph to your beef stew? Check out my Guinness Beef Stew recipe where I use beer instead of broth to flavor the gravy.
What cut of beef is best for stew?
The best cut of beef for stew is boneless chuck roast because it won't dry out after cooking and is more affordable than a more tender cut. The marbling breaks down during the long cooking process, making the meat fork tender.
I highly recommend cutting a chuck roast yourself. If you buy the pre-cut stew meat, they usually don't have enough fat on them for stew. You definitely need some beautiful marbling for flavor.
Since this recipe is scaled down for two servings, you only need 1/2 pound of meat. However, most chuck roasts are larger than this. You can either ask your butcher for a smaller cut or buy what you can and freeze what you don't use.
I like to portion my meat into half pound sizes before freezing. That way I can grab only what I need to defrost in the future.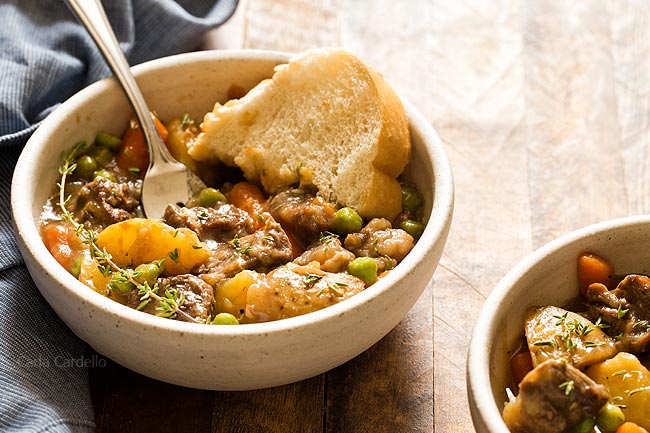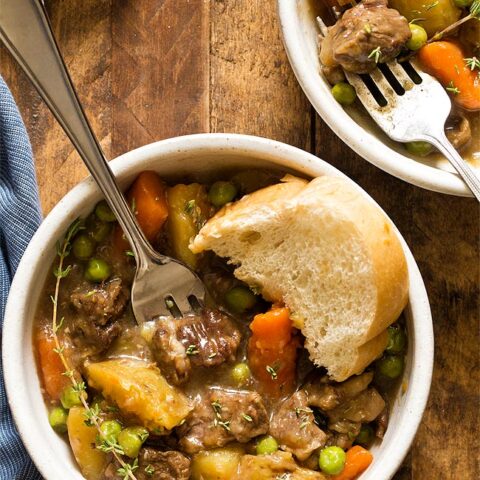 Stovetop Beef Stew For Two (Dinner For Two)
Total Time:
2 hours
30 minutes
When it's dreary and cold outside, it's time to cook a comforting dinner for two! Learn how to make Stovetop Beef Stew For Two with potatoes, carrots, and peas.
Ingredients
1/2 pound beef chuck roast, cut into 1-inch pieces
Salt and pepper, to taste
1 tablespoon vegetable oil
3/4 cup beef broth or stock
1 tablespoon Worcestershire sauce
1 teaspoon brown sugar
4 garlic cloves, peeled
1 small onion, quartered
2 large carrots, cut into 1-inch pieces
1 large potato of choice, cut into 1-inch pieces
1 sprig thyme + 1 teaspoon fresh thyme leaves
1/2 cup fresh or frozen peas
1 tablespoon cornstarch
1 tablespoon water
Instructions
Season the beef on both sides with salt and pepper.
In a large Dutch oven over medium heat, heat 1 tablespoon of vegetable oil. Add the beef in a single layer and cook until brown, about 3–5 minutes. Flip and cook until brown, about 2–3 minutes. Transfer to a bowl and keep warm.
In the same pot, add onion and a pinch of salt. Cook until softened, about 5 minutes. If the pot is dry, add a little more oil. Add garlic and cook 1 minute.
Gradually stir in beef broth, Worcestershire sauce, brown sugar, and 1/2 teaspoon salt, scraping up any brown bits on the bottom of the pan. Bring to a boil.
Once boiling, turn the heat down to a low simmer. Add the beef and any juices from the bowl and thyme sprig. Cover and simmer until beef is tender, about 1 1/2 hours, stirring occasionally.
Add carrots and potatoes. Cover and cook 30 minutes or until the vegetables are tender.
Stir in peas and thyme leaves. Cook until the peas are hot, about 1 minute. Remove the thyme sprig.
Mix together cornstarch and water until smooth. Stir into the pot then bring to a simmer. Cook until thickened, about 3 minutes. Let cool for 10 minutes before serving.
Recommended Products
As an Amazon Associate and member of other affiliate programs, I earn from qualifying purchases.